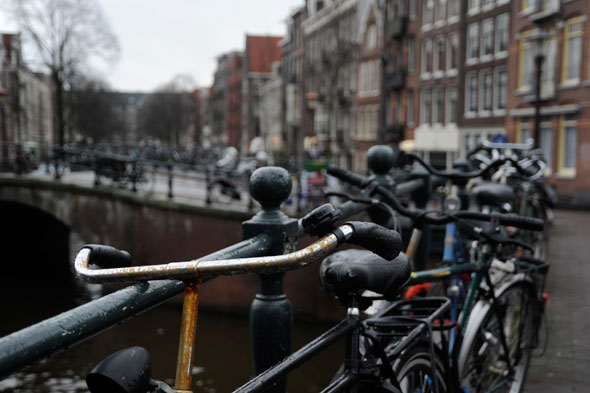 Train travel is so good in Europe.
I needed to be in Amsterdam around 1 o'clock from Paris. The Thalys train leaves from the Gare du Nord and takes just about three hours, city center to city center. Trains leave on time, travel at high speeds, have refreshments on board, and are clean and comfortable. (The latter in stark contrast to Gare du Nord itself.)
The train stops en route in Brussels. I was tempted to get off because I have not been there for a few years, but instead I continued through to Amsterdam. Upon arrival, it is clear and quick to get to a hotel. The only danger that you have is not spotting the bikes or the trams that seem to come at you from every which way.
Throughout the city, there were literally thousands of bikes in bike parks. Everyone owns a bike here so I have no idea how anybody could possibly identify their bike. Apparently, the city allows bike parking for two years at which point the bikes are removed and sent to a bike pound where they can be bought by anybody for around 10 Euros.
Another thing about Amsterdam bikes is that they are all really basic and look second hand, nobody is going to steal them. People ride bikes while on the phone, they ride bikes with two kids sitting on the bike, with their dogs in a basket, there are fancy trailers for hauling stuff, and it all looks totally safe because the bike lanes are sacrosanct.
I have never in my whole life, and I include Beijing 20 years ago, seen so many bikes in one place. Never did I see a bike that looked like it cost more than 10 Euros either. This was the city to move around on bikes. You can rent them from tons of places but don't look for helmets. They don't exist!