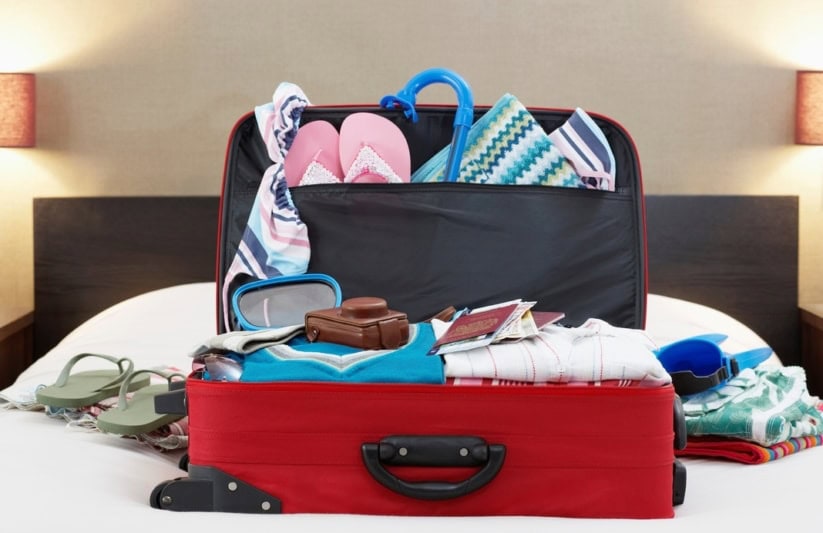 Throughout the annals of epic adventuring, it's the same story
—
think Marco Polo before heading off on the Silk Road to China; Captain Cook before his voyage to the unknown Terra Australis Incognita (that's Australia to you and me, and not so unknown these days); Vasco da Gama before setting sail for Africa and Asia
—
the anticipation of adventures ahead and needing to face the last of many practical preparations:today we have student travel tips, the art of
packing a bag
.
It sounds straightforward enough, after all it's just a matter of shoving a few items into a bag, zipping it up and you're ready. Right? Of course it is (and a trip to Europe is hardly the great voyage into the unknown that Marco Polo et al will have embarked on in their time). But, at the same time, a little last careful planning might make for a sweat-free trip. Misjudge it and you could end up on this trip of a lifetime you're so looking forward to, feeling a little…
..and no one should feel like that. We want you to enjoy yourself.
The Art of Packing
Everyone will have their own style and approach to packing their bag.
Paddington Bear set off from darkest Peru for England with nothing but a small brown suitcase containing a few papers, a jar of marmalade plus a marmalade sandwich under his hat 'in case of emergencies'.
Phileas Fogg announced to Passepartout that they would be leaving in ten minutes for their round the world epic, duration 80 days, and that ..
"We'll have no trunks; only a carpet-bag, with two shirts and three
pairs of stockings for me, and the same for you. ..
Bring down my mackintosh and traveling-cloak, and some
stout shoes… Make haste!"
We fully expect you to want to set off with more in your bags than papers and a jar of marmalade, and maybe a little more prepared than Phileas Fogg. But equally,
REMEMBER THE DONKEY.
So to help you on your way, a few tips:
The Layout
A couple of weeks before your trip starts, find some spare space at home and start to put to one side the things you think you will be needing and wanting to take with you. This is a great way of starting to focus your thoughts and to help make sure you've not forgotten anything.
What are you going to need?
This is where things can start to get interesting. Yes, what am I going to need for this epic trip?
• Know your trip
• Know your destination
You should by now know where you are going (!); the sort of activities you will be doing; whether e.g. you will be based in one or two locations or moving from place to place throughout the trip. What time of year will it be? What weather is possible?
You will need to pack with this in mind.
Questions to ask
A winter or spring trip to Europe? We might not have the six-foot high snowdrift outside our door that you might have at home but we do have winter here in Europe also (even in the Med. Region). The temperature charts may suggest it's warmer than with you but don't be misled. If you're packing shorts, t-shirts and flip-flops know that you will be cold, so very cold! Please think again. Hypothermia on the streets of Paris, London, Berlin isn't that cool a thing to suffer: pack for warmth.
Cold or changeable weather likely? – layer up! Pack so you can take layers on and off depending how hot or cold you're feeling. You may feel like a walking onion but it's your own personal temperature control and you will be comfortable (it also makes for a very versatile wardrobe).
You may have heard it occasionally rains in Europe. Make sure you bring along a waterproof to keep dry in the unlikely event it does – there's nothing worse than feeling like a drowned rat. Come rain or shine, your trip will forge onwards on its path of discovery! We'd like you to be dry and comfortable to get the most out of it.
Packing for the height of summer? Still bear in mind the rain thing and the layer thing. (Even in wonderful Provence, when the Mistral blows, you may need a sweatshirt as a wind-guard). A baggy long-sleeved cotton shirt is a multi-purpose gem: stops the sun burn that the thinning ozone layer can inflict on your sensitive skin; adds a bit of warmth in the gentle breeze of a Mediterranean evening and keeps the bitey-flighty insects at bay at sunset. If your trip is visiting a distant sea shore, whilst you might want to leave your scuba gear at home, don't forget to pack your swim togs – you'll be perfectly equipped if you're allowed to go swimming.
Think of your feet. Treat them well and they'll look after you! Know that we love cobbled streets in our medieval city centres (and even our modern ones); we love stairs & steps, slippy marble down Italy & Greece way; we love taking you into the outdoors in all weathers. For all the youthful bravado you may be feeling at this moment, do bring comfortable footwear fit for the challenge your feet will be facing. Flip-flops or stilettos may be great at home but may not be the best for what you'll be doing.
Bear in mind the social culture of the country you'll be visiting. Some places are more conservative in their dress norms than you will be used to at home. You'll be wanting to blend in as part of 'going native', so e.g. visting Churches and Cathedrals particularly in southern Europe, you will need long sleeves and trousers/skirts that are no less than knee length.
How many wardrobe changes in a day? You'll be so busy trying to see and do as much as possible that you'll forget about these. I bet you, what you start the day wearing will be what you finish the day wearing.
Do you really need it? Are you sure?…seriously, do you really need it?
Remember the line about laying out '…what you think you will be needing..'? Ah, the magic words!
Yes, we all do it; in that first excited packing frenzy you always think you mightneed something. The fun bit is to return to your piles lying there, ready to pack and to challenge it: do I really need to take this?
The reality: there's plenty you don't need to pack. There's probably a scientific formula somewhere: the square root of a pair of socks means 6 pairs of shoes aren't needed…that sort of thing. Why not also ask yourself 'how much time do I want to spend re-packing my bag on the trip, every time we move to the next destination?' – wouldn't you prefer to have one last ice cream rather than packing a bag?
So, be strong, work through your pile: the definite 'yesses' are good to go; anything you hesitate over in the packing challenge, put to one side on a '?' pile. You can come back another day and challenge your '?' pile to justify its place in your bag.
A Bag, a Bag, My Kingdom for a Bag
Whatever shape or size you choose, it has to be right for you and the trip you're taking. Whether with or without wheels; suitcase or rucsac, it's going to be your companion for the duration and will be facing check-ins from airports to hotels; maybe a few cobbled streets (we can't always park a coach outside the front door of a hotel); maybe a staircase or two; even a train journey here and there. And it will be yours to carry with you.
Whilst Nelly the Elephant packed a trunk before leaving the circus, please yourself bring with you something alot more manageable. Unlike the portly senior gent dressed in red who has recently delivered goodies under your Christmas Tree, you won't have a herd of reindeer to carry your bag for you. Whilst we all try to help out each other on trips, your fellow travellers are not your Passepartout. So, remember an easy principle of travel: if you can't or don't want to carry it…don't bring it. Too much stuff? Can't lift your bag off the bed at home? Lighten that load!
REMEMBER THE DONKEY.
•  If your trip involves any of these:
Unlike Doctor Who's TARDIS, these things really are as limited in space inside as they appear from the outside. If your journey involves an intermediate stop, your boarding or exit with your bags will be constrained by the rail timetable into something seemingly impossible. All great fun yes, but tell yourself:  light and small good; large and heavy not.
But the airlines allow me to carry xxKG? Of course, it's true. But remember, you're packing for your trip not to the limit of an airline baggage allowance. A traveller's rule of thumb: you might not get much below 17kg but shouldn't need to be above 20kg.
REMEMBER THE DONKEY.
All Wired Up
Whilst Marco, Phileas and other great explorers will have packed diary and maps for their adventures, yes it's now the 21st century and that means techy stuff. And we all know that means wires, wires and more wires!
For that techy stuff to work, you're going to need not only the charger but also a plug adaptor and a voltage converter. Why? Each country has its own style plug sockets and voltage cycle so don't forget to kit yourself out beforehand otherwise you will have that flat feeling and/or fry your circuits – ouch!
Might Be Useful
All the advice you will receive from ACIS Educational Tours and your Group Leader before setting off is there to help you, so do soak it up.
Of course, don't forget the necessaries such as Passport (!) (plus money belt to keep it safe), travel insurance.
Don't forget your ATM PIN number so you can get to your hard-earned spending money.
If you are bringing a phone, make sure it's activated for international roaming on your talk plan.
A watch? Yes please! Pretty useful for making sure you're in the right place at the right time.
But also, do pack those old-fashioned things called a travel diary and a pen: one of the great enjoyments of travel is to write about it as you're doing it and then to read about it in years to come. They take up so little space but are a great way of capturing a trip for yourself for all time!
The Pack
Think what you might need first: make sure that's the last thing you pack and is easy to grab from your bag when needed.
Rolling up your clothes (particularly t-shirts) can be a great space-saver.
Anything you fear may get broken or damaged in transit – pack in the centre of your bag for protection.
Don't forget to keep anything you might need for the journey in your carry-on bag (subject to the rules on what can and cannot be carried). Some even think the worst: what will I need most if my bag gets lost and has a holiday all of its own in the baggage system of the world's airports? True, it can happen – we hope it won't – but if to feel fresh after a transatlantic flight is your no.1, then pack your toothbrush in your carry-on. Some will also pack a change of clothes (t-shirt or shirt, etc).
Your last act will be to attach that coloured ACIS bag tag onto your bag. It's your version of Paddington Bear's 'Please look after this bear' label and means that you and your bags will be spotted easily by your Tour Manager on arrival.
You're now ready for action!
…and in that airport of the world into which you will be arriving, your Tour Manager, valiant always, will be waiting. One look at your bags will tell him/her that you are a group of true travellers!
[exhibit A: shoes fit for exploring; rain jacket 'in case' (sword…very optional)]
Happy packing.
REMEMBER THE DONKEY…
and have a great trip!
Chris Relton is an ACIS tour manager from the UK. His passion for travel has taken him through Europe as well as Australia and New Zealand, the Far East, North America and Africa. In 2012, Chris was chosen to work as a volunteer at the Olympic Stadium during the London Summer Olympics Games and the Paralympic Games.
Like what you've read? Our tour managers, like Chris, are full of ideas, tips and advice on how to make the most out of every minute of your tour. Download their articles today.
---
[button style="btn-success btn-lg" icon="glyphicon glyphicon-chevron-right" align="left" type="link" target="true" title="FREE LEARNING PACK" link="http://pages.acis.com/learning-pack.html"]