Back to Blog Home
STEM Educational Travel in Iceland: An Interview with Science Teacher and ACIS Group Leader – Yvonne John
Yvonne John is a science teacher at Naperville North High School in Naperville, IL. She teaches Chemistry and AP Environmental Science, so she is always looking for ways to paint a vivid picture of the Earth's natural forces at work. When it comes to phenomena such as climate change and plate tectonics, there's no better way for students to connect with the subject matter than experiencing it in the real-world. That's why Yvonne sought to organize an educational trip to Iceland for her students.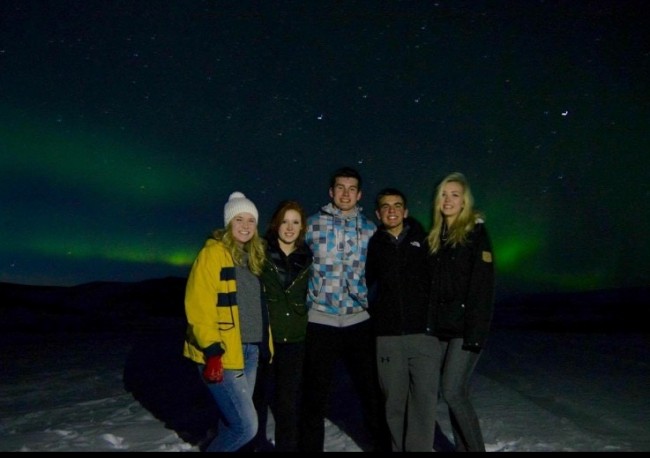 After consulting with a colleague about his experience traveling with ACIS, she decided to try it out herself. We asked Yvonne about her experience with ACIS as well as the unforgettable trip to Iceland she enjoyed with her students:
How long have you been traveling with ACIS, and what led you to choose ACIS as your student travel provider?
This is the first trip that I have taken with ACIS. Matter of fact, this is the first trip that I have ever taken students on!
My fellow co-worker, Mr. Ed Joyce, has traveled with ACIS on several occasions. He switched one year to another travel company and said there was no comparison. ACIS was far and away the best. So for me, there was no other choice but ACIS.
What inspired you to lead your first trip?
I teach AP Environmental Science. I wanted to plan a trip where students could experience first-hand some of the concepts that we cover in class.
What inspired you to choose Iceland as a destination?
There is so much information that is covered in AP Environmental Science– from geology to ecosystems, to succession, to oceanography, to global climate change, to renewable resources… Iceland seemed like the ideal country to experience plate tectonics, volcanoes, geothermal energy, fisheries and their importance.
How did you structure the trip to accommodate STEM educational goals?
This trip not only enabled me to accommodate STEM goals, but also a number of Next Generation Science Standards. Students were able to experience how concepts in science are not "isolated" from one another. For example, students were able to study and see firsthand how plate tectonics give rise to volcanoes and geothermal energy and how using geothermal energy reduces CO2 emissions and thereby not contribute to global climate change. Speaking to Icelanders, you get a real feeling of urgency to reduce greenhouse gasses as they can visibly see the effects of global climate change as they measure and watch the rate as which their glaciers are receding.
We visited the geothermal energy plant to understand the importance renewable energy plays in reducing CO2 emissions and how geothermal energy is used to supply electricity and hot water throughout Iceland. We visited a greenhouse where tomatoes are grown with hydroponics and geothermal energy. This method of agriculture is so important in Iceland where the growing season is so short and where importing vegetables year round could get very expensive. We also visited a knitting store where students learned about the history, techniques, and equipment used in obtaining wool, preparing the wool, and how the wool is spun into yarn to make the wool items, especially sweaters, that Iceland is so famous for. Members of Iceland's Extreme Search and Rescue Team (ICE-SAR) spent time with the students showing and explaining equipment and technology used during various land and sea rescues. Students were taught how to put an injured person on a stretcher, secure the person ( with a neck brace) and then transport the injured person.
What were some of the highlights of the trip for you and your students?
This is a difficult question to answer….EVERYTHING that ACIS planned for us was a highlight! The spelunking through a volcano tube; the tour of the geothermal energy plant; riding Icelandic horses in an early Spring snowfall; wearing dry suits and snorkeling in Thingvellir National Park (An UNESCO World Heritage Site) at the Silfra fissure where the Eurasian and North American plates are diverging; visiting waterfalls and geysers, as well as the black southern beach; visiting the Eyjafjallajӧkull volcano, wearing crampons and going on a glacier hike to an newly discovered ice cave then soaking our muscle-sore bodies in the Blue Lagoon. A final highlight was taking a modified 4 x 4 trip to the East side of Iceland, up mountain roads to park and watch the Northern Lights open up the black night sky like a zipper in front of our eyes. It was an incredible and inspiring trip!
What do students stand to gain from a life and educational experience perspective by going on a trip like this?
Each country has its own customs of dress and food and religion based on the surrounding environment. No two countries are alike and they should not be. As the world becomes more and more globally connected it is even more urgent for this generation to respect the various cultures and environments that make up our home—planet Earth.
While language and history teachers are the ones most frequently leading trips at their schools, STEM educational travel is an exciting field unto itself. What message would you share with STEM educators about educational travel?
Science is all around us. A deeper understanding of the cycles and systems of equilibrium seen in nature will allow us to design and engineer future technologies that will have little impact on Earth as nature wastes nothing and pollutes very little, if at all.
Would you recommend Iceland to a prospective teacher thinking about becoming an ACIS Group Leader?
Yes…definitely YES!
Anything else you'd like to add?
ACIS was incredible to work with. They listened to what I wanted as a theme (environmental adventure) for this trip and custom designed the trip for us. The guides for caving, snorkeling, glacier walk, 4 X 4 Northern Lights tour, as well as our tour guide and bus driver, were knowledgeable, experienced, and caring. They catered to individual student needs with patience and understanding. The many employees of ACIS who worked so hard to put this trip together were professional and stayed in constant communication. ACIS is a top notch organization. They take the time and make the effort to be certain everything exceeds your expectation. Will I be booking another student group tour of Iceland through ACIS in the future? You bet I will!
Click here to speak to a reference and learn more about what's like to travel with ACIS!

FREE GUIDE
5 Trips for Science Teachers
Interested in trips specifically designed for Science Teachers? This Free
Guide includes 5 itineraries that bring the world to life.