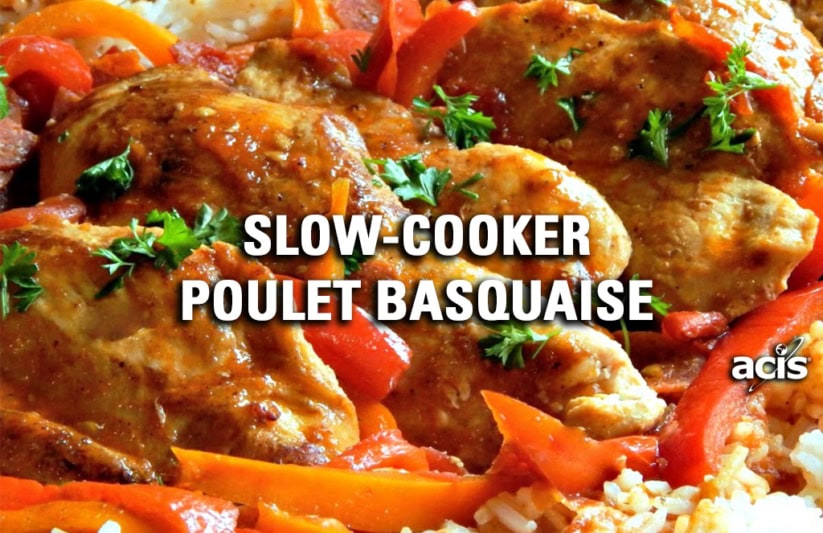 I have never seen a slow-cooker sold in France, which is why I hold on to mine like a little treasure. It seems like such a practical thing for a healthy-food-loving nation, a way of preparing succulent, slow-cooked meals any day of the week – pop in the ingredients in the morning, set to slow, and come home to a delicious dinner, plus leftovers for the next day.
But no slow-cookers or crockpots here, and the French don't seem to know what they are either. Do they distrust this little electrical appliance which weighs less than their giant, age-old clay pot? Or is it perhaps to do with the fact that French people will rarely have a proper meal that doesn't involve meat, and a meat dish, when cooked in a slow-cooker, is of course cooked for hours and hours, a prospect which perhaps worries those lovers of the raw and bloody steak?
Whatever the reason, I will not abandon my little crockpot, and I try instead to adapt many traditional French dishes for slow-cooking. It adds to the flavors, softens the meat, and of course, takes way less effort – always an important factor.
So I'd like to share my recipe for Poulet Basquaise, a traditional French dish from the Basque region, prepared somewhat untraditionally in a slow-cooker. The little Espelette pepper ("Piment d'Espelette") is really what identifies this dish with the Basque region. It's a flavourful and mildly spicy pepper which you can find in powder or paste/sauce form, or grow in your garden and use whole. It's a 4/10 on the official spicy scale (yes, such a thing exists and it's called the Scoville scale).
The Espelette pepper is grown only in the Basque region, in about 10 villages which retain the AOC (Appellation d'Origine Controllée) label, designating the controlled origin of this particular product (like many French wines and cheeses). Perhaps this designation, granted in 2000, brought up the prices by limiting the land on which it could officially be grown and sold – in any case it can be a bit expensive, weighing in at around 140 euros per kilo. That translates to about 6 or 7 euros for a small tub of the red powder in your local supermarket. But if you can't find it, or you're strapped for cash, you can try substituting it with hot paprika (unsmoked), Cayenne or Aleppo pepper.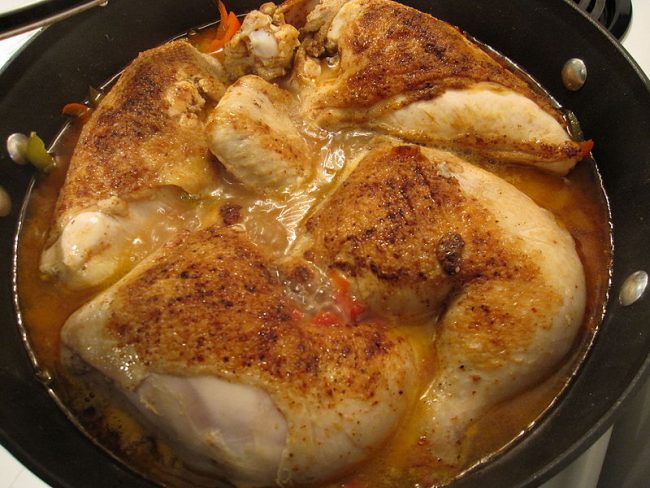 Ingredients
1 whole chicken, cut into serving pieces by your local butcher
Piment d'Espelette and salt
2 large onions, chopped
3 large bell peppers, preferably red (or try a combination of red, orange and yellow), thickly sliced
6 large cloves of garlic, sliced
1-2 15oz cans of diced tomatoes
10oz of lardons (bacon bits)
Optional
1/2 cup of parsley
Olives
Mushrooms
Potatoes/rice for serving
Directions
1. Heat a skillet or pan and add the lardons (bacon bits). They should fry for 5-10 minutes, sizzling away until lots of the fat has melted and the meat is browning and almost on the crunchy side. When that's done, scoop out the lardons so as to leave all the fat in the pan, and set them aside.
2. You should still have enough fat in the pan to fry your pieces of chicken, if not just add a little olive oil as needed. Sprinkle the chicken with salt and a good amount of Espelette pepper. Brown until golden, about 5 minutes per side. Remove and place in the slow-cooker. Now all around the chicken and under and above, add the diced or sliced vegetables, the lardons, and one can of chopped tomatoes (with juice). Depending on how much space is left in your slow cooker, add another can of tomatoes, or just more tomato juice until all the chicken is well covered.
3. Start by cooking on high for 1 hour if you can, then set to low and cook for 4 to 6 hours, depending on your cooker. The sauce should taste rich and the flavours well combined. Adjust seasoning with salt and freshly-ground pepper, if desired, and not long before serving, add a little more Espelette pepper so that its rich flavour is present, as well as parsley as a garnish if you wish.
4. Serve the dish with a scoop of white rice (I sprinkled some Espelette pepper over the rice for an added visual and taste effect) or potatoes however you like them (mash or fried potato slices would be great). Scoop out one piece of chicken per person, then a good dollop of sauce, making sure the veg, bacon and tomato sauce are all served up on each plate.
Bon Apétit!

17 FREE RECIPES
ACIS World Cookbook
Bring the world into your kitchen with recipes from 10 different countries.