My flight from Madrid to Paris would deliver me to Orly Airport, south of the city. What a delight to fly into. It is not terribly modern, but transportation links on the RER or taxi are just so much easier than at Charles de Gaulle Airport. I grabbed a cab, as I was staying in Montparnasse, and was at my hotel in about 20 minutes.
Montparnasse is such a nice part of the city with its wide boulevards, its hub of a railway station that can get you anywhere across the city quickly, and the tiny, delightful streets that sit just outside the belle époque department store of Le Bon Marché. Walking from Montparnasse to the Rue de Cherche-Midi and then cutting across to San Sulpice before heading up to the Odeon and Luxembourg Gardens is one of my favorite strolls. It's also conveniently close to our office on Rue de Babylone.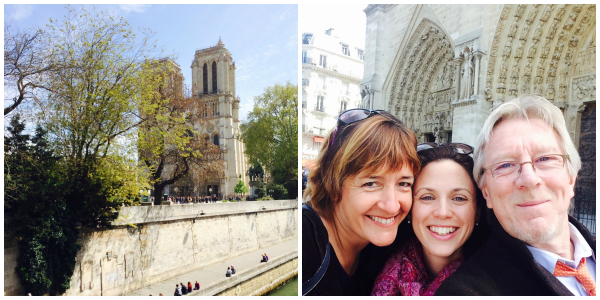 In the evening, I went to see a couple of friends in the Marais district which is another fabulous neighborhood to hang out in. There are lots of great restaurants, cafés, and tiny, narrow streets. And of course, it's home to the Picasso museum and our guide, Julian Brown!
The following day, I headed out to Versailles to see some of our travelers. I rode out there on the RER train which is the easiest way to get out to Versailles, plus it is cheap as chips. I had decided that I would not go into the palace but instead would go straight through to the gardens avoiding at least an hour wait in line. It was the holidays, the water had been officially turned on, the music piped around the grounds, and nine Euros was dutifully charged to everyone who wanted to get in. Versailles sure has figured out a way to monetize their attractions.

Unfortunately, the main fountain, the Latona Fountain, was under reconstruction.  This was a bit of a disappointment as when you come into the gardens, this is the main focal point for the beautiful view along the Tapis Vert.

No matter; we had decided to rent bikes as we were feeling jolly athletic. We zipped around the gardens, stayed on the outside of the Hameau (there is a charge to get in), and covered a large part of the grounds efficiently while staying off the cobblestones. Always a sensible idea when biking!
Biking at Versailles, weather permitting, is a real must-do attraction. You actually get to appreciate the gardens and see things you would never usually see. We then dumped the bikes and began the long walk up the hill, through the crowds outside of the palace and caught the train back into Paris. By taking the train, you give yourself lots of options and time flexibility.