This guest post was contributed by Teresa Bell Engebretsen, a middle school French Teacher from Durham, North Carolina, upon her return from the ACIS Global Teacher Conference in Paris, France. A longer version of this post ran on her blog The Sabbatical Chef.
I've just returned from five glorious days in Paris. Paris is quiet in January. Not much English overheard in restaurants or cafés. Chilly (a warmer way of saying cold) this time, but no rain and only about five flakes of snow one day. I was a guest of ACIS, the company I use to plan my annual student trip. This year, there were 35 of us in Paris (other groups were scattered around the globe), teachers who have trips planned for 2016. I came away with new friends from Georgia, California, Pennsylvania, New Jersey, and even as close as Charlotte, just to mention a few.
The lovely Frenchie Lou was our Tour Manager. She entertained us and kept us organized during the group activities, all of which are optional, by the way. This year's choices were exceptional. A walking tour of Montmartre, featuring Fred, a Parisian history teacher who was one of my guides last year.
During this visit to Paris, we were also treated to a guided tour of the newly reopened and refurbished Rodin Museum. I am a huge fan of Auguste Rodin's work, and since reading Heather Webb's book, Rodin's Lover, about Camille Claudel, a fan of her work as well. Next time, I am at the museum I hope to see Heather's book for sale in the bookshop. I believe that Rodin loved Camille, but he eventually married Rose, his mistress before Camille. Camille was later institutionalized. I picture Camille, on her knees, begging Rodin not to leave her.
No ACIS January trip for teachers would be complete without fabulous wining and dining. We are treated as if we are royalty. Seriously.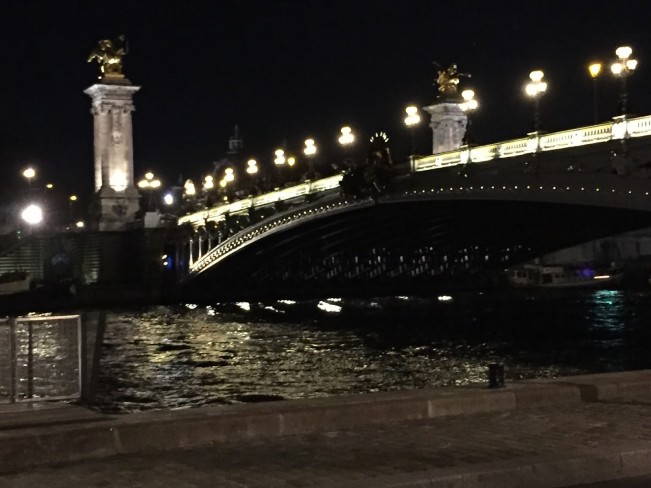 Our first night's cocktail party was aboard a boat parked in the Seine, under the watchful of eye of this beautiful bridge, Pont Alexandre III and La Tour Eiffel. We were treated to drinks and amuse-bouches (bite-sized appetizers to tickle your mouth) on the Bistrot Alexandre III. The staff waited on us hand and foot, continually bringing around more delicious treats and refilling our glasses.
And oui, dessert was served. Those lovely, colorful Parisian treats known as macarons, as well as chocolates. They were prepared for us by Mori Yoshida, an acclaimed Japanese pâtissier and chocolatier. I found the shop of Yoshida-san near the Invalides at 65, avenue de Breteuil, in the 7th arrondissement. Unfortunately, I had not done my homework or I would have known that the shop is closed on Mondays. I will go back in March. I limited myself to two, strawberry and lime. And one award-winning chocolat.
Our farewell meal was held at Bermuda Onion in the new Beaugrenelle shopping center. Another delicious meal.
My favorite was the soup. I emailed the restaurant to ask for the recipe. All they can say is non or completely ignore me. Right? This morning, however, I had a very prompt reply from Iris.
My translations are in italics.
Bonjour Madame,
Ravie que le dîner vous ait plu!
Concernant la soupe de potimarron ou butternut voici les consignes du chef:
-Faire cuire au beurre une tombée de poireaux et d'oignons cook a small amount of leeks and onions in butter
-Y rajouter le potimarron épluché avec de la crème fraîche add the peeled butternut squash with the crème fraîche
-Râper de la noix de muscade grate some nutmeg
-Mixer le tout! blend it all together -in a regular blender or with an immersion blender
Et bonne dégustation! Happy tasting!
Bien à vous,
Iris
I promptly emailed back to thank her and added that Bermuda Onion is an interesting name for a restaurant in Paris, to which she replied that the former owner owned a small island in the Bermuda Triangle. Perhaps he is the former owner because he disappeared? On ne sait jamais.
Silly me, I didn't bring home a little tin of foie gras. I just wasn't thinking, was I? I do have a butternut squash on my counter. And some butter in the refrigerator and nutmeg in the cupboard. No crème fraîche, but when the ice melts and I get out to the store, I will make Bermuda Onion's version of the soup. Sans foie gras... unless I manage to find some. I know that the recipe from the chef will drive people crazy who need exact amounts so I googled. The closest I came is from The Food Network. It uses bacon on top instead of foie gras.
Roasted Butternut Squash Soup with Crème Fraîche
1 large butternut squash, peeled, seeded and cut into 1-inch cubes
1 tablespoon unsalted butter, melted
Kosher salt and freshly ground pepper to taste
1 tablespoon olive oil
1/2 cup minced shallots (see Cook's Note)
4 cups low-sodium chicken or vegetable broth
4 thick-cut strips bacon, sliced crosswise into 1/2-inch pieces
1/2 cup heavy cream
1/2 cup creme fraiche for serving
Preheat the oven to 400 degrees F. Place the squash on a rimmed baking sheet, drizzle over the melted butter, season with salt and pepper and toss to combine. Spread out in a single layer on the baking sheet, allowing space in between the cubes when possible. Roast until tender and lightly browned on the bottom, about 25 minutes.
Heat the oil in a stockpot over medium heat. Add the shallots and saute until the shallots have softened and turned a light golden brown, about 10 minutes. Add the broth and bring to a simmer.
Meanwhile, if using bacon, heat a large heavy skillet over medium-high heat and add the bacon pieces. Saute until they are cooked and crisp, then transfer them with a slotted spoon to some paper towels to drain.
Add the cooked butternut squash to the simmering broth. Working in batches, puree the soup in a blender or food processor (alternatively you can run the mixture through a food mill, which offers a great kind of nubby texture, or puree right in the pot with an immersion blender). Return the pureed soup to the pot. Taste and adjust the seasoning.
Add the cream and heat just until warmed through. Place the creme fraiche in a small bowl and stir with a fork make it very soft and creamy. Ladle the soup into bowls, swirl in a tablespoon of the creme fraiche, and sprinkle with some crisped bacon if using.
Recipe courtesy of Katie Workman
So, there you have it. Well, part of it anyway. There was much walking, roaming, getting lost, eating, drinking, and looking on my own.
Many thanks– mille fois merci— to ACIS for such an exceptional trip. I felt pampered and spoiled, a rare feeling for most teachers. We deserve and need these few days to ourselves. My student trips are awesome and I love them, but to be in Paris not counting heads nor on duty 24/7, and worrying only about myself is a luxury.
From Peter Jones, the head of ACIS, to Heidi and Jill in Boston who help me with all the little details and who always answer my emails promptly, to Claire and Isabelle in the Paris office who make all my arrangements and whom I look forward to seeing every January, to Lou, Thierry, Fred, Jennifer and all the other amazing tour managers and local guides, to James and Arianna from the Boston office who were with us this past weekend, to, finally, all of the teachers out there who, like me, love traveling with their students and showing them a whole new world of sights, sounds, smells, and tastes–thank you from the bottom of my jet lagged, but very satisfied, heart.
I would also like to express my gratitude to my middle school director and head of school who allow me to do this, knowing that this kind of exceptional experience does indeed make me a better teacher, to my colleagues and friends for their support, encouragement, and comments on my Facebook posts, to my students for behaving while I am away, making me proud, and asking to see my endless supply of photos of food and the Eiffel Tower, and to the Ex-Ex for knowing how much my soul needs a Paris/France fix as often as possible. Je vous aime tous.
Bon appétit and keep traveling, mes amis. I will pack my bag again in March to head back across the ocean with my students!
If you're interested in learning about how to qualify for an ACIS Global Conference, check out our rewards for teachers page!

FREE EBROCHURE
ACIS Catalog
Browse over 100 educational travel excursions all over the world. From
service learning to cultural connections, find a trip to meet your goals.