This week's recipe of the week takes us to the Iberian Peninsula. Anyone who's ever traveled to Spain will tell you the food is one of the main attractions, and few dishes are more synonymous with Spanish cuisine than Paella. ACIS groups traveling to the region get the opportunity to make the dish themselves, so we knew we had to include it in the ACIS World Cookbook.
This week's entry was submitted by Liz Tyrell, Regional Director from our Chicago Office. Enjoy!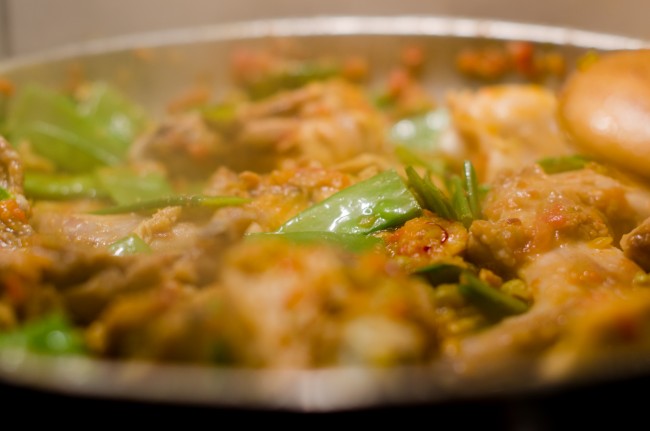 Paella Valenciana
Yield: 10 servings
Total Time: 45 minutes
Prep: 20 minutes
Cook: 25 minutes
Ingredients
1 1/4 cups olive oil
4 pounds chicken, cut into pieces
1 pound rabbit, cut into pieces
1 pound wide, flat green beans (called "bajoqueta de Ferradura" in Valencia)
1 pound fresh butter beans (large white lima beans called "garrofo" in Valencia)
1 pound ripe tomatoes, chopped
1 sprig fresh rosemary
1 teaspoon salt
1 pinch Spanish saffron
2 pounds Valencian rice ("Senia", "Bahia" or "Bomba")
Directions
Place the pan ("paella") over a wood burning fire, barbeque or stovetop, heat momentarily and add the oil.
When the oil is hot enough (it should be just smoking), add the chicken and rabbit pieces. The fire should be at medium-high heat.Sear the chicken and rabbit pieces until they are lightly browned all over. Add the green beans and butter beans. Cook for 2 minutes and then add the chopped tomatoes to the pan, keeping the fire at medium-high heat.
Once all the ingredients are well-seared in the oil and caramelized, add 7 1/2 cups water and the fresh rosemary and increase the heat of the fire to maximum high heat. Next, add the salt and saffron. As soon as the liquid starts to boil, add the rice and remove the rosemary sprig.
Stir the ingredients to distribute them evenly throughout the pan with a wooden spoon, using gentle but firm movements. Keep the fire at maximum heat for 8 to 10 minutes. After this time, if working over a wood-burning fire or barbeque, reduce the fire level gradually until there is no more fire and the paella is just resting over hot coals. Let the paella stand for 2 to 3 minutes more over the coals. If using a conventional stovetop,
reduce the heat gradually to low heat and let the paella stand for 2 to 3 minutes more over low heat.
Take the paella off the heat and it let stand for 2 to 3 minutes. Serve immediately. Paella waits for no one!
If you give the recipe a try, make sure to come back and leave a comment to let us know how it came out!

17 FREE RECIPES
ACIS World Cookbook
Bring the world into your kitchen with recipes from 10 different countries.