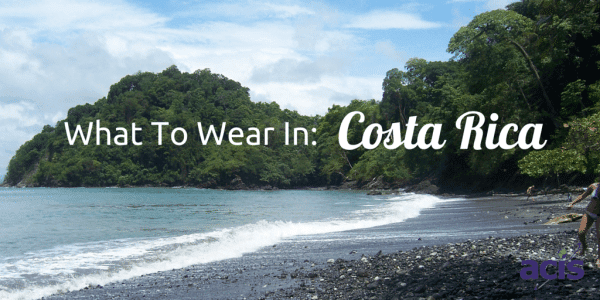 We're big believers in being prepared travelers and packing light, but just because your travel gear is functional doesn't mean you can't be stylish! Your clothes should be destination appropriate, while also representing your personal style. So we're kicking off a new blog series, "What to Wear," to help you cover the travel fashion basics of your next destination. Today's edition is all about Pura Vida.
Our Packing Tips for a Student Tour to Costa Rica will help you plan and also save on time and money. How should you dress for the tropical, somewhat jungle-like climate of Costa Rica? While we're all about packing light, Costa Rica's humid weather makes a good case for bringing an extra pair of walking shoes: your first pair will likely get damp, and then won't dry quickly due to the humidity! Of course, planning an outfit that is appropriate for a nice dinner is fine, but packing plenty of athletic gear for the hiking and adventures you'll experience is even more important!
Clothing Options for Women: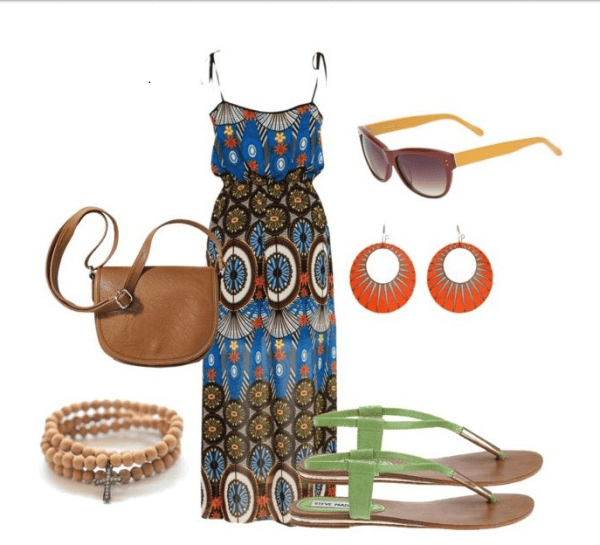 "Flowy" dress or skirt:  Think lightweight and breezy – not fancy – for your dress or skirt option! Bonus points if it can double as a cover up at the beach.
Sandals: Sandals, not to be confused with Flip Flops, are a warm weather staple and won't take up too much space in your luggage. Pack a neutral pair to go with anything!
Smaller cross-body bag: While having a backpack or bigger bag for your adventures is smart, when exploring towns or regions, a smaller bag you can fit across your body is best. Be aware, because like anywhere you travel, if your bags are overly large or expensive they might catch a pickpocket's eye. Check out our best tips to outsmart pickpockets.
Non-denim shorts: Denim won't be your friend in the humid climate of Costa Rica, so pack two pairs of shorts that can handle the heat and humidity while exploring!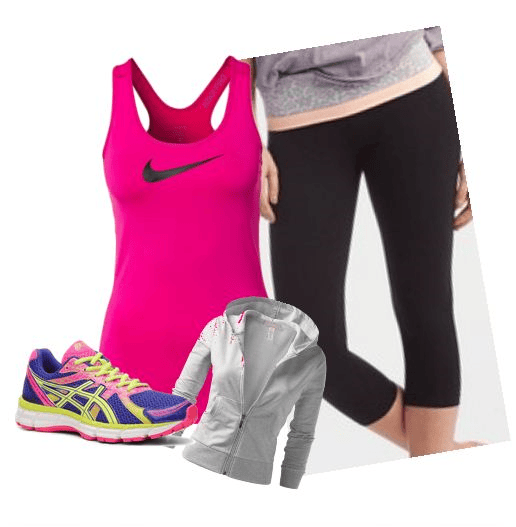 Yoga pants: These stretchy athletic bottoms are perfect for any zip lining needs, or just to have in tow as a pajama pant option. Guides recommend having pants for any hiking, so be prepared!
Tank tops and T-shirts: Have we mentioned that Costa Rica is warm and humid?! Consider shirts without sleeves or lightweight t-shirts for when you're out exploring.
Light jacket or sweater: It's going to be warm, but it may be cooler in the evenings. Mom's right: you might get cold! Be sure to have a light jacket or sweater packed.
Can't forget: Don't forget to bring a raincoat or poncho, bathing suit, and plenty of socks and underwear!
Clothing Options for Men: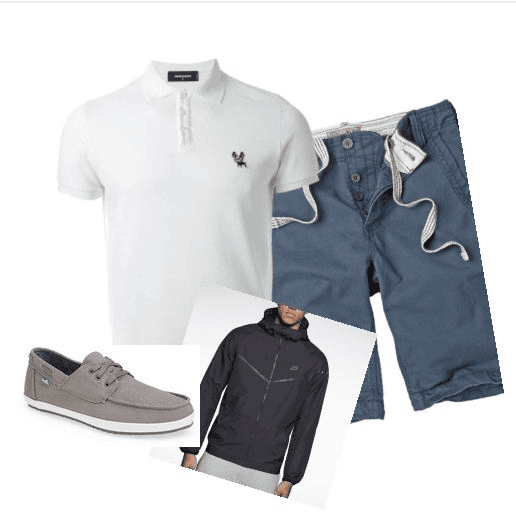 Dress shirt or nice sweater: While you don't need to pack a large wardrobe of dressy options, having one dress shirt in your bag for the occasional nice meal with your group is the best way to look dapper after a long day of adventures.
Collared shirts: Consider packing one to match your non denim shorts and replace the usual t-shirts that you'll pack too.
Footwear: Having athletic shoes and sandals are a must, consider packing two pair of running shoes in case your first pair get wet!
Athletic shorts and pants: It is best to bring a pair of pants for any hiking in the jungle, it may get muddy! Shorts are a good option for cooling off afterward.
Light jacket: While it will be hot and humid in Costa Rica, having a light jacket to keep you warm on cooler nights is smart.
Can't forget: Don't forget to bring a raincoat or poncho, bathing suit, and plenty of socks and underwear!
So now that you know what to wear, we don't want you to forget your important items! Any additions to your fashion statement should be practical traveling items, and in Costa Rica those include:
Basic Medical Supplies

such as anti-diarrhea medicine, aspirins, band-aids.

Beach Towel and Bathing Suit

for beach and pool time.

Hat

to block the sun during long days of hiking.

Insect Repellent

with DEET (diethyl-metatoluamide).  The tropical climate of Costa Rica tends to result in more insects than you may be accustomed to.

Plastic Bags

for wet bathing suits/clothes.

Small Flashlight

for viewing wildlife during the optional night walk in the Cloud Forest.

Sunscreen: 

The sun is very strong and protection should be worn when necessary.
Download the official ACIS packing list and check off your toiletries, important documents, and accessories too.
In need of other outfit ideas? Follow us on Pinterest! Have a few ideas we missed? Tell us in the comments.
Want to learn more about Costa Rica and our student tour itineraries. Check out our trips!