This is a guest post written by Teresa Engebretsen, a French teacher from North Carolina. This post originally appeared on The Sabbatical Chef.
On the last night on our Global Conference to Paris, ACIS arranged for us to have dinner at the home of a countess (perhaps there is also a count, but we didn't see him). She lives in a lovely neighborhood near the Bois de Boulogne and pictured above is the driveway we walked to get to their home after being dropped off by our bus. I tried to get an outside shot of their home, but it was just too dark.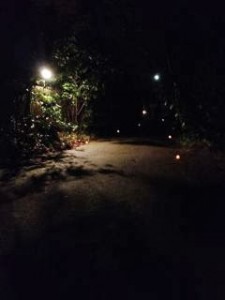 I know very little about this part of Paris. I have heard that the actual park is not a good place to hang out in at night because of the activities that go on there after dark. Roland Garros tennis stadium is located there, but I've never been to the French Open. It is located in the 16th arrondissement, on the western edge of the city. One of these days I will explore the Bois during the daytime, of course. (map from Wikipedia)
Since this was my first glimpse inside the home of aristocracy (yes, I know… the French Revolution got rid of all that in the late 1700's), I was a bit wide-eyed. The first thing I saw was the Christmas tree.
I appreciate the fact that she left it up just for us. Merci, Madame la Contesse. We were served champagne and appetizers (tomato, mozzarella and basil on toothpicks, very thinly sliced cured ham and goat cheese served with mint and a raspberry are the three that I remember) in the cozy living room, walls covered with portraits of ancestors and family trees, and a mantle with the busts of the family dogs. None of those on my mantle. How about yours? No family trees on my walls either, for that matter.
Dinner was served in the dining room, more ancestors on the walls. The mantle in this room has busts of children. Once again, although I love my children, I only have photos.
We were called to dinner and I was very happy to be seated with my new friend Jill from California, along with the fabulous ACIS staff.
My table was waited on by M. Butler Wearing White Gloves. He first served us wine made at the Countess' estate in Alsace, located in eastern France across the Rhine River from Germany.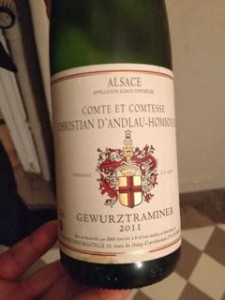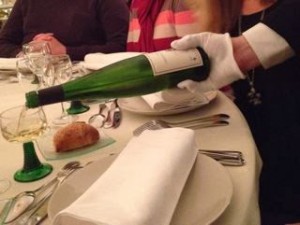 This was to accompany the foie gras served with pain d'épices, a French version of gingerbread. Oh yes, I was one happy eater when I saw this coming around.
M. Butler served us all family-style. No messy serving plates left on the table that way. And personalized service. We served ourselves as he held the serving dishes. I found myself thinking about how strong his arms must be to balance the plates with one hand…
We switched to red wine with the main course.
Chicken, but not just any chicken. I asked if the dish was Coq au Vin and was told by M. Butler that it was Poulet de Bresse with morel mushrooms. At least I made an intelligent guess,  I hope. Chicken from Bresse is supposed to be the world's best. My fellow blogger Lapin Agile has a post and recipe for this tasty dish on his blog.  Even if you do not plan to make it, click on the link and read his recipe (Bresse Chicken by Lapin Agile) anyway and make your mouth water.
Chez la Contesse, it was served with mashed potatoes.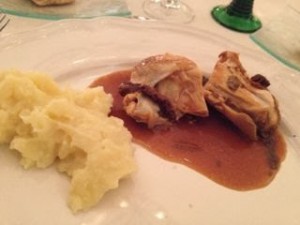 And yes, I wanted a larger serving or seconds, but I have learned not to indulge myself because it is necessary to save room for cheese and dessert. Which leads me to the fromage course…
She looks happy, doesn't she?! So many lovely cheeses to choose from…
M. Butler convinced me to try tête de moine or monk's head (there has to be a great story behind that name), a cheese I did not know. It is shaved off in order to open up the flavors, thus the interesting shape.
See why I saved room?
Dessert made me feel right at home. A dish of apples, cinnamon and brown sugar, Croustade de Pommes, served with vanilla ice cream. By this point, I was feeling right at home and asked M. Butler for the recipe. He responded by bringing the pastry chef to me (who was also serving) and she gave me the ingredients and some basic instructions. Speaking French really comes in handy, you see. It is an Alsatian speciality and was served with more of the Countess' wine.
Finally, little cups of coffee, more conversation, a recap of a wonderful weekend from the ACIS staff, and time to go back to our hotel. The Countess was on hand to tell us au revoir at the door. (Note the beautiful pink scarf around her neck.)
It was a wonderful evening. ACIS treated us like royalty.
My new friend Jill and M. Butler:
I appreciate his patience with my seemingly never-ending questions and photos. I think he enjoys his job, though. He always had a twinkle in his eye and a smile.
Croustade de Pommes
(I had to find a basic recipe when I got home. It is basically apple crisp. There are many variations.  Some recipes add oatmeal with the flour, a lot of recipes from Quebec add maple syrup, some add nuts, some add other fruit, such as cranberries or pears. Some even throw in some Armagnac or brandy. The chef at the Countess' house said that she uses half unsalted butter and half salted.)
4-6 apples, peeled and sliced (I used Golden because that is what I had on hand.)
1/2 c. flour
1/4 c. brown sugar (my new French word – cassonade!)
1 Tbsp sugar
1/4 tsp. ground cinnamon
Pinch nutmeg
4 Tbsp. butter
Place apple slices in bottom of a buttered oven-proof dish.
Mix flour, sugars, cinnamon, nutmeg with butter until crumbly.
Spoon flour mixture on top of apples.
Bake for 30 minutes at 400˚F or until browned and bubbly. Serve with ice cream or whipped cream, if desired.
Bon appétit et merci Mme la Contesse, M. Butler et ACIS!
Editor's Note: ACIS Global Conferences offer teachers an excellent way to discover and learn about new destinations. Participants enjoy exclusive sightseeing tours, gourmet round-table dinners and breathtaking sights. See more photos from Teresa's weekend in Paris and then visit our Global Conferences page to see if you qualify for an upcoming trip.