My daughter recently got married and among the many things that we had to eat, we elected to have a serrano ham on the bone as part of the entertainment.
Jamón serrano is a true cornerstone of Spanish gastronomy. It is a type of cured ham that is generally cut into very thin slices and can be seen at any good tapas bar in Spain.
Jamón.com offers this history of Jamón Serrano:
Jamón Serrano is a cured country ham from white pigs. From time immemorial in the mountains of Spain, country people have rolled fresh hams in sea salt and hung them from their rafters to cure. A year to eighteen months later the jamónes are ready to mount on special stands that are designed so that anyone can stop by, carve a few paper-thin slices, and enjoy an impromptu snack – perhaps with some Manchego cheese.

Today, Jamón Serrano comprises about 90% of Spain's annual ham production. These hams are produced mostly by recreating the effect of traditional techniques in modern production facilities, from white pigs raised mostly on cereal grains. The hams are made from Duroc, Pietrain, Landrace or other large white pigs, which flourish throughout Europe. When compared to hams processed in other countries, however, Jamón Serrano is firmer with a consistent texture, some marbling, a warm red color and a deep ham flavor.
So the wedding was fabulous and the food was delectable. As I had predicted, the jamón was getting a lot of activity. I have two dear Spanish friends who live in Madrid and were at the wedding. At one point, one of my friends noted that the catering assistant, which the caterer had respectfully provided, was not properly cutting the jamón. He stated, "I cannot take it anymore. I have to give this guy a red card and get him off the job. He's killing the ham!" (Which was already dead of course).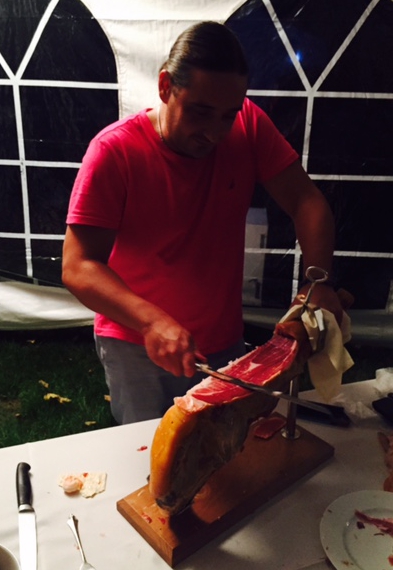 Within 5 minutes, he came back with a bright red t-shirt, and his brother sharpened up the knife but remained in his suit, sending the assistant on his way. The cutting of the ham began in earnest. In quite an extraordinary display of expertise, no matter how many times people came to the ham, because of the thinness of the cut and the way that he moved around the bone, we had ham all night long.
There was only one glitch, someone came up to him and said, "I love prosciutto." He looked at them appalled and said, quite defiantly, "This is the feast of the jamón and prosciutto is for sandwiches. Jamón is to be consumed with the finest red wine. Prosciutto can be complimented with Coca-Cola!"
I got my ham from Tienda.com. It was fabulous. If you really want to splash out and pay serious money you can get the jamón iberico but for me, the serrano was fine. Best of all, we all got to see an artist perform for the best part of 3 to 4 hours. Thank god the party went on until the early morning!

FREE GUIDE
5 Trips for Spanish Teachers
Interested in trips specifically designed for Spanish Teachers? This
Free Guide includes 5 itineraries that showcase Spanish culture.