weather is hot in Rio de Janeiro and you have already been to the top of Sugarloaf Mountain to see the the Christ statue, the way to escape the heat is to drive out to the beautiful alpine town of Petropolis. At least, that's what the guidebook said! So, off we went.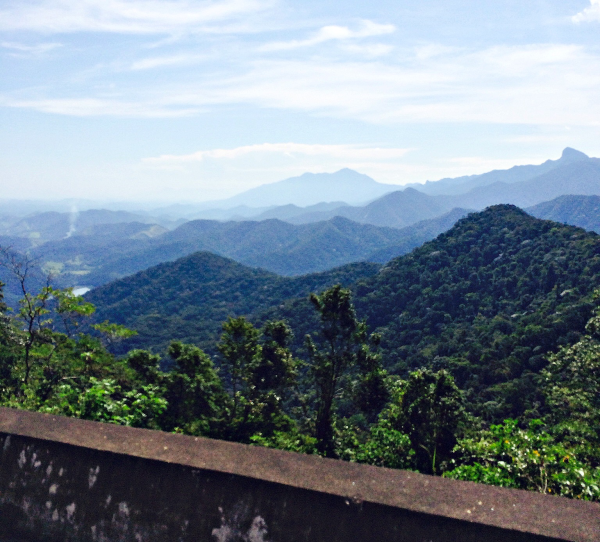 Two hours later as we navigated intense traffic, looked across the sixth largest bridge in the world, the Rio-Niteroi Bridge, and started climbing into more verdant territory, we came across this sort of alpine town. I had this vision of a Tyrolean town like those which are nestled between Austria and the Italian Dolomites with their array of beautiful churches and Chalet-type houses. But in reality of course, it was a fairly unspectacular town with the occasional Chalet-type building thrown in.
The business center of the town was the Bohemia brewery, home to Brazil's favorite beer. But the focal point of the town was the Summer Palace of the Royal Family.
The line for the Summer Palace was about an hour wait. But what the heck—we were there! Nothing was going to stop me from getting into this palace to check out the artwork and see what sort of decadence these folks lived in before they were kindly asked to leave in the late 19th century and go back to Portugal.
The palace requires everyone to wear oversized slippers. You trade in your shoes and sort of skate throughout the various rooms of the palace across the teak floors. You can pass servant quarters, opulent dining areas, and everything is quite interesting. However, the most interesting thing is perhaps the photograph outside of the palace. It is an old, grainy black and white picture of the entire Royal Family as they packed up their bags and headed back to the old country. I even felt a bit sorry for them really, but then it could have been worse and they could have been in Paris in the 1780's or Russia in 1918!
If you are ever in Rio and find yourself at a loose end, take my word for it and don't bother heading to Petropolis. I have just saved you a whole day.