This week's recipe takes us to Costa Rica for a staple of 'Tico' cuisine: Gallo Pinto. Literally translating from Spanish to "spotted rooster", the multi-colored mosaic of rice and beans gives this signature dish of Costa Rica and Nicaragua its name. If you've ever traveled to either country, you've no doubt had this dish for breakfast (and most likely to accompany lunch and/or dinner as well). It's hearty, healthy, and delicious which is good because it's a staple of common Central American cuisine.
For more recipes from Costa Rica and other countries across Latin America, check out our World Cookbook!
This week's entry was submitted by Cara Solle Corson, Senior International Program Manager from our Boston Office. Enjoy!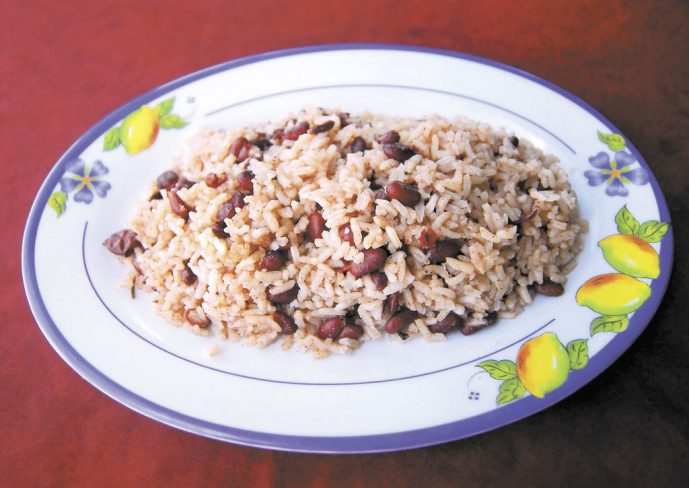 Gallo Pinto
Yield: 6 servings
Total Time: 15 minutes
Prep: 5 minutes
Cook: 10 minutes
Ingredients
2 tablespoons canola oil
1 medium onion, finely chopped
2 garlic cloves, minced
3 cups cooked white rice
2 cups cooked black beans, drained and rinsed
1 teaspoon ground cumin
1 teaspoon ground coriander
1⁄2 teaspoon ground ginger
2-3 tablespoons vegetarian worcestershire sauce (regular can be used as well)
salt & freshly ground black pepper, to taste
fresh cilantro (optional)
sliced green onion (optional)
Directions
Heat oil in a large skillet over medium heat.
Add onion and sauté until it just begins to soften and turns color.
Add garlic and sauté for about 5 minutes, or until onion is golden.
Add spices and Worcestershire, and stir into onion and garlic.
Next, add the beans and then the rice.
Combine the rice and beans evenly and cook until mixture is heated through.
Add salt and pepper to taste and serve hot.
Garnish with some chopped cilantro or green onions if you prefer.
Vegetarians use only the vegetarian Worcestershire sauce.
If you give the recipe a try, make sure to come back and leave a comment to let us know how it came out!

17 FREE RECIPES
ACIS World Cookbook
Bring the world into your kitchen with recipes from 10 different countries.