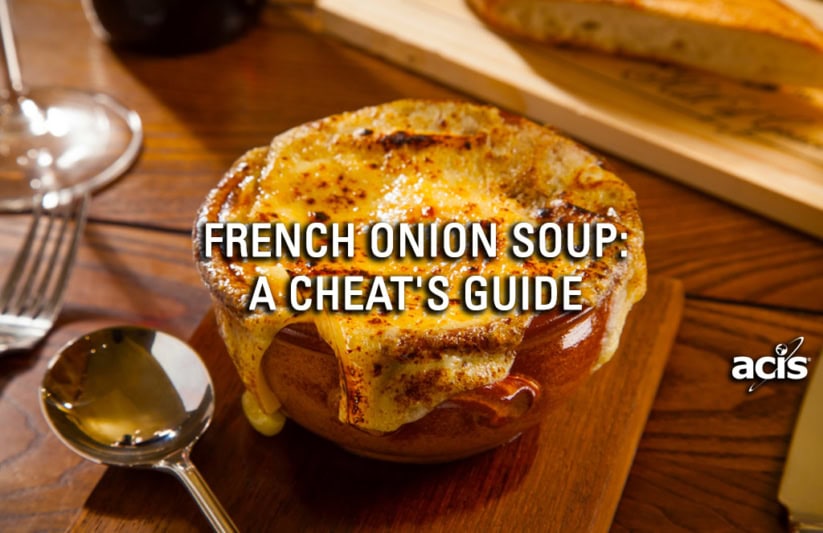 I love French Onion Soup, but there was a good reason I usually only ate it in restaurants rather than at home: it took forever to make! Hours of stirring those onions in the pot, letting them sweat until, slowly but surely and after an exasperatingly long time, they took on that golden and then caramel-brown color. Perhaps you'll sample the authentic dish on your next school trip to France.
But that was all before. Since then, my soup sphere has been revolutionized by the discovery that part of the work can be done in the oven. Let me explain. In my world, soups should be simple. They should be the quick answer to 'not another sandwich, what can I have for lunch instead?' They should be hearty and satisfying, a staple part of any winter diet.
When it comes to French Onion Soup, it's never going to be as quick as I'd like, it still takes more dedication than most soups, but at least it can be a bit simpler than tradition dictates. Rather than slowly (very slowly) stirring the onions for at least an hour while losing your time and patience, you can transfer the dish into the oven for about 2 1/2 hours while you go about your daily life.
Trust me, making this at home will be much better than the overly-greasy luke-warm onion soups you may have tried in wannabe authentic French bistros. The only thing you'll need is small oven-proof bowls or traditional crocks for serving since they have to be placed under the broiler to melt the cheese. But if you can't get your hands on these, you can always toast the bread and broil the cheese separately, and place it on top of your piping hot soup just before serving.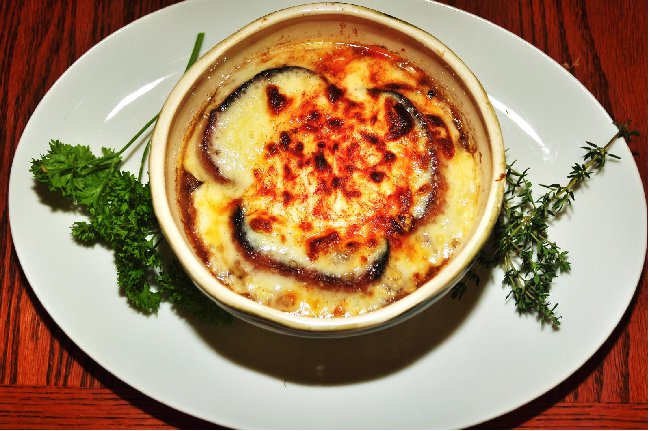 French Onion Soup (Serves 6)
Ingredients:
3 tablespoons unsalted butter
2 tablespoons of olive oil
2 pounds yellow or Spanish onions, peeled, trimmed and sliced thinly
1 clove garlic, minced
kosher salt
freshly ground black pepper
1 cup dry white wine or Madeira or Sherry
2 sprigs thyme
1 bay leaf
6 cups chicken stock
1 mini French baguette
2 cups Gruyère or Swiss cheese, coarsely grated
4 to 6 sprigs parsley, leaves finely chopped
Instructions:
Preheat the oven to 400ºF.
In a large Dutch oven or soup pot, melt the butter and olive oil over medium heat. Add the sliced onions, garlic, thyme, and bay leaf to the pot, season with salt and pepper. Cook, covered, in the oven for 1 hour. Stir, leave the lid slightly askew and leave the mixture to cook in the oven for another hour and a half.
Then, transfer the dish onto the stovetop, and finish cooking the mixture over medium-high heat, stirring occasionally, until all the liquid has evaporated and the onions are golden-brown (about 20 mins). Add the white wine or Sherry and cook a few more minutes, stirring until the wine almost evaporates completely. This happens very quickly.
Add the chicken stock, scraping the bottom of the pan to loosen any onion that has attached itself. Bring to a boil, then lower the heat and let simmer for about 40 minutes.
Meanwhile, keep the oven heated at around 350ºF. Slice the baguette into one-inch thick rounds. Place them on a baking sheet, and toast in the oven until lightly golden, about 10 minutes, then leave to cool.
Preheat the broiler. Taste the soup and add more seasoning if needed before ladling it into individual ovenproof serving bowls. Place two baguette rounds on top of each bowl of soup. Top each generously with the grated cheese and a pinch of chopped parsley. Place the bowls on a baking sheet under the broiler. Broil until the cheese melts and bubbles (1-2 minutes).
Serve immediately.
Bon appétit!

FREE 2017-2018 French Calendar
12 Months of Photos and Significant Dates
From Across the French Speaking World