This week's recipe takes us to France where in cities like Paris, crêpes are available on every street corner. They will certainly be a snack or meal students enjoy on a school trip to France. The word crêpe is of French origin, deriving from the Latin crispa, meaning "curled". While crêpes are often associated with the northwestern region of France, Brittany, their consumption is widespread in France, Belgium, Quebec and many parts of Europe, North Africa and the Southern Cone of South America. While crêpes are generally thought of as a dessert, they can be served as a savory meal as well. It all depends on the filling! They make a fantastic breakfast food when stuffed with cheese, eggs, veggies, or any kind of breakfast meat. The possibilities are endless and delicious!
For more recipes from France and other countries across Europe, check out our World Cookbook!
This week's entry was submitted by Alexa Patenaude, International Program Consultant from our Boston Office. Enjoy!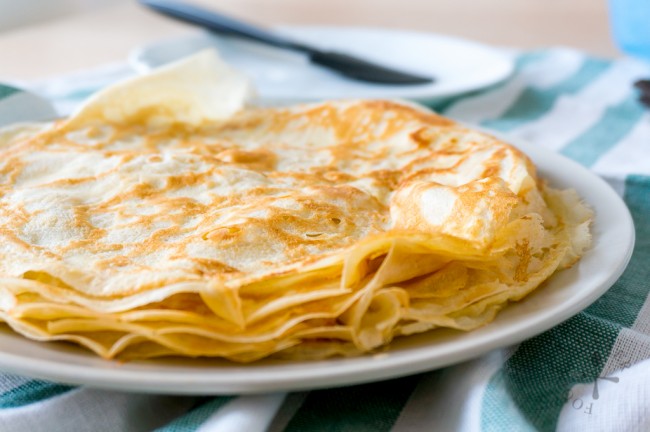 French Crêpes
Yield: 12 servings
Total Time: 35 minutes
Prep: 5 minutes
Cook: 30 minutes
Ingredients
1 cup all-purpose flour
1 teaspoon white sugar
1/4 teaspoon salt
3 eggs
2 cups milk
2 tablespoons butter, melted
Directions
Sift together flour, sugar, and salt; set aside. In a large bowl, beat eggs and milk together with an electric mixer. Beat in flour mixture until smooth; stir in melted butter.
Heat a lightly oiled griddle or frying pan over medium-high heat. Pour or scoop the batter onto the griddle, using approximately 2 tablespoons for each crepe. Tip and rotate pan to spread batter as thinly as possible. Brown on both sides and serve hot.
Add any toppings you'd like (berries, chocolate, etc.)
If you give the recipe a try, make sure to come back and leave a comment to let us know how it came out!

17 FREE RECIPES
ACIS World Cookbook
Bring the world into your kitchen with recipes from 10 different countries.