I had finally arrived at the Rangoon airport. A visa is required for entry, but I was able to have that arranged upon arrival. It went pretty smoothly. The whole process from the US to arrival in Burma took 3 weeks and did not require giving up my passport. The airport was civilized although very obviously with a military flair!
And after I picked up the visa, I was off to change some money and check exchange rates. The challenge in Burma is that you need both dollars and local currency and the dollars have to be the crisp new ones! They just don't accept a dirty $100 bill. That is vital information and not wise to take lightly. I happened to have made a $500 mistake by providing a slightly worn bill; it is basically unusable here. I changed $200 into the local currency, the kyat, which is pronounced like "chat." The exchange rate at the airport was good in spite of what guide books tell you. So even though Burmese money is accepted everywhere except in hotels and for large exchanges, without dollars you are in bad shape.
Also there are absolutely no credit cards and no cell phone use, but wireless internet is around and even at the airports. I found it useful and grabbed a cell phone at the airport as an emergency backup. Wasn't cheap costing $100 with only 10 minutes of talk time and not being any type of smart phone. This was going to be tricky!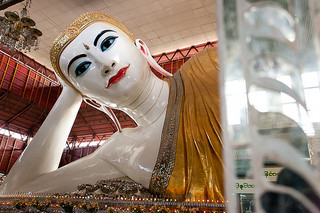 Met our guide and drove straight into sightseeing. The day was warming up and so we went to see the famous colossal reclining Buddha Chaukhtatkyi. There is going to be a lot of Buddhas on this trip, but none are as big and impressive as this one as it reclines in its own cool airplane hangar.
We then checked in at the very groovy old English chic Governor's Mansion Hotel. We went to the Shwedagon Pagoda at sunset. Nothing really prepares you for this. It is an absolutely stunning pagoda complex—all gold and spires that melt into the sunset sky. It was New Year's day and the complex was bubbling with crowds of children and monks who come here each year from all over to celebrate and give a kiss to the Buddha.
Candles lined the walls of the whole complex and at sunset they were all ceremoniously lit. Everyone was smiling and the kids were playing. I stood for a breathtaking moment and watched the crowds pass me by as they walked clockwise around the shimmering gold buildings.
If ever I had experienced an educational travel moment, I realized then that I had experienced nothing compared to this. So, this was Burma.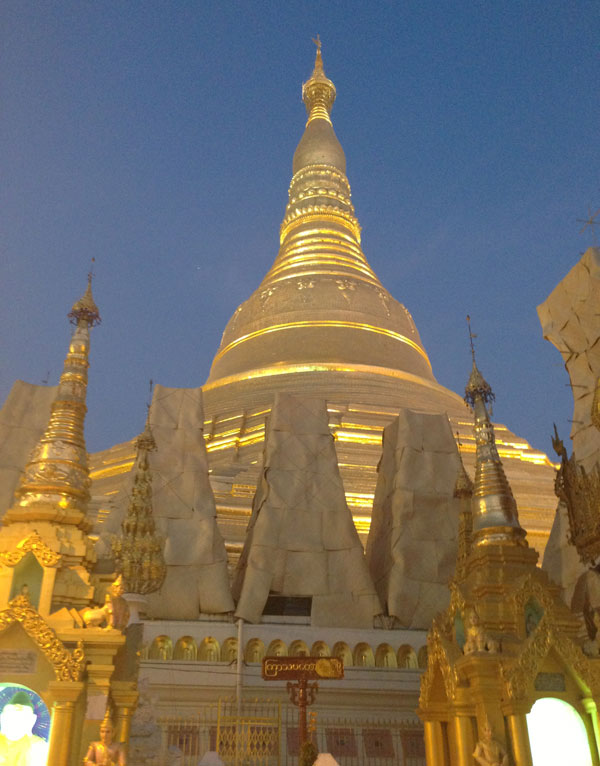 {photo credit for top photo: Reclining Buddha via Flickr}