This guest post was written by ACIS International Program Consultant, Jeannie Page, upon her return from our Global Teacher Conference in Ecuador earlier this month:
I recently had the great privilege of hosting a group of 15 teachers and their companions, from all over the US, on our week-long Summer Global Conference to Ecuador. We had teachers from every corner of the US, from California to New England, to Michigan and Texas. It was a wonderful group of friendly, incredibly well-traveled, savvy educators.
July 8:
We had a very busy, fun-filled week of travel that started out in Quito, the capital of Ecuador. Our first day we did a sightseeing tour of Quito and got to roam around the charming Old Quito and then up to Itchimbia, to see a great overview of the city where we created what I am calling the next ACIS Music Album cover!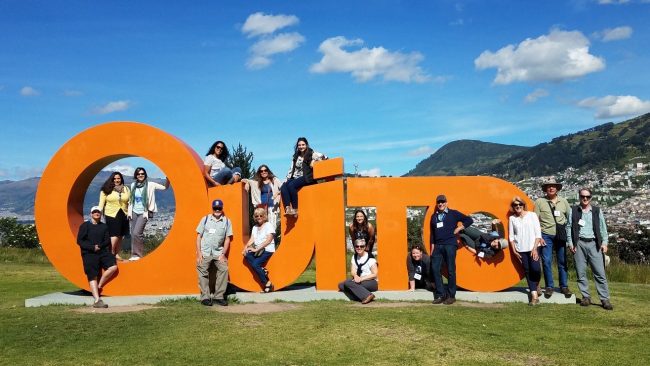 Next, we journeyed to the Mitad del Mundo to see the Equator. It's quite surreal to know that you are standing on the center point of the Earth where you can have one foot in the Southern Hemisphere and one foot in the Northern Hemisphere at the same time. We were like a bunch of giddy kids in a fun science lab as we watched them do experiments seeing the water go down in different directions, etc. If you haven't been to the Equator, add it to your bucket list!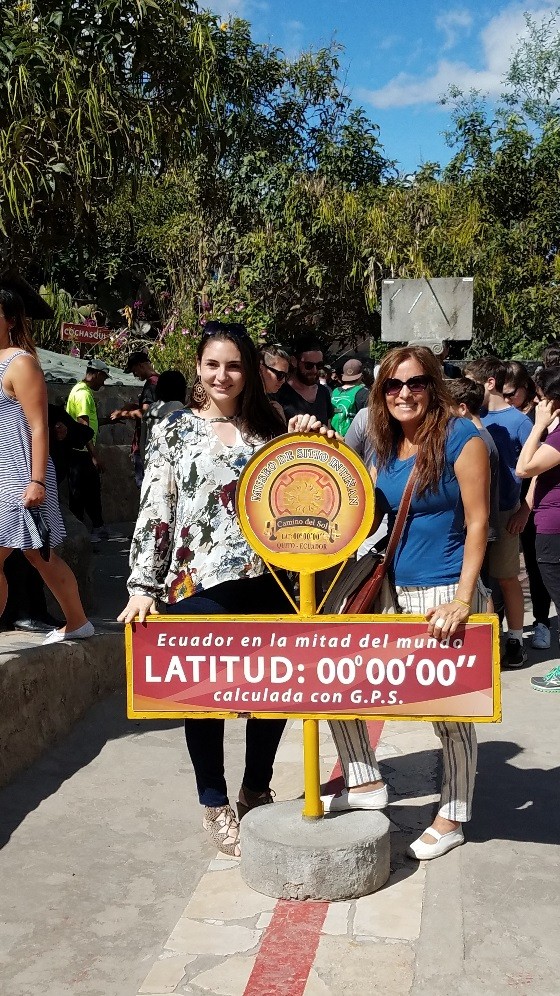 Our first day culminated with a scrumptious 3-course Welcome Dinner, following a fantastic and fascinating chocolate-making demonstration by a Swiss Chocolatier who owns a chocolate company in Quito with his Ecuadorian wife. It was so neat to learn all about the chocolate-making process, the sugar, and milk content that makes up different percentages of dark chocolate and to see how quickly and easily he can make a tray of passion fruit truffles. This was a highlight and a great way to kick off our trip!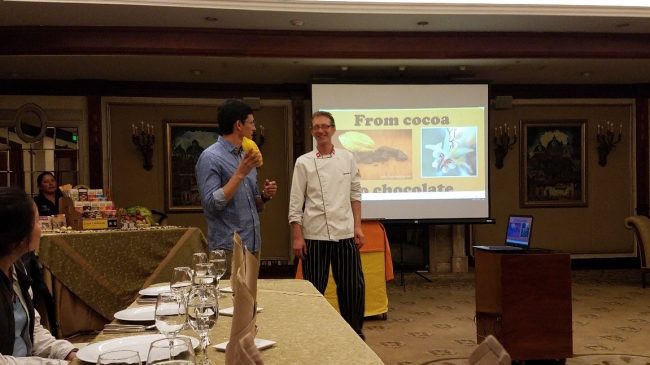 July 9:
Today we journeyed north to see the Otavalo Market. We've all seen busy, bustling markets where you are often heckled by merchants. This market was such a breath of fresh air! It was very relaxed and low-key, the merchants were so friendly and did not pressure us much at all. This was a lovely experience with many wonderful handicrafts purchased by all. From Otavalo, we continued on to the Peguche Waterfall where we took a lovely hike to the falls. From there, we traveled to Hacienda Pinsaqui, one of Ecuador's oldest haciendas. The hacienda began operation in 1790 as a colonial textile enterprise with thousands of weavers working there to export their fabrics to the United States. Numerous historic figures have been hosted through over the centuries, including the liberator of Ecuador, General Simón Bolivar. The hacienda, with its beautiful grounds, was endlessly charming and we felt like we had stepped right back into the 1800s.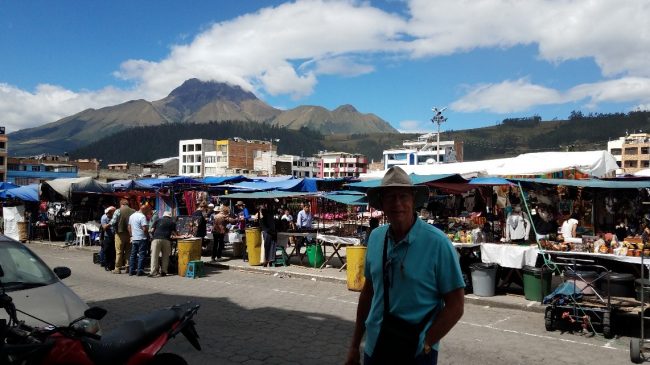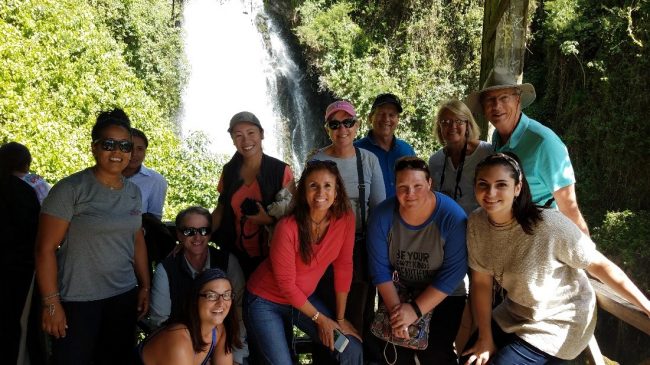 July 10:
This entire day was full of highlights! This morning we were happy to get our walking legs under us as we began the day with an energetic hike up to Laguna Cuicocha (which means "lake of the guinea pigs" in the local Quechua language), a breath-taking two-mile-wide crater lake at the foot of Cotacachi Volcano. As we were hiking up the trails, having no idea how far we were going, we were all stupefied when the glistening lake unexpectedly came into view over a crest.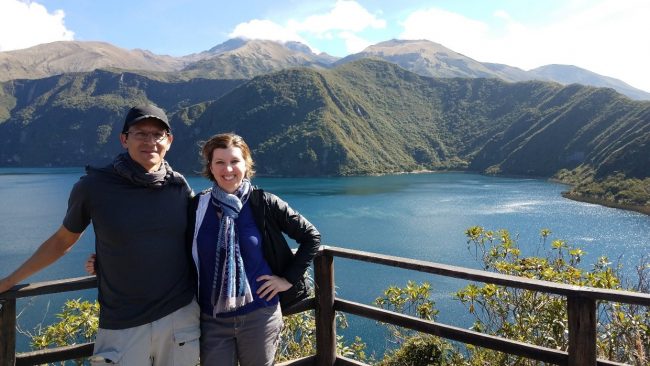 From there we continued on to the quaint town of Cotacachi, Ecuador's biggest center of leatherwork. The next stop, which was definitely one of the highlights of the trip, was a visit to the Hacienda La Compañia Rose Plantation, where we enjoyed yet another fantastic 3-course meal, followed by a visit to the plantation. While we were expecting to see a field of roses, we saw so much more and learned all about the entire process of rose cultivation, from the grafting of root stocks to the packaging and exporting of roses all over the world. Who knew that Ecuador is the world's third-largest exporter of cut flowers, 73% of which are roses?! The next time you buy your honey a bouquet, there's a good chance they came from Ecuador! The entire group really enjoyed this interesting and extremely educational visit.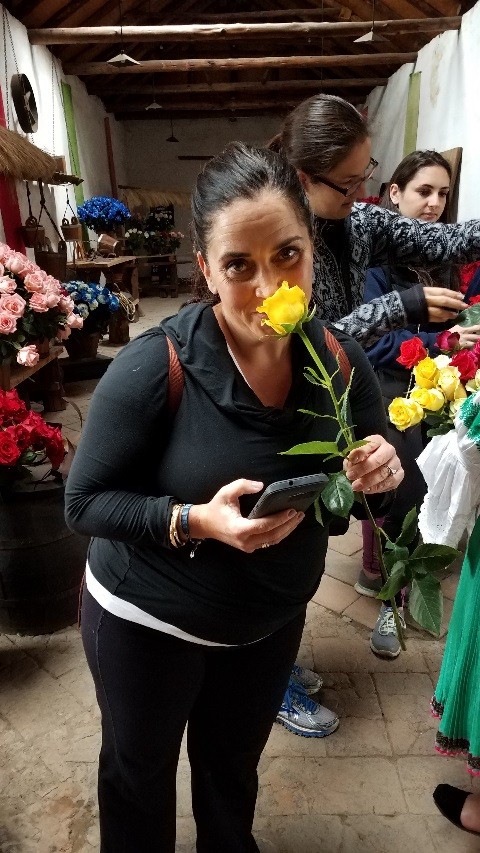 From the rose plantation, we journeyed back south to the Hosteria Termas de Papallacta, where we were delighted to see that the entire hotel is built over thermal baths with pools right outside of every room. If you want to find paradise, this was it! We spent the evening floating around quite happily in the hot springs! This was a favorite for many on the trip!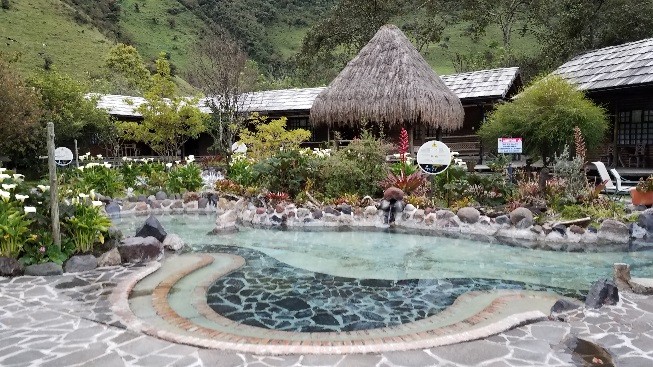 July 11:
It was a good thing we got to relax in the hot springs the night before because today was a colder and more blustery day spent hiking at the base of Cotopaxi Volcano in Cotopaxi National Park. Though the weather did not diminish this entirely epic experience! The volcano had a large eruption two years ago so mountaineers are no longer allowed to climb to the summit (hence the evacuation signs all around us- eek!), but we did a lovely hike around a lagoon at the base of the volcano. There were wild horses living all over the plane so it was marvelous to see them running wild and drinking from the lagoon. We had two horse owners on the trip so this was a highlight for them! This was also our highest altitude day, at approximately 13k feet, but amazingly we all did great and nobody got the dreaded altitude sickness. From Cotopaxi we continued on through the Avenue of the Volcanos, catching a few glimpses of Chimborazo Volcano, Ecuador's highest peak at approximately 20,500 feet. That evening we arrived to the lovely Hacienda Abraspungo, which is a jumping off point for many mountaineers climbing the various volcanos. The hotel was decorated with photographs going back hundreds of years of mountaineers doing these daring hikes. Imagine doing that back in the day without our modern equipment!
July 12:
It was an early start today to get to the Devil's Nose train ride, so named because of the high number of railroad workers that perished here while working on the train tracks. This was a stunning train-ride through dramatic rolling hills, lush green with farm plots clinging to every steep angle of every hill. They don't do terraced farming here, but somehow these farmers get out there and cultivate their fields on the steepest hills. Incredible! We had a train engineer for the Long Island Railroad in our group, so she was like a kid in a candy store, getting to see the engine room with the engineer, learning all about the train's operation. This was a lovely ride through the Ecuadorian countryside!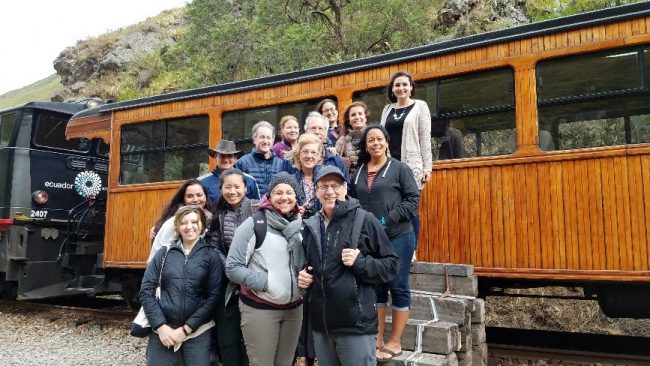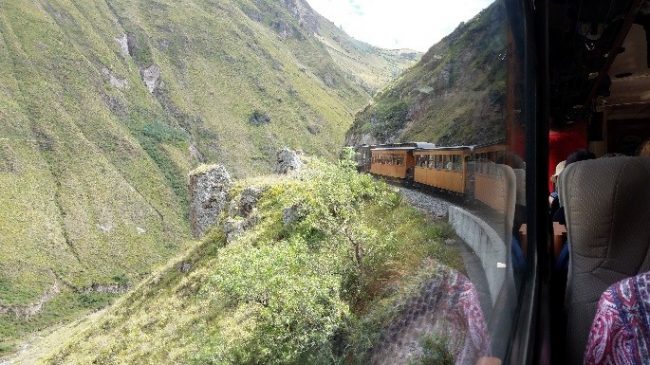 After the train-ride, we began our journey down to the Ecuadorian lowlands for our final night in the port city of Guayaquil on the River Guay. We got to see the dramatic shift in the landscape from the rugged volcanic region with cool, dry mountain air, down to the hot and humid lowlands of banana and sugar plantations.
Once in Guayaquil, we visited the Ecua Andino Panama hat factory to see how every individual Panama hat is woven by hand. And we finished our final evening in Guayaquil with a walk along the Malecon before closing out our wonderful week with a fantastic farewell dinner. This was a truly magical trip with a group that bonded so well. A great time was had by all and many new friendships were formed.
The vast majority of us on this trip had never been to Ecuador before so this was a wonderful introduction to a beautiful country with such friendly people. We were so lucky to be guided by our fantastic, funny Tour Manager, Paul Bustos, who taught us so much about his country and regaled us with wonderful stories of his childhood and life in Ecuador. Along with him, was our faithful bus driver, Macias, whose expert driving skills carried us safely all over the Ecuadorian highlands, all with the warmest smile.
If you too have not yet been to Ecuador, I highly recommend it! Check out ACIS' fantastic Ecuador programs:
– Highlands of Ecuador – this trip focuses on many of the areas seen on this tour.
– Ecuador Animal Rescue – for the biology teachers and animal lovers out there, this is a great service-learning opportunity.
– Ecuador and the Galápagos Islands– of course, who doesn't want to go to the Galápagos?!
For further information and to speak with teachers who have done these above programs, please contact your International Program Consultant.

FREE CATALOG
ACIS Catalog
Browse over 100 educational travel excursions all over the world. From
service learning to cultural connections, find a trip to meet your goals.