More than just a national pastime, eating in France is also a skill. More specifically, choosing a restaurant based on the menu displayed outside and knowing how to decipher that menu is not something an American student is innately equipped to do, but going out on your own at lunchtime and navigating the perils of French waiters is a valuable cultural experience. More so, it's one that students can be prepared for before they even set foot on European soil. Some of the following explanations and advice can be dispensed in preparation for their trip.
In France, you will often have two choices when eating out: picking something from the extended menu (known as eating "à la carte"), or eating from a reduced, set-price selection known as "le menu". This latter option is not only often cheaper for a 2 or 3-course selection, it's also more likely to feature fresh ingredients since it's essentially a bit like the chef's recommendation for the day. Beware, in France, the "entrée" is the starter (often just salad or soup), and the "plat principal" the main course.
There will be different "menus" for lunch and dinner, or sometimes a very similar menu but at different prices. It's often really worth lunching out in nice places where you will be able to eat equally well but for a much lower price than at dinner-time. In fact, instead of bringing a sandwich to work, you will likely see business people take an hour and a half off and go out for a 3-course meal in the middle of the workday. And in France, there's no stigma attached to having a glass of table wine before going back to the office!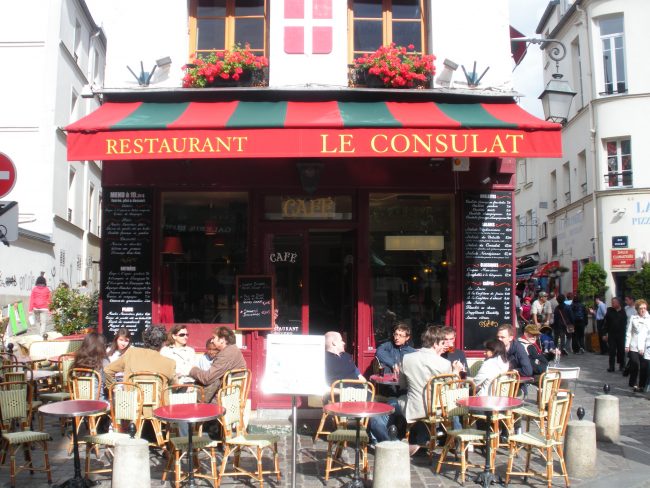 In my experience, the smaller the menu, the better the quality of food on offer. Choice is not such a big seller in France; you won't find 4-page brunch selections or a choice of 5 different types of bread with each meal. The restaurant will get their fresh baguettes from the same bakery every day, and if you ask for something unexpected like whole-wheat bread, at best you will be served some defrosted toast; at worst, you will be stared at blankly as if you just spoke Chinese.
Try not to be put off by unfriendly waiters. Trust me, it's not you, it's them. There is a very different attitude in France to service: the chef, and not the customer, is always right. I have been told that it all goes back to the French Revolution and the notion of "égalité". Simply because they are serving you does not mean that waiters should be considered inferior in any way. On the contrary, it is they who hold the key to the wine cellar, lest we should ever forget.
But the most tempting and often the most friendly places in France are often the small, family-run restaurants which offer only a few local specialties every day, and which you may strongly suspect of using their grandmother as a contented kitchen slave. In Paris, these little eateries are hard to come across, but out in the "province" these pearls are less rare.
So next time you send students out for lunch, encourage them to leave their pickiness aside and consider applying the following rule: the less choice the better. Even if they don't understand half of the words on the menu, they should take a risk once in a while and see where the culinary adventure takes them.
What's your favorite experience eating out in a foreign country? Let us know in the comments section below!

17 FREE RECIPES
ACIS World Cookbook
Bring the world into your kitchen with recipes from 10 different countries.