This is the third in a series of articles profiling destinations new to our 2017 catalog. This post was contributed by ACIS marketing intern Jeff Zeserson.
Europe is full of cities with longstanding history but few have had to press the restart button. Each city has their own unique culture and builds on it over time through architecture, politics, the arts and so much more. Dresden, located in a valley on the River Elbe near the Czech border in Germany, was at one time a cultural, educational, political and economic center of Germany and Europe before being reduced to rubble in a matter of days. It was called "the Florence of the Elbe" pre-WWII and known as one of the world's most beautiful cities for its architecture and museums.
Settled around 7500 BC, Dresden is considered to be one of the more recent settled German cities. Its cultural significance started when the Elector and ruler of Saxony, Frederick Augustus I, became King August the Strong of Poland and invited many of the best musicians, architects and painters from all over Europe to the city. Under King August's reign, Dresden emerged as a leader in Europe for both technology and art. Its rich cultural history is unfortunately matched with a history of destruction and war.
Dresden is most famous around the world for the catastrophic damage it took during WWII but that is not the only time it was hit during a war. Its military history goes much beyond WWII. The city also suffered heavy destruction during the Seven Years' War (1756-1763). It was a base of operations during the Napoleonic Wars including the famous Battle of Dresden (27 August 1813). It was a center of the German Revolutions, which was a civil conflict at the end of WWI, in 1848 with the May Uprising.
Nothing compares in Dresden's military past (or many cities' military past) to what happened during WWII. Between 1944 and 1945, the city was attacked seven times in air raids carried out by the Royal Air Force and the United States Air Force. The Allies dropped over 950 tons of high explosive bombs and over 290 tons of incendiaries, which took an estimated 30,000 lives and left a city in ruins.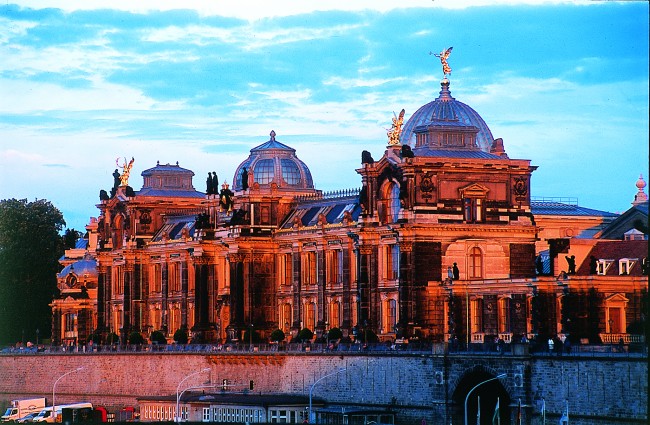 The bombings were very controversial at the time as Dresden was neither important to German wartime production nor a major industrial center and had not faced any sort of previous Allied attack. It was home to a military complex, Albertstadt. The Allies justified the bombings by saying it would interrupt important lines of communication that would have stalled the Soviet offensive.
Author Kurt Vonnegut was in Dresden at the time of the bombings as a prisoner-of-war and his famed novel Slaughterhouse Five gives a first-hand account of what happened. He shares his viewpoint on the war and the unfortunate situation that he found himself in. On describing how the city looked afterwards, "It looked a lot like Dayton, Ohio, more open spaces than Dayton has. There must be tons of human bone meal in the ground."
Not long after the bombings, Germany surrendered and the war ended but the damage was done. Dresden, once a vibrant and thriving city, had been more or less destroyed. It was hard to see how it could rebuild, but surely and slowly it did. Today, it's home to over half a million people. Its famed culture resurfaced and the city now has 44 museums, 36 theaters and several festivals, including the Dresden Music Festival and the International Dixieland Festival. Many important historic buildings have been rebuilt, such as the Semper Opera House and Zwinger Palace.
Dresden had to go through more dramatic changes in the 1990s due to German reunification. Although the city has returned to its culturally unique reputation, it still displays many wounds suffered during WWII. Upon visiting this "Jewel Box" of a city, one will learn all about its history, the good and the bad.
Check out the complete itinerary for Prussia, Bohemia and Bavaria, our tour featuring Dresden along with visits to Berlin, Munich, and Prague!

FREE EBROCHURE
ACIS Catalog
Browse over 100 educational travel excursions all over the world. From
service learning to cultural connections, find a trip to meet your goals.