Back to Blog Home
Canada Beyond French Language: A Destination for Culture and Student Bonding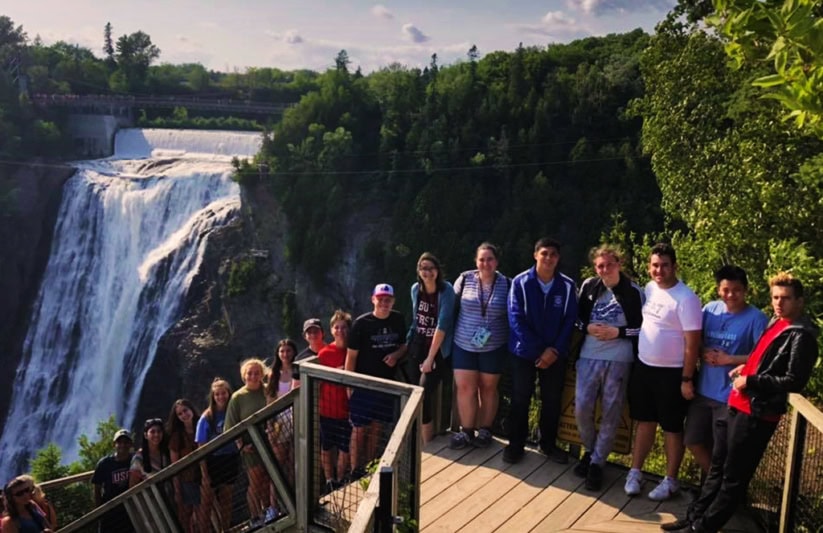 An interview with Chris Layson, an ACIS Academic Travel Advisor and Group Leader who has traveled with ACIS for 15 years as a teacher and was a student traveler with ACIS prior to that.
The first thing that probably comes to mind when you think of school travel to Canada? That's a destination for French students! While Canada is great for students to practice French, our neighbor to the North offers so much more.
Over the summer, ACIS Group Leader and Academic Travel Advisor Chris Layson took his class on our La Grande Adventure tour with an English teacher from his school. He shares why he thinks Canada is a wonderful destination for teachers across subjects (from history to art to languages) and why the summer is an excellent time to visit.
Aside from the itinerary itself, what appealed to you about taking your students to Canada?
Canada has such an ease of access, especially from the upper Midwest/Northeast. My students kept saying they couldn't believe that all of this was only a one-day drive from home. Many said they were going to tell their parents that they need to get right back in the car and head back up next Summer. And, if you are traveling to Canada by bus, students don't need a passport. You can give them the international experience without having all the hoops to jump through to get there.
We also felt very safe in Canada. I have never felt more at ease with a group of students anywhere else in the world.
Did anything surprise you about Canada during your visit?
I was enthralled by the depth and richness of the history between the French, British, Canadians, and First Nation peoples that I wasn't previously in tune with. What an important story that had a huge impact on the formation of the early USA.
Additionally, the beauty of the cathedrals and natural setting was astounding. The sites were not crowded at all compared to Europe in the Summer. Also, the temperature being that far north was quite pleasant.
What were some of the highlights of your itinerary?
This five-night tour spent time in both Montreal and Quebec. The itinerary was jam-packed with activities and eating breakfasts out at restaurants to start the day was a wonderful experience to get the day going.
Some of our favorite activities on the tour included:
We were originally scheduled to see a production at the Place d'arts in Montreal, but the timing of our trip landed just after their big festival. That being said, I would absolutely recommend the Improv workshop at the Theatre Sainte Catherine that we did instead. It was an hour and a half of hilarity that really helped to bond the kids right at the beginning of the trip.
The Comparative French cultures class taught by local language teachers can focus on either French cultures or survival Quebecois skills. The French Lesson was perfect for new and experienced learners. There was such an emphasis on Quebecois culture and phrases that an advanced student would find interesting and a non-French speaker would find helpful and engaging.
Who do you think would be the best fit to lead a group on this Canadian itinerary?
I think French/History/Theater is the winning combination for this itinerary but that is just the start! Any teacher can find a way to connect travel to their curriculum.
Ready to start planning your adventure? Consider Canada in the summer for great weather and smaller crowds, or the winter for outdoor adventure (in snowshoeing, dogsledding, curling, ice skating, or a visit to ice castles) and be the teacher whose name your students will never forget and whose trip just might be the students' first experience traveling outside of the U.S.