Back to Blog Home
As The World Turns with Peter Jones – Episode 5: ACIS Tour Manager Peter Ede [VIDEO]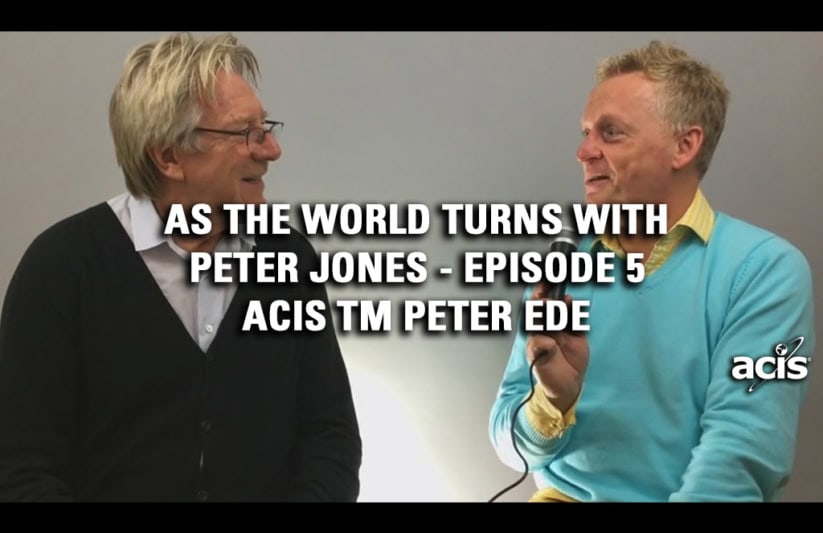 In December of 2016, before our annual meeting of the ACIS Tour Managers, we recorded a series of interviews with a handful of tour managers in our London office. The fifth of those interviews we're publishing today is with Peter Ede.
ACIS Tour Manager, Peter Ede, was born in Germany and moved to England at the age of 12. He studied German and Dutch at Cambridge and speaks both languages fluently today in addition to French and Spanish. He discussed his favorite places to travel with groups in Central Europe, his favorite cities and more with ACIS President Peter Jones.
Transcript of the interview is available below.

FREE LESSON PLAN
Online Tour of Neuschwanstein Castle
6 German Classroom Lesson Plans to do with Your Students Based
on the New Bloom's Taxonomy For World Language Instruction.
Peter Jones: Hi. So I am with Peter Ede who works for us sometimes as a tour manager. And Peter, just thought I'd introduce you to our audience. Where do you hail from?
Peter Ede: Well, I'm English, but I'm actually half German. Yes, I spent the first 12 years in Germany. But I've got roots all over the place, Central, Eastern Europe as well, yes.
Peter Jones: So obviously, when you work for ACIS, you tend to work inside the Germanics, right? But, so you speak English?
Peter Ede: I speak English, German, Dutch, French, and Spanish, actually.
Peter Jones: That's not bad, is it? Blimey.
Peter Ede: But I've worked all over the place from all the way up from Norway down to Turkey, so right across Europe.
Peter Jones: OK, so because you work in all these different places, what's your favorite place to work?
Peter Ede: Any number of countries in Central Europe, very easy. Switzerland, Germany, Czech Republic, Poland I really love.
Peter Jones: OK.
Peter Ede: Yeah, all those places. Everything works really well. And they're just lovely places to be.
Peter Jones: And where did you–you're English. So where did you come from in the United Kingdom?
Peter Ede: So my father's family is from Hampshire but– which is in the South–but I now live in Suffolk, which is in the East of England.
Peter Jones: Suffolk is in the East, OK. And let me ask you this. I won't let you use England, but what's your favorite city to visit? Let's say, start with favorite city on your own, because sometimes that can be different, and favorite city with a group, because there are different things
that you obviously see.
Peter Ede: OK, um. There's actually quite a lot of overlap between them. I'm not sure I could pull one out of the hat, but there are several. Zurich I really love, Munich, Stockholm, and Amsterdam would be my top four in Europe probably.
Peter Jones: Yes. Yeah, I actually, I adore Amsterdam. It's just an incredible place. And especially if you're from here, actually, it's not
too far away, right?
Peter Ede: Yeah so from where I live, the closest airport is actually 25 minutes in the air.
Peter Jones: So one second. Let me get this right. You said you spoke Dutch. So how did that happen?
Peter Ede: That was a bit of a whim. I studied Dutch at Cambridge University where I studied. I actually was admitted to do German and Russian. I did a week's Russian. And I thought, this is far too much work. I'm going to change and do something which is a bit more fun. So I switched to Dutch.
Peter Jones: So you went to Cambridge and you studied German and Dutch.
Peter Ede: Exactly.
Peter Jones: Wow. That's pretty good. So how similar– because, you know, when we hear Dutch, sometimes when you're listening to it and you close your eyes, you actually think you're listening to English.
Peter Ede: Yeah, apparently they could put a Dutchman on the stage in Shakespeare's time as a comedy figure and the audience would broadly understand them. So I could give you some Dutch. Do the door open is open the door. The man is in the house. The man is in the house. There are all sorts like that, but–
Peter Jones: Right, so we get lots of our original words, I think, from the Dutch like yacht, for example, right?
Peter Ede: Yacht, Santa Claus, of course, cookie. There are several of them have come from Dutch. Coleslaw which means cabbage salad, coleslaw.
Peter Jones: Cole slaw. It's not German, Dutch?
Peter Ede: This is Dutch.
Peter Jones: Oh, that's great. Wow. Language is wonderful.