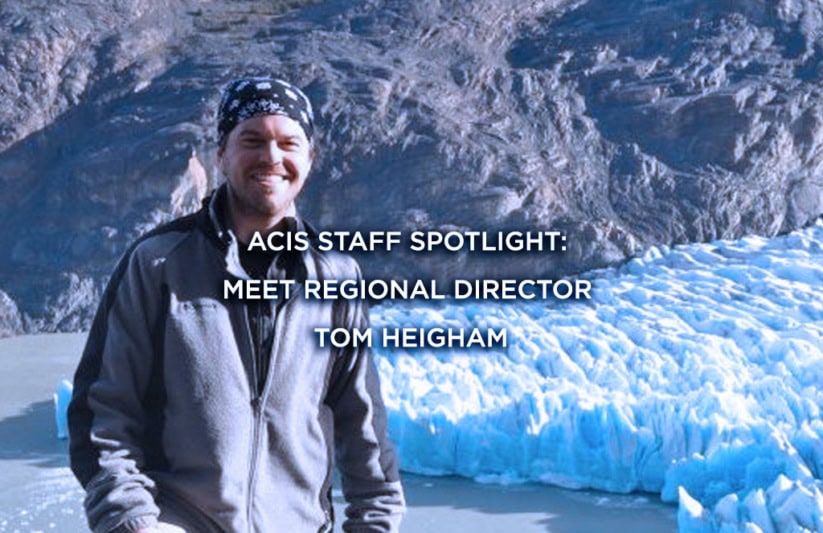 Regional Director of Sales Tom Heigham has been at ACIS for 14 years, so you could say he has a bit of experience helping teachers travel. When he's not planning itineraries for others, though, he loves to go looking for adventure across the globe. Learn more about him in our latest staff spotlight below!
Tell us a little about yourself! What do you enjoy doing other than working for ACIS?
The mountains are my happy place. I love the outdoors and feel most at home in nature: hiking, camping, trail running, kayaking, skiing.  I also love a good adrenaline rush!  Skydiving, bungy jumping, whitewater rafting… you name it.  I'm in!  And the faster, the better!
So things like this:

Precisely!
What initially made you want to work in travel?

I was backpacking with a buddy through Costa Rica and had the most amazing experience. We saw and did so much.  I completely got the 'bug' and started my love affair with travel.  On the flight home I decided that I needed to find a way to do more, and to share the impact that travel can have, with other people.  I came home and started looking for a job.  As fate would have it, I found ACIS and have been here ever since!
What is your favorite travel destination?
Too many to choose just one, but Thailand or Morocco would both be near the top.

Talk about a "Travel Changes Lives" moment that has happened for you.
One of my dreams had always been to climb Mt. Kilimanjaro in Tanzania.  A few years back, that dream became a reality.  To summit, you wake up just after midnight and hike for 5+ hours in complete darkness other than your headlamp.  It was below freezing and at 19,341 the air is so thin that even breathing and talking are hard.  You're left to little but your own thoughts.  Being at the highest point of the African continent as the day breaks…wow.  Some statistics suggest that fewer than ½ of the people who try to summit succeed.  It was a proud moment for sure. That's definitely an experience that I'll never forget.

Where do you want to go that you haven't been and why?
New Zealand!  It's an adventure lover's playground!
What would your advice be to your younger self?
Don't let life become a series of 'Someday I'll. . .  .' statements.  Nobody knows what tomorrow may bring. Stop making excuses for why you can't, and just do it!
Any fun stories from your trips to share?
I was in Fez, Morocco staying in a beautiful Riad (traditional Moroccan house). As a solo traveler having been exploring for a week on my own, I was excited when I met two travelers from Tazmania and made quick friends with them. The managers of the property obliged our request for an authentic experience. We went to a local market to buy ingredients for dinner (including choosing our own live chicken!) and learned how to cook all sorts of tagines and Moroccan staples and dishes.  While we were preparing everything, we listened to traditional music and learned traditional dances and learned so much about the history, culture and our hosts' families.  Then we dined together on a rooftop terrace overlooking the city, seeing the minarets glowing green and hearing the call to prayer.  It was a complete sensory overload.  I am so fortunate to have experienced something so special.
Strudel or sachertorte?
Strudel!

Spaghetti or pizza?
Pizza!