s of the educational travel industry, as travelers and as humans in a global community, we all have a vested interest in protecting and restoring the historic places people want to visit.
ACIS volunteers Allison, Carrie, Nichelle, Renee and Tom joined over 600 other members of the tourism industry for day of giving back with Tourism Cares for America in New York City. Focused on the restoration and clean-up of Coney Island, Brooklyn, and Fort Tilden, Queens, this was Tourism Cares' 10th anniversary celebration, held in NYC a decade after the organization's first project helped to revitalize Ellis Island. Some of their previous volunteer events have included New Orleans, the Mississippi Gulf Coast, Virginia City, Gettysburg, San Francisco Bay and Mystic Seaport.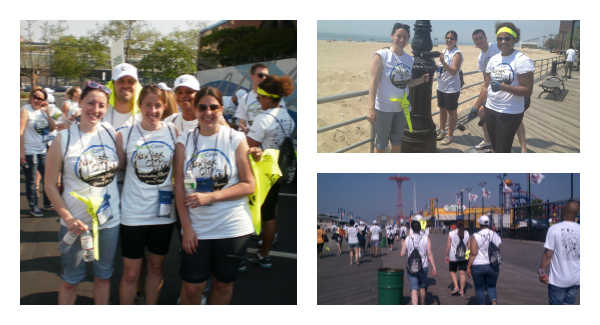 [Carrie, Tom, Allison, Nichelle and Renee prepping for work at the NY Aquarium. Right Top: Carrie and Renee paint light posts with some new friends from DC.; Right Bottom: Strolling to the work site on the iconic Coney Island Boardwalk.]
In the wake of Hurricane Sandy's destruction, the need for assistance at this year's chosen sites became even greater. The five of us from ACIS joined the team that contributed to the painting of 200 lampposts and public water fountains along the famous Coney Island Boardwalk, using over 120 gallons of paint and possibly producing equally as many gallons of sweat—it was a steaming hot day! Other volunteers restored snow fences, cleaned and painted the New York Aquarium, painted and installed plantings in playgrounds and cleaned up beaches.
On Thursday, our day of arrival, in partnership with NYC & Company, the Tourism Cares volunteers attended a special ceremony at the 9/11 Memorial at Ground Zero to honor the victims, their families and the first responders. This held a special meaning for all, as the White House's call to Americans to give back to their communities following the events of September 11, 2001 was the catalyst for the formation of the Tourism Cares volunteer organization. It held an additional special meaning for me, as it was my first visit to Ground Zero.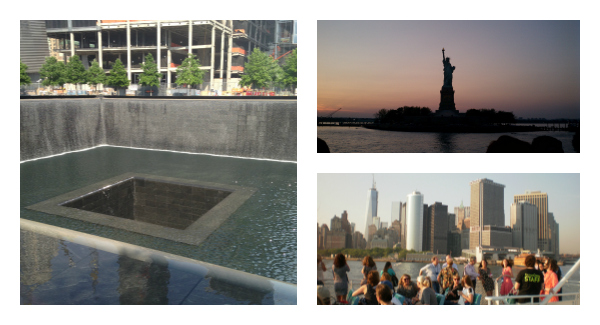 [The 9/11 Memorial's North Pool. Right Top: Statue of Liberty at sunset.; Right Bottom: View of lower Manhatten from the harbor cruise.]
This reflective experience was followed by a short walk to South Street Seaport to board the Zephyr for a sunset cruise down the East River, rounding into New York Harbor, up the Hudson River and back around. It was an opportunity to mingle with other tourism volunteers and realize the power of uniting, whether industry competitors or not, towards a common goal that serves all of our best interests. As the Zephyr cruised past the Statue of Liberty and lingered near Ellis Island, everyone was invited to think about what Tourism Cares volunteers have achieved over the past ten years. It was a great motivator for Friday's full day of volunteer service.
[Over 600 travel industry volunteers gathered at the New York Aquarium for the Tourism Cares NYC service event. Photo: Tourism Cares]
Learn more about Tourism Cares, the largest tourism industry volunteer group in the U.S.