Greetings to all the damas, caballeros y fiesteros! (ladies, gentlemen and party people!) After two years exploring the Iberian Peninsula, I've learned about the good, the bad and the mystifying of Spanish festivals. When is it permitted (and expected) to wake up your neighbors at 8am with firecrackers? Las Fallas. Which Madrid Festival is so popular it actually shuts down the metro lines? Orgullo. How often does school shut down for these festivals? Always. Many have heard of Pamplona's Running of the Bulls and Tenerife's Carnival, but here are a few regional festivals that you need to check out!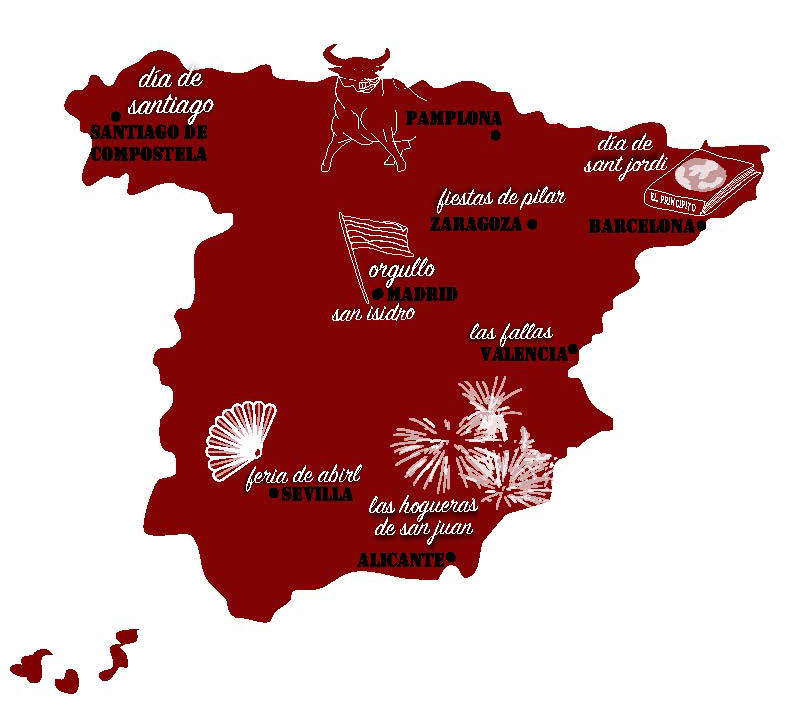 MARCH: Las Fallas, Valencia
In my opinion, Las Fallas is one of the most underrated, yet exciting celebrations in Spain. Think: firecrackers, flames, parades, gunpowder, and fireworks. Now multiply that by ten. It's not a festival for the faint of heart. In fact, many local Valencianos leave the city during las fallas due to the deafening explosions and massive crowds that fill the city during this five-day party. For the two weeks leading up to the festival, the government puts on a short firework display (La Mascletá) at 2pm outside of the city hall. The visual display of La Mascletá is limited to what you can see behind the huge cloud of smoke, but the noise is powerfully impressive, it is thunderous enough to make you feel like the Earth is actually shaking beneath you and the audience loves it. It's likely that if an actual life threatening explosive were to detonate, the crowd would erupt in applause. The roads are only open to pedestrian traffic for viewing of the massive hand-made maché sculptures, called ninots, that anchor each street corner. They are the main attraction of las fallas. By day, viewers appreciate their design, architecture, and paintings. By the last night, they are piles of ash and charred plaster. Festival-goers stake out spots to watch their favorite ninots go up in flames at midnight, but they don't stand too close that they catch a spark from the fireworks stuffed inside.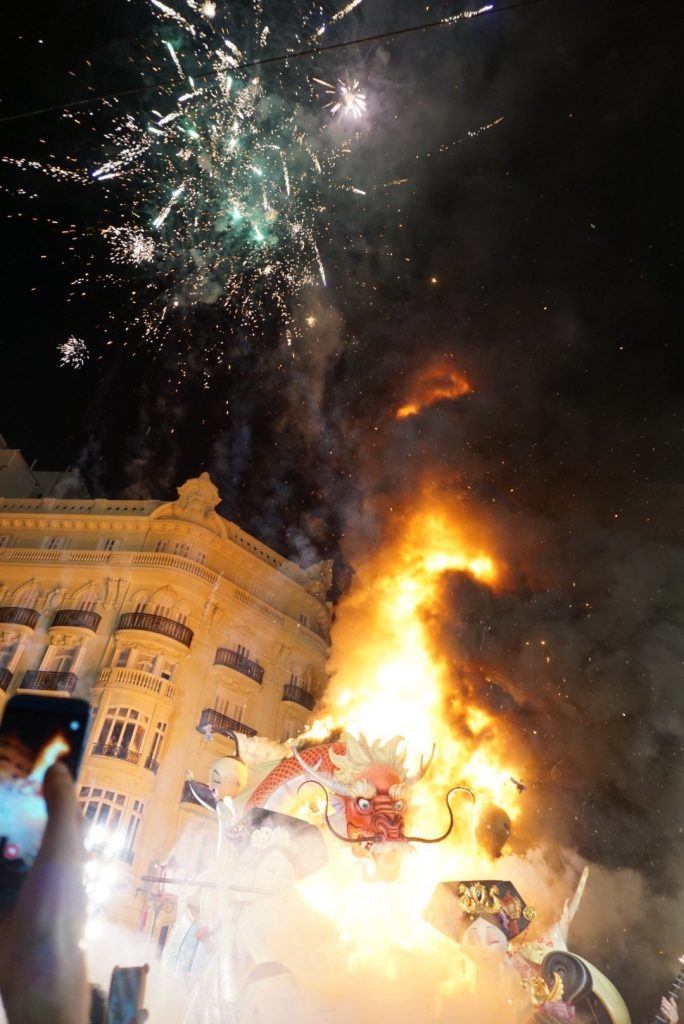 APRIL: Feria de Abril, Sevilla
Sevillanos take Feria de Abril very seriously. If you're lucky enough to end up in a tent during Feria in Sevilla, please know that you have muchísma suerte (a lot of luck) and that you are standing amongst a very large group of very passionate partiers. Most Feria tents are private, so this event is largely celebrated by locals, their friends and families. Saying "I'm going to celebrate Feria in Spain" is like a foreigner saying "I'm going to go to America and celebrate Thanksgiving!" You can do it, but it makes a lot more sense if you've been invited by a local. Historically, feria has been celebrated over a five-day period in Andalucía. In 2016, Sevillanos voted to extend the festival by two days. There was such a huge voter turn-out, they literally broke the polls. This is so ironic considering that Spain spent almost two-thirds of 2016 without a government.
APRIL 23: Día de Sant Jordi, Barcelona
Meet Sant Jordi: the Catalonian Cupid. Forget chocolates and a romantic dinner. The version of valentine's day that the Catalonians celebrate is all about exchanging books and roses. Stalls of literature and flowers pop up all along the streets of Barcelona for couples, families, and friends to look for the perfect gift for their loved ones.
More widely known as International Book Day, April 23 also commemorates the deaths of Miguel de Cervantes and William Shakespeare. Many schools celebrate literature and books with a reading day or book exchange in order to inspire student's love of literature from a young age.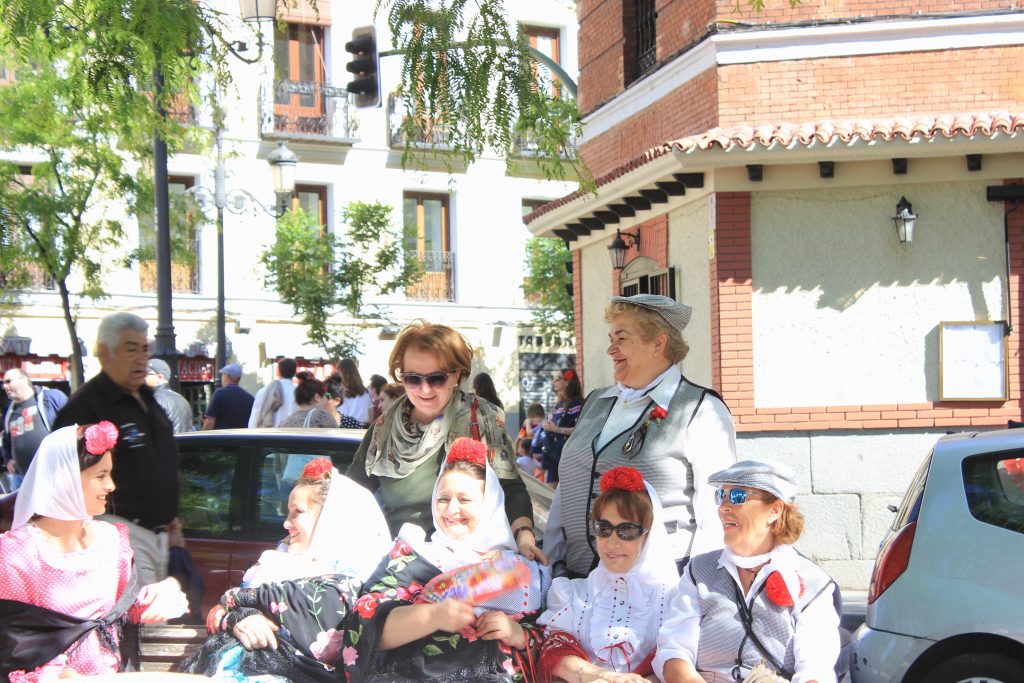 MAY 15: San Isidro, Madrid
The patron saint of Madrid, San Isidro, was a farmer who is honored each May with songs, dancing, carnations, and donuts. San Isidro Park is the hub of the festivity magic, where plays are reenacted, groups perform in dancing circles, and where all the rosquillas are sold. Rosquillas, homemade Spanish donuts, are not hard to find in bakeries and street carts during San Isidro, but you'll seldom see them other times throughout the year. These seasonal treats are traditionally prepared two ways: tonta or lista (silly or clever). The tontas are plain, simple donuts with no toppings; the listas are iced with a lemon glaze. The original recipes date back to the middle ages, yet a few, new spins have been added to the rosquilla market: topped with almonds, sugared, and even meringue rosquillas. They're all delicious. So, that really only leaves one question: Para tomar o para llevar? (For here or to-go?)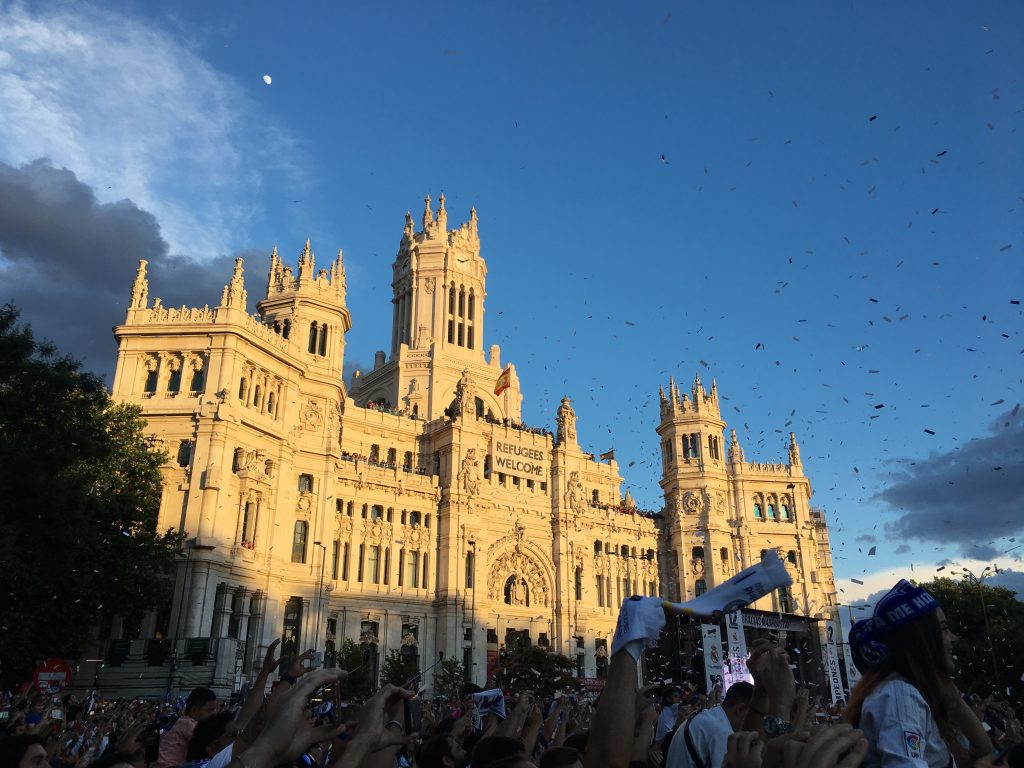 MAY: Champions League Celebration
Because fútbol is more of a religion than it is a sport, the day a Spanish team wins the champions league feels like a true national festival (It's usually Real Madrid, but I'm not trying to make any enemies here). The past three European Champions League Tournaments (2016-2018) have resulted in an afternoon festival in central Madrid. The streets closed down to make way for Real's championship bus parading through the city to celebrate with fans at Cibeles Square. The "Hala Madrid" team anthem echoed all over the city in anticipation for the team to show off their trophy and for fans to catch a glimpse of their idols. There's no guarantee for this to be an annual celebration, yet Madrid is curiously always prepared with giant confetti machines and an uncommonly large stage at a moment's notice. It looks like there's always enough resources to throw a party in the name of soccer.
JUNE: Las Hogueras de San Juan, Alicante
What's a better way to kick off the summer solstice than heading to the beach, lighting a bonfire (or a hundred), and spending all night partying with your friends and family? The people of Alicante can't think of anything better. Along the coasts of Spain, piles of junk and wood burn on the beaches during Las Hogueras de San Juan in Alicante. Students pile their school books on the bonfires to commence the beginning of summer; lovers burn pieces of paper with their crushes' name; others set fire to papers containing secrets and regrets. If the fires are small enough, daredevils like to jump over the flames to cleanse their souls and get rid of evil spirits. It's a night full of superstition, fun, and pyromania. Don't worry; the Spanish bomberos (firefighters) are always on standby.
JUNE: Orgullo/Pride, Madrid
In preparation to host World Pride 2017, Madrid painted the city with the slogan "Ames a quien ames, Madrid te quiere/ Love who you love, Madrid loves you." The population of the capital multiplies immensely during Pride, as people from all over the world, come to celebrate love, freedom, diversity and respect. During World Pride two years ago, Madrid's population of 3 million people just about doubled during the ten day festival. Several subway lines usually close down due to sheer number of people who come to enjoy the festival, but no worries… the "walk" lights at intersections- featuring two female icons holding hands (or two male icons)- keep traffic moving. The daily concerts, marches, dance parties, exhibitions, and speeches are usually concentrated in the Chueca neighborhood, but there are hints of Pride everywhere from the "walk" icons to the rainbow flags. Pride is basically just an enormous love festival held in the middle of the summer and all are welcome to celebrate in the city.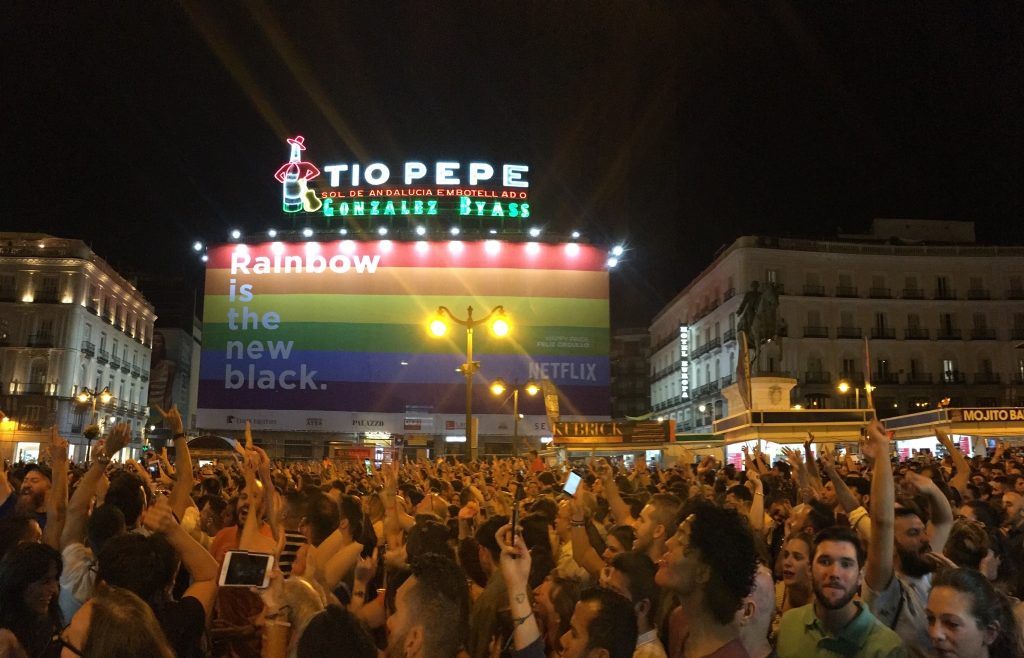 JULY 25: Día de Santiago, Santiago de Compostela
Have you heard of the Camino de Santiago? I hope so if you're reading an article about Spanish culture! You'll probably recognize the name St. James of Santiago from Compostela. He's not only the patron saint of Galicia, but also of Spain and pilgrims; hence, he's the saint of the hundreds of thousands of pilgrims who walk the Camino of Santiago across the Iberian Peninsula each year. The route is so rich in culture and history that the Camino network was named a UNESCO World Heritage Site in 1993. Many hikers end their pilgrimage in mid-July so they can enjoy the energizing Galician festival that dominates the streets and plazas until the 25th. There are parades, free concerts, performances, the list goes on. The two-week celebration ends with an impressive firework display on the eve of Saint James' Feast Day. If you want to take part in the celebrations, check availability for two years from now, as 2021 will be particularly special year. It will be a Holy Year because July 25, 2021 falls on a Sunday, which only occurs a handful of times each century.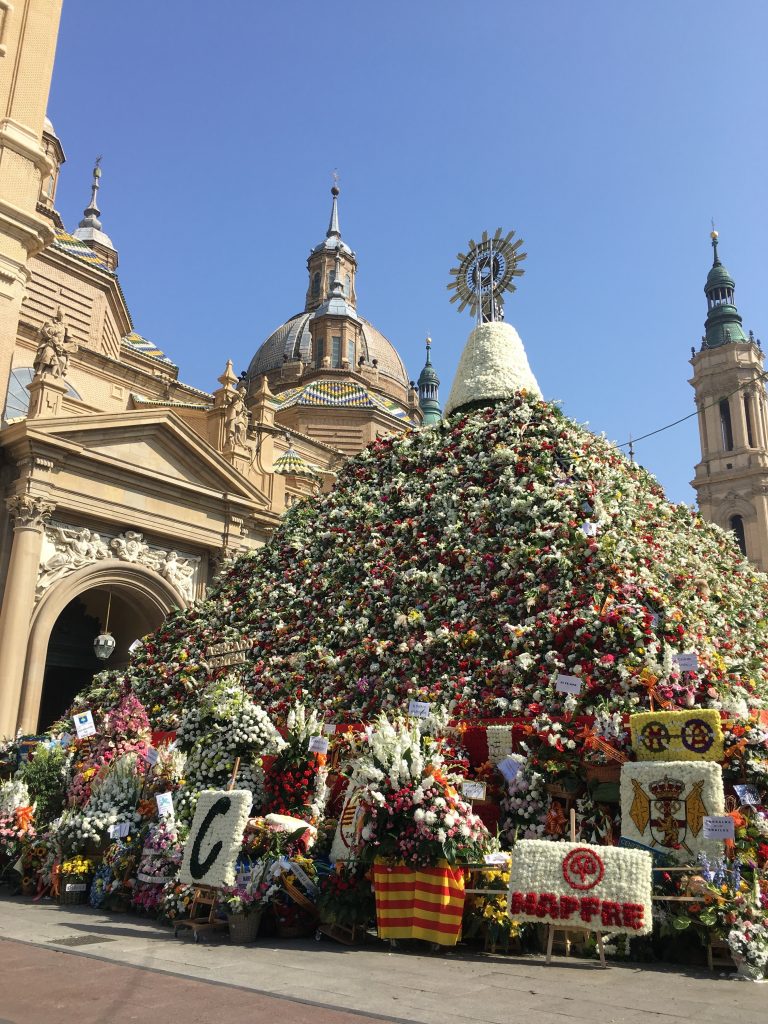 OCTOBER: Fiestas de Pilar, Zaragoza
All Spaniards celebrate el día de Hispanidad on October 12th, but only los maños, the people of Aragón, celebrate the festival of Pilar in early October. The program kicks off with an announcement in the main plaza. This speech and the firing of a pistol initiate celebrations so the music, dancing so partying can begin. Aside from the musical performances, one of the main attractions of the festival of Pilar is the flower offering in the main plaza. A massive wooden structure is created days before the festival so that bouquets and wreaths can be stacked up to reach a 30-foot monument of the Virgin of Pilar. The festival is so important for the entire region that the Community of Aragon grants a four-day weekend to government employees and schools. Once again, celebrations and family-time triumph over workdays. Cheers to bank holidays and Spanish festivals!