If I could spend a decade eating my way through France like Julia Child, I'd hop on the next flight to Paris and never look back. But unlike the culinary icon, I'd skip the sole meunière and go straight for the dessert menu.
Oui. I've got one heck of a sweet tooth.
Lucky for me and my fellow Francophiles, Paris delights and dazzles its visitors with delectable and easily accessible dessert options on nearly every corner. (No need to wait five hours in the cronut line, ahem New York City.) The only real trouble? Deciding what to try on your short stop in The City of Light and Flaky Croissants.
Good thing you have me to guide you through three full days of confection heaven while they're still fresh in my mind. I taste-tested each and every dish last month on a quick trip to my most favorite city, and as usual, she did not disappoint. In honor of National French Week (Nov 5-11), here are my top six picks to try during a quick trip to Paris:
Caramel Soufflé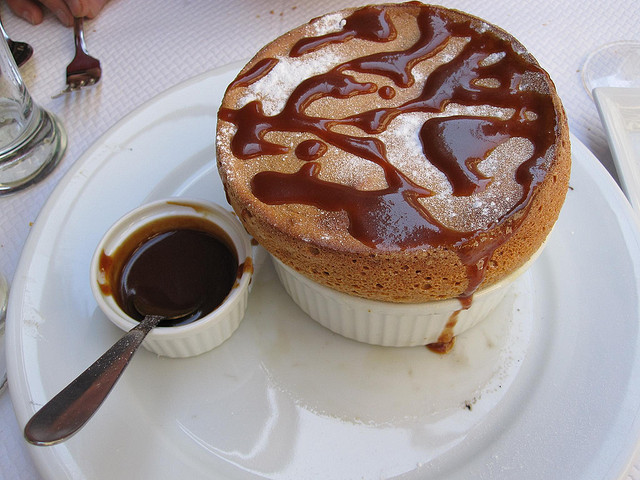 After a sweet nudging from the ladies in our ACIS Paris office (merci for the suggestion Isabelle et Claire!), I made my way to La Cigale Récamier (4 rue Récamier) in the 6th arrondissement for a two-course meal of soufflé. The night began with a simple cheese soufflé and ended with this caramel concoction, a popular choice among patrons. And it's easy to see why. Paired with a ramekin overflowing with sticky-sweet caramel sauce, half the fun is deciding how to dress your soufflé. First, I began with a simple drizzling over the top, but after some careful deliberation, decided to take the volcano route by carving out a hole with my spoon and letting the caramel sink and overflow.
Croissant Ispahan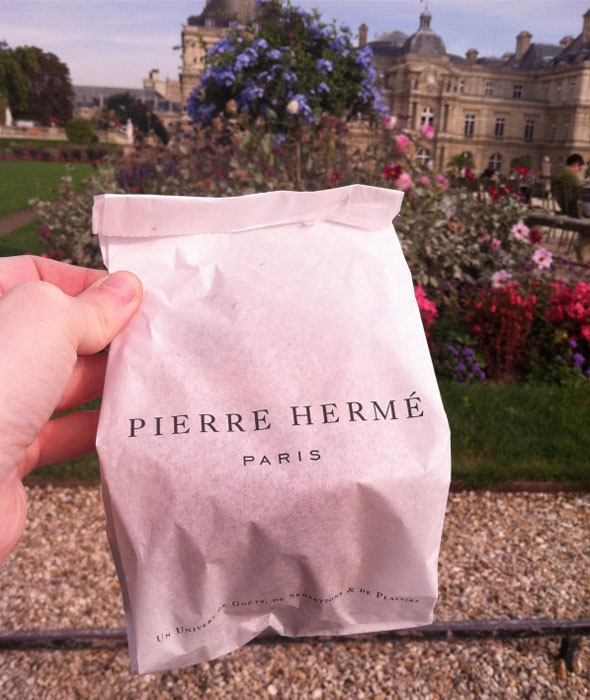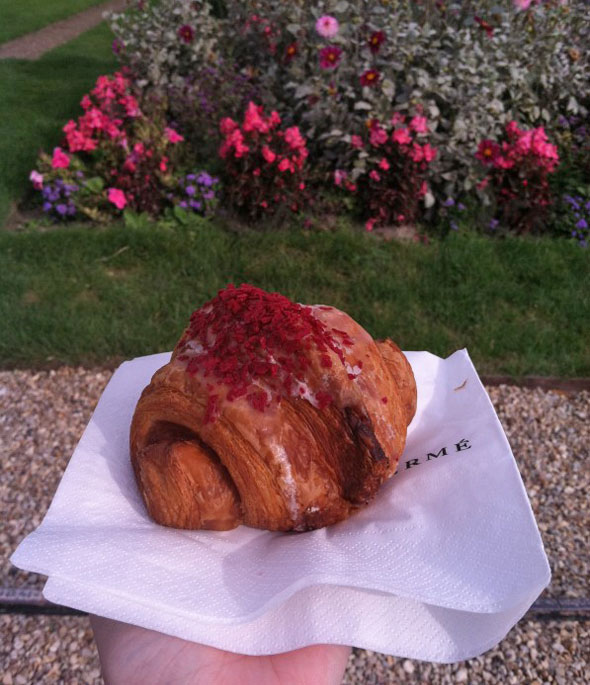 For a delicious start to my morning, I marched over to Pierre Hermé (42 rue Bonaparte) first-thing for their famous Croissant Ispahan. After purchasing, I strolled through the beautiful Jardin du Luxembourg for an impromptu food photo shoot and some R&R. A buttery croissant with a raspberry compote filling and topped with a rosewater glaze and more raspberries, this was single-handedly the best treat of my three days. The flavors are inherently Hermé—the master of inventive flavor combinations—so you know you're eating something special.
Insider's Tip: Resist the urge to share this croissant. Not even a small bite. If you must, turn away from your traveling companions while making a protective c-shape curve with your back and grip the croissant with both hands to guard it from jealous onlookers.
Macarons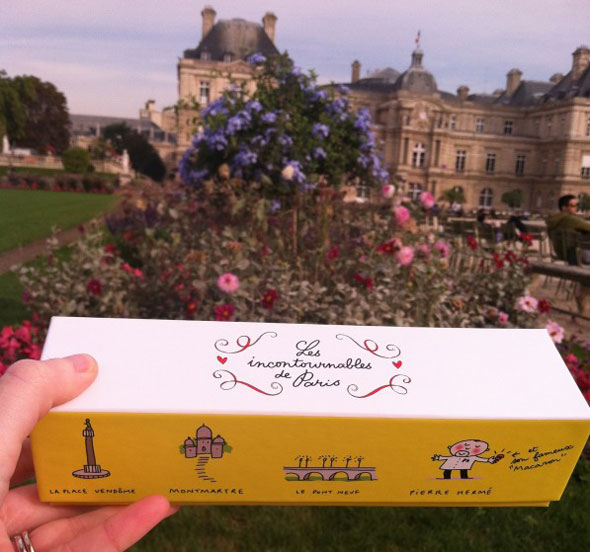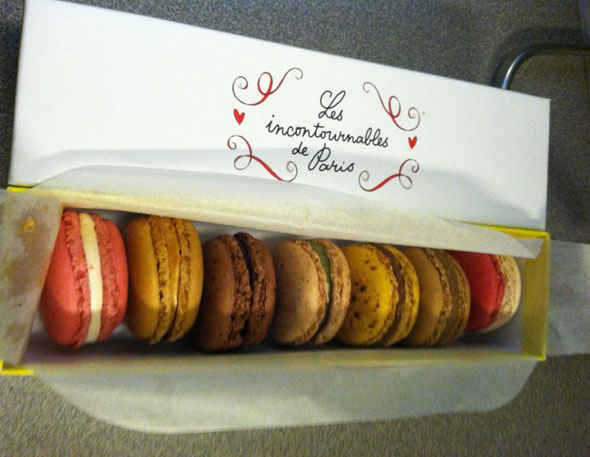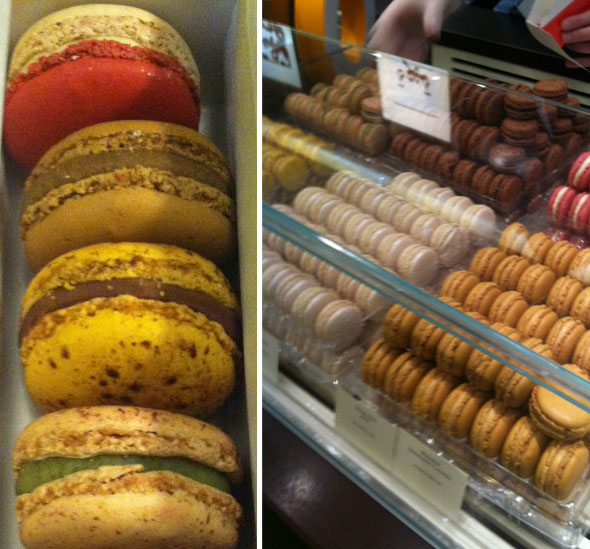 In my very unscientific poll, three out of three Parisians recommend the macarons from Pierre Hermé (yes, him again) over Ladurée. And when the Frenchrecommend a specific shop over another, you quickly count the euros in your wallet and make a beeline to the nearest pastry counter.
I don't think this takes anything away from Ladurée; their macarons are world-class and their window displays are Louvre quality works of culinary art. However, Pierre Hermé is quintessentially Parisian and the flavor combinations are really unique. The shop on Rue Bonaparte is so small it would be easy to walk by without noticing, but that's part of its charm.
7 Flavors to Try (some of these are seasonal):
Infiniment Jasmin (Fleur de Jasmin & Th

é au Jasmin

)
Arabesque (Abricot & Pistaches Croustillantes)
Mogador (Chocolate au Lait & Fruit de la Passion)
Huile d'Olive & Vanille (Huiles d'Olive Fruit

é

Vert, Vanille &

é

clats d'Olives Vertes)
Velout

é

Ispahan (Yaourt & Rose, Letchi, Framboise)
Imagine (Thé Vert Matcha & Croustillant au S

é

same Noir)
Infiniment Caf

é

Iapar Rouge du Br

é

sil (Café Iapar du Br

ésil)
Cr
ê

pe Suzette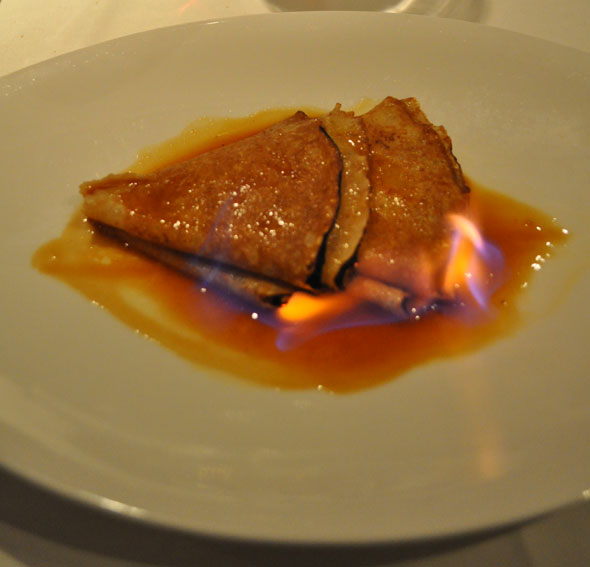 While some crêpes are grab and go, the flambéed Crêpe Suzette requires a little more pomp and circumstance—a plate. That's because the waiter will promptly set your crêpe on fire (and by extension your world) and then look you in the eye and say very seriously, "don't eat until the flame goes out." I must've looked very hungry.
The Crêpe Suzette is traditionally made with a buttery orange sauce or beurre Suzette (caramelized sugar and butter with Grand Marnier and sometimes lemon or orange zest). As a chocoholic it was a struggle to order anything non-chocolate or non-Nutella, but as you'll see, there were plenty of other opportunities for that.
Pain au Chocolat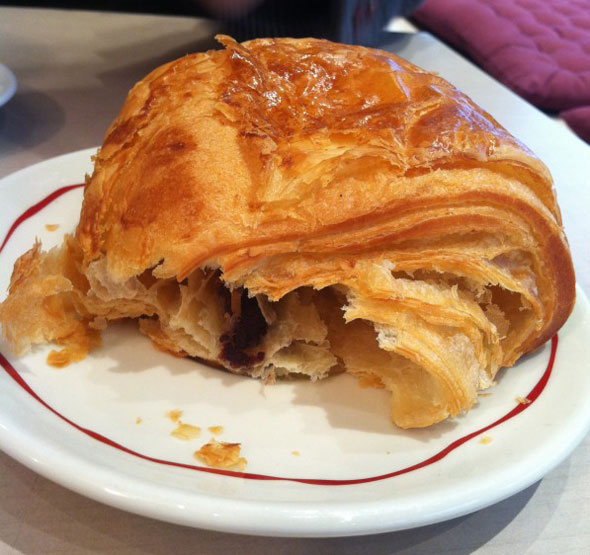 In Paris, the breakfast of champions begins with a buttery pain au chocolat—ahunk of irresistible chocolate resting in a flaky croissant. Many hotel breakfasts offer this sweet treat as part of their spread or you can pop into any boulangerie and order it with your espresso.
Chocolate Mousse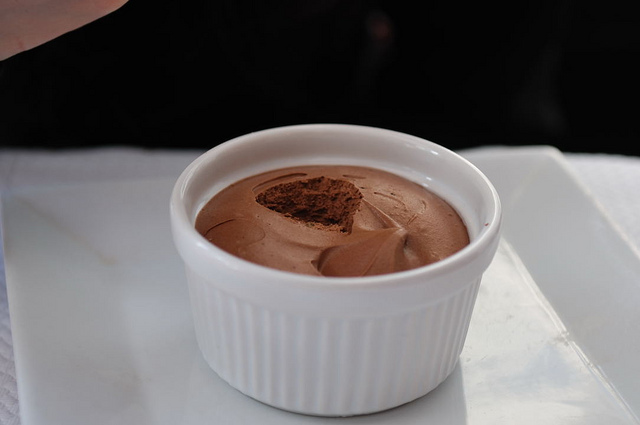 In Paris, you don't have to go far or go fancy to find a delicious mousse. Since I was nearing the end of my three days, I stopped into La Grande Epicerie de Paris (38, rue de Sèvres) for a quick and easy chocolate fix. With my leftover euros in hand, I expertly chose the most decadent of all desserts and it did not disapoint. Never underestimate the power of a grocery store!
Eating so often during a short trip may seem im-pos-see-bleh, but I assure it's a very attainable goal if you don't limit yourself to the standard three meals a day rule. A snack here, a dessert or two there, chocolate for breakfast et voilà, you've not only met your dessert quota, you've exceeded it!
[Images: emmerly, snows edge]
---
[button style="btn-success btn-lg" icon="glyphicon glyphicon-chevron-right" align="left" type="link" target="true" title="5 TRIPS FOR FRENCH TEACHERS" link="http://pages.acis.com/5-trips-for-french-teachers.html"]
5 Trips for History Teachers
Interested in history and travel? Download our 5 Trips for History Teachers to see what countries and itineraries made our list.
---
[button style="btn-success btn-lg" icon="glyphicon glyphicon-chevron-right" align="left" type="link" target="true" title="5 TRIPS FOR HISTORY TEACHERS" link="http://pages.acis.com/5-trips-for-history-teachers.html"]