Recently in Barcelona, I visited the Mercat de Sant Josep de la Boqueria, simply known as "La Boqueria." It is just off of the Rambla and not far from the Liceu, Barcelona's Opera House, in the Ciutat Vella district. It dates back to the thirteenth century and has gradually evolved from a pig market to a fruit, vegetable, meat, and fish market over the years.
The market that we now enjoy was built around 1840 and it still has the original beautiful awning with its proud Catalan name on a shield.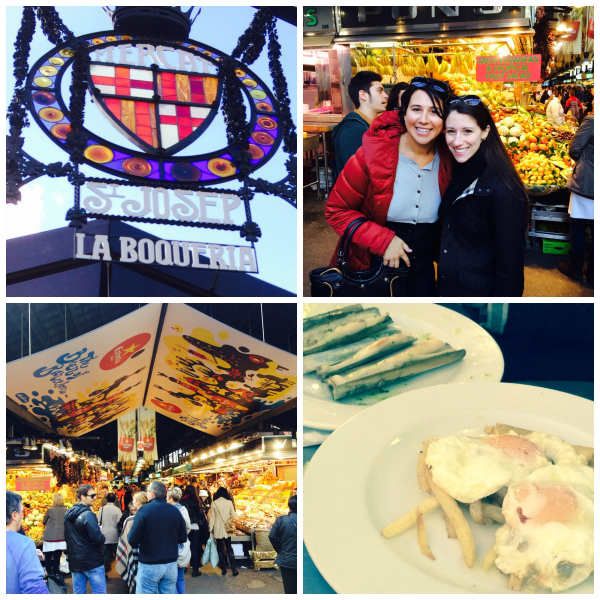 One thing that has changed about the market over the last few years is the restaurant section. You can sit on stools and watch fast food…true fast food…being prepared in super-chef style and then get the chance to eat the finest Catalan delicacies on earth. It is sort of a fusion of a great tapas bar and a Wendy's! No, no, not really but you get the drift.
Every time I go, I seem to order too much and wish that I had ordered even more! Here are three dishes to try:
Is there anything more amazing than grilled octopus or gigantic grilled shrimp cooked in their shells?
Better yet, there are the razor clams, or navajas, a delicacy that I long for everywhere I go and rarely find. At the Boqueria, I had three plates of them.
Another food item available in any market in Spain is huevos rotos. Huevos rotos are broken eggs over french fries cooked in olive oil. The fries are soggy; the fried eggs are placed on top of the fries and literally cut in front of you so that the egg yolk drips down. You can gourmet-it-up with some truffle oil (my favorite) and wash it down with a Clara.
Making a trip to La Boqueria is only an hour out of your day in between walks and bike rides in this beautiful Mediterranean city. A visit can easily be placed between THE Picasso museum and the Sagrada Familia, a walk on the beach and a walk down the Rambla.
It is what memories are made of…along with the delicious razor clams!
Peter Jones is the founder and President of ACIS. Knowing the important difference between a trip that's mediocre and one that's extraordinary, he built ACIS from a deep belief and understanding that teachers and students deserve the best—from itinerary development to hotels to perhaps most importantly, the people hired to guide teachers and students throughout the journey.