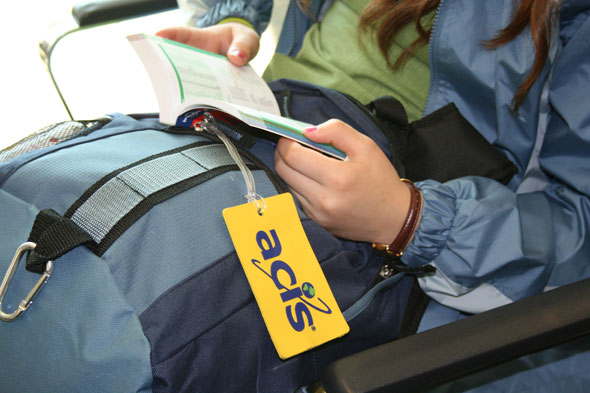 Whether you're the kind of person who likes to arrive at an airport early, giving yourself plenty of time to prepare to find your gate and board your flight, or are waiting in an airport for a connecting flight during a layover, airport downtime is a common phenomenon during the travel experience. Sometimes finding ways to entertain oneself during that downtime can pose a bit of a challenge. Here are some technology-free ideas on how you can not only kill that time, but enjoy it!
1. Board/Card Games
Most of what I remember from waiting in airports on my way to and from Greece was playing game upon game of Slapjack with my friends. In addition to this being a fun way to kill time when you have a group of your friends surrounding you, it's also quite convenient. A pack of cards is compact and light – easy to stick in a carry-on. Even if you're not a huge fan of card games, most board games these days come in miniature travel sizes (such as Chess, Othello, Monopoly, and more), so you have a wealth of game options at your disposal!
2. Power Nap
After all the hard work put in during the school year, including late nights and early mornings, a large chunk of downtime can look like (and is) a great excuse to catch up on much-needed sleep – the perfect opportunity to take a wealth of power naps!
3. Read
Time spent sitting in an airport is always a good opportunity to catch up on some reading. Didn't pack a book to read? Good thing airports have plenty of magazine and book stores where you can find a wide variety of reading material to choose from. Magazines are quick reads and disposable, and book stores often have special sections dedicated to Staff Favorites, Bestsellers, and Classic Literature.
4. Shop
Even if you're merely window shopping, airport shopping can be a lot of fun. Airports often have a wide variety of upscale and more casual stores which you can browse. This is particularly fun in airports overseas, as you'll likely see a wide variety of stores and products that might be completely new to you. Bonus? If you forgot to buy souvenirs for your friends and family back home, you get one last opportunity to do so during your time in the airport just before you take off to return home. Need another bonus? Shopping in stores in airports is often duty-free!
5. Scavenger Hunt
Bored? Go on a scavenger hunt with friends! You can either make a list of ordinary items that participants need to find or photograph, or, particularly fun in a foreign airport, you can make it a contest to see who can find the most obscure or unusual item.
6. Make Friends
One of the cool things about educational travel is group dynamics. This might be more of a challenge for the shy people out there but all that downtime spent surrounded by a group of people including many you might not know well yet is a great opportunity to strike up conversation with that fellow student you maybe only ever said "hi" to in the hallways before, or that classmate that sits behind you in class but who you've never spoken to. You can learn so much from the people around you, and this is a perfect time to get to know your fellow trip-mates. The friendships I've made during group travel have been some of the strongest bonds that exist in my life to this day.
7. Make a Canine Friend
These days, it's pretty common to see "therapy dogs" in airports. People from various organizations walk around airports with trained dogs offering comfort to the nervous traveler and brief companionship to those who just love spending some quality time with animals. More and more airports are employing therapy dogs – in all likelihood you'll end up passing through an airport where you'll get the opportunity to meet a dog or two!
8. Taste Test
I love food more than almost anything, and I know I'm not alone on that. Lucky for us "foodies", airports are full of places to eat, from fast-food joints to classy, upscale restaurants. You're almost guaranteed to be able to find your favorite items of food in an airport. There's no need to limit yourself, either – you can roam around from establishment to establishment, collecting a feast full of your favorite things to eat. You could even make it a goal to find restaurants selling food you've never tried before and taste new and potentially delicious foreign treats!
9. Museums
These days, many airports offer a variety of cultural entertainment for the art-lovers among us. At least 22 US Airports have their own Museums, and many other airports are host to galleries or art installations. This also applies to airports overseas – in fact, London's Heathrow Airport has its own "Heritage collection" full of historic memorabilia, and Amsterdam Airport Schiphol is host to a wide variety of contemporary sculpture and Dutch masterpieces. Your time spent in the airport can double as a museum field trip!
10. Airport Walkabout
It's natural to get restless in an airport, and even if you can't think of a specific activity to do or a particular store to go to, just wandering around can be an activity in and of itself. Airports are often quite large, and walking around can be both an adventure to see what you find and a source of exercise. Just make sure you know how to get back to your gate so you don't miss your flight!
Roni Hyman is a marketing intern for www.acis.com and our performance division, www.encoretours.com.