Travel to the UK at mid-summer and you're hard pushed from getting away from one of the most quintessential of all British events – Wimbledon. Of the four Grand Slam tennis tournaments that take place annually around the world, Wimbledon is a cut above the rest. Not only is this the only Grand Slam to be played on grass (making it a faster and therefore more testing game), but it's the world's oldest tennis tournament and it enjoys all the pomp and ceremony that come with such a claim.
An early form of today's tennis started to become popular in England at the end of the 19th century. To keep up with the times, in 1877, a croquet club located in a leafy suburb of London known as Wimbledon, changed its name to the All England Lawn Tennis and Croquet Club. That same summer, the club hosted a competition for the new sport – a Gentlemen's singles tournament. Perhaps an omen of things to come, despite only lasting 48 minute, the final was postponed by three days due to severe rain. Once play recommenced a 27-year-old Spencer William Gore won the first ever Wimbledon title in front of a crowd of 200.
The tournament's come a long way since its modest beginnings. Today, five major competitions are played out over 13 days for several million pounds worth of prize money. In 2013 486,898 people attended Wimbledon and an estimated 378.8m tuned in on the TV in one of 198 countries around the world. Last year was a sensational year for us Brits at Wimbledon too. After much anticipation, Andy Murray became the first British man to win the Men's singles title in 77 year.
Now one week into this great competition, the country is eagerly looking to its best tennis hope for great things to come. If you're watching at home or visiting London this summer, here are some of the quirkiest characteristics of Wimbledon that make it so wonderfully unique.
The Queue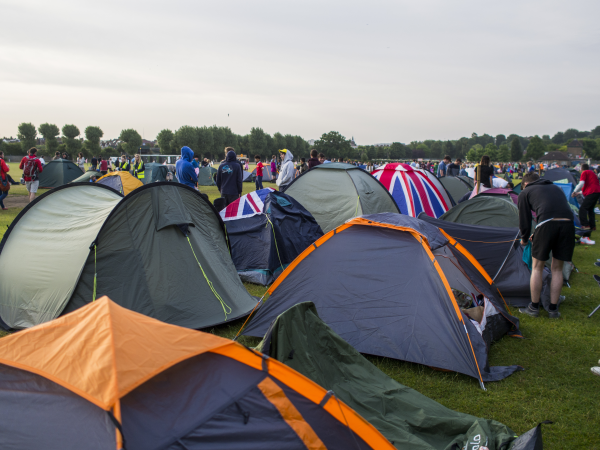 Advance tickets to Wimbledon are so few and far between that they have quite a legendary status. Since 1924 the only way the public can buy tickets is to register their details for a ballot draw of tickets. Names are picked out entirely at random for all matches throughout the competition – so if you find yourself with the opportunity to watch Centre Court at any of the finals, you've hit the jackpot!
Wimbledon prides itself as one of the only major international sporting events that sells a considerable number of day-tickets, 500 each day to be exact. Just as die-hard music fans might once have camped outside a stadium overnight to buy tickets for their favourite band, the same ritual exists at Wimbledon. In fact, it's become such a part of the tournament that Wimbledon publishes it's own guidebook to this particular queue etiquette.
The Brits are known the world over for their love of queuing (or as you would say, standing in line). This is a bit of a misconception – we don't actually like queuing at all, we simply consider queue-jumping the height of bad manners, a cardinal sin. What's more, our general attitude says that if we're going to queue, we may as well make the most of it and Wimbledon is the perfect example of such good mannered Britishness.
As people arrive in the evening to pitch their tent, they're met by Queue Monitors who hand out queuing cards that are numbered sequentially and dated for the following day. Once you have your queuing card, you're relatively free to come and go as you please. The following morning, wake up call is at 6am and queuing campers are treated to tea and sandwiches for breakfast. Tents are dismantled and checked into cloakroom facilities and once again, a queue is formed to buy tickets before another queue to enter the grounds.
Strawberries and Cream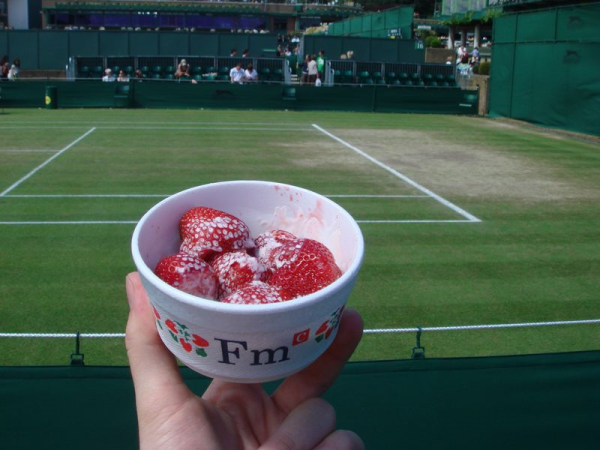 Considered by many as much a part of the tournament as the tennis itself, strawberries and cream is the essential Wimbledon refreshment. Strawberries were first served at Wimbledon in 1953, the cream accompaniment was added in 1970. Today, 142,000 servings, that's 28,000 kg of strawberries and 7,000 litres of fresh cream are consumed in the 13 days of play.
Like all aspects of Wimbledon, only the finest quality will suffice. The Grade I strawberries are picked in the nearby Kent countryside just the day before. They arrive at the tennis grounds at 5.30am for inspection before being hulled, served and eaten just a few hours later.
Ball Boys and Girls (BBGs)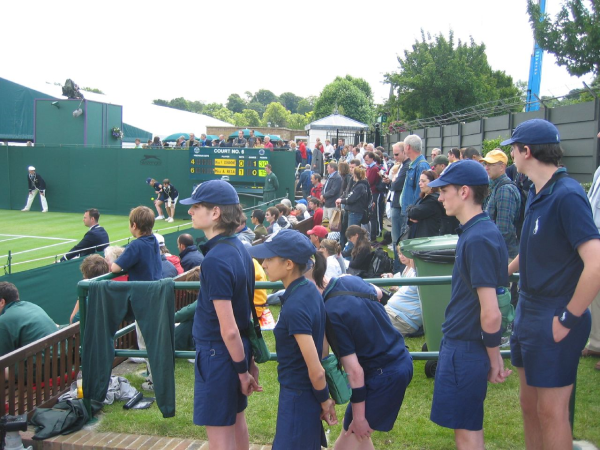 Ball boys and girls or BBGs, as they're affectionately referred to, are the essential fuel in the complex engine that is Wimbledon. The BBGs are essential for smooth play; they're always on hand to collect a stray ball, to replenish the supply of balls or to bring a player a towel with such grace, whilst being immaculately turned out in their Ralph Lauren designed uniform.
The final 250 BBGs who make it to the tournament are selected from over 750 initial candidates that are put forward from 29 local schools. The selection process is rigorous in self but it is only the first hurdle. For five months prior to the event, BBGs must attend training sessions to ensure not only that they are physically fit, but that they have mastered the art of rolling balls at top speed across the court, bouncing balls accurately onto a players' racket not to mention catering to players whims with the utmost discretion.
During each match, each team of BBGs are being monitored and evaluated and only the best will make it to the big finals. With the threat of a return to school, these teenage volunteers work incredibly hard and are truly the unsung heroes of Wimbledon.
Tennis Whites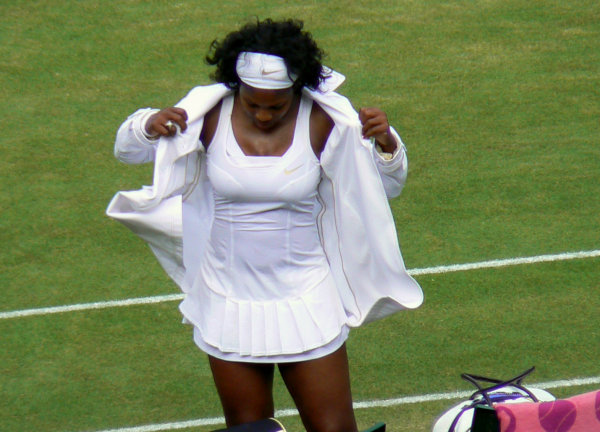 The tradition of tennis whites is an integral part of the game but the rigour of upholding this with puritanical passion is, again, well-known of Wimbledon. Despite this conservatism, tennis wear has greatly evolved since the early days when men would play in plain white long-sleeved shirts and trousers and women would wear full-length corseted dresses and hats.
Today, the 'tennis whites' of Wimbledon inspire the fashion pages of countless glossy magazines for weeks leading up to the event. The formidable Williams sisters always pull off much talked about outfits. The one rule stipulated and maintained without exception since 1995 is that players must wear almost entirely white  – white shirts, shorts, skirts, hats, shoes, socks and underwear. Players are required to submit the clothing they wish to wear for the tournament earlier in the year for inspection and the final decision is at the discretion of the Referee on the day of play. Roger Federer was famously pulled up for wearing shoes with orange soles.
The Royal Box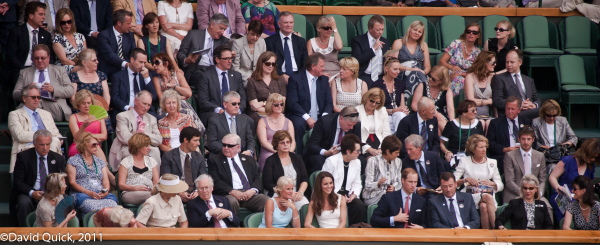 To the gossip columns and celebrity media, Wimbledon is like a second Christmas. The 74 green Lloyd Loom wicker chairs that make up the Royal Box and look out onto Centre Court, are rarely short of a famous face.
Day six of the tournament, also referred to as middle-Saturday, is traditionally the day when the golden boys and girls from across the British sporting spectrum are invited to attend. This year, guests included David Beckham, British Olympic cycling winner Victoria Pendleton and Tour de France and Olympic winner Bradley Wiggins to name but a few.
Royal visits to Wimbledon are also part and parcel of this prestigious and very British event. The Queen has visited four times in total, her most recent visit was in 2010, but it is not uncommon for several members of the Royal family to attend at different times throughout the two weeks. Until recently, if any Royal was present, players had to bow or curtsey towards the Royal box before the start of a match. When the Duke of Kent attended in 2003 he abolished this rule with the reserve of the Queen.
This year the big weekend of finals matches will take place on 5th – 6th July so tune in for this very British affair.
Images: Will Burrard-Lucas, Allen Aghajanian, The_Snaparazzi, Mark Brocklehurst, Carine06, David Quick