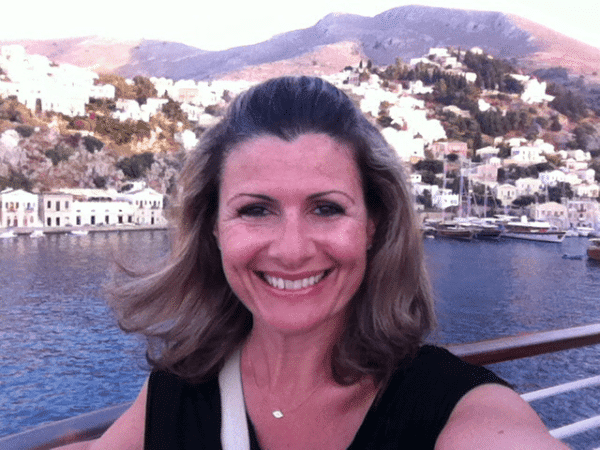 Get to know our
tour managers
, well-traveled and fascinating individuals who make your ACIS educational tour truly unique and unforgettable. Today we're happy to introduce you to Dimitra Neonakis.
Hello Dimitra, tell us a little about yourself.
I was born in Athens to a Greek father and an Irish-American mother, moved to New York in elementary school, completed my schooling and first university degree there, worked in advertising in NYC for 2 years before moving back to Athens, Greece where I have lived (more or less) for the past 20 years. I've also lived in Paris for 1.5 years and England for a year. I earned a BA from New York University, NY, USA (Majors: French and Communications, Minors: Art History and the Classics) and a MA in Translation and Interpreting from University of Surrey, Guildford, UK.
I am married and have twin 6-year old daughters.
I have 4 jobs: English teacher (have taught English for almost 20 years), translator/interpreter (have done this since 2000, mostly translation of websites for Greek and multinational companies in Greece, but also luxury hotels, cultural institutions and others), ACIS tour manager (since 1996) and painter (large abstract paintings but also smaller works for children's rooms). I am obviously hyperactive.
Wow, you do sound busy! How did you initially get the travel bug?
When I was a teenager, my mother decided to buy an old orange VW camping van and take her four children on a summer camping trip around Europe (dad opted out of this adventure). My siblings and I ranged in age from 10 to 17. We had always travelled, as my parents are from two different countries and quite the travellers themselves, but this was a completely new experience. We began the journey where we had purchased the van in Bavaria and that summer drove over 5,000 kilometers around Switzerland, France, Spain, Austria and southern Germany, taking in places like the D-Day beaches and the cliffs of Etretat, Andorra during a crazy summer thunderstorm that almost caused our van to plummet down the Pyrénées, the endless fields of lavender in Provence and sunflowers in Italy and a whole host of other tiny villages and out of the way places that only travelling like this could offer.
The amazing thing was that when we set out, we had no plan. We made the itinerary up along the way. No clue where we would sleep every night, no idea where we would stop to eat, what we would do if (as happened on a number of occasions) there was a downpour and camping was out of the question and the van was too small to sleep 5. And keep in mind that this was before GPS, before the internet, before mobile phones and ipads. We loved it so much we did it again the following summer through Austria, Italy and Greece. Irresponsible with four children? Maybe. Fun and exciting and life changing for all involved? Definitely. What I know is that, in addition to having visited more places during those trips than most people will visit in a lifetime, I also learned a long list of life lessons: first and foremost, flexibility is key in everything. And hand in hand with that, don't stress over unimportant things, look at the big picture, it's usually a lot more beautiful to focus on than the bumps in the road (which there were a lot of, especially in Italy). I am currently trying to persuade my more practically-minded husband to purchase a camping van and offer our children these kinds of unbelievably fun and completely character-forming experiences.
What an adventure and really great advice. Through all of your travels, have you found a favorite foreign expression?
My favorite foreign expression is, in Greek, "Μου είναι κινέζικα", which roughly translated is "It's all Chinese to me". I find it funny that the rest of the world thinks that incomprehensible things are "Greek to them" whereas Greeks see Chinese as the real challenge. How do I interpret this? It's all about point of view-seeing things from different perspectives. And often you'll find that seemingly dissimilar perspectives hide a very similar basic essence.
If you had to convince a parent to allow his or her child to travel on an ACIS tour, what would you say?
For me, travel is, unequivocally, education. You are always on alert, always figuring something out, whether it's a train schedule or how to digest massive amounts of historical information about the Acropolis or how to order a sandwich. You use your mind in creative and sometimes unorthodox ways to come up with solutions and make connections. To a parent considering sending their child on an ACIS trip, I would emphasize this. It's not just that their Tommy will see Michelangelo's David, but he will have to deal with shooing off street vendors while keeping with the group, listening to a guide, not getting pickpocketed, snapping shots of beautiful Renaissance architecture and all the while imbibing the atmosphere of one of the world's most captivating cities. And at the end of the day he will be that much richer for it and marvel at how he got through the day without wifi. These experiences cannot be had in a classroom, but they will serve as a point of reference when Tommy is in the college classroom studying David and can transport himself back to that museum or little street and smell and hear and taste the place and its atmosphere around him. Travel is never a wasted investment.
Thanks Dimitra!