When I was a kid in the UK, I used to listen to the shipping forecast on the radio late at night. It felt cozy and reassuring when I was tucked in my bed and thinking of all these ships bobbing around in the harsh waters around the northern parts of the UK and beyond. It has become quite a famous institution in fact. At the London Olympics, it was played along with Elgar's Nimrod to denote Britain's maritime heritage. There were updates of mysterious places like Tyne, Dogger, German Bight, Fair Isle and the Faroe Islands. I had no idea where most of these places were but like most youngsters in the UK, it became part of every Brits upbringing and it still beams out across the airwaves today. This summer I decided to go visit one of these places; The Faroes. I had never been and had not much of a clue exactly where it was.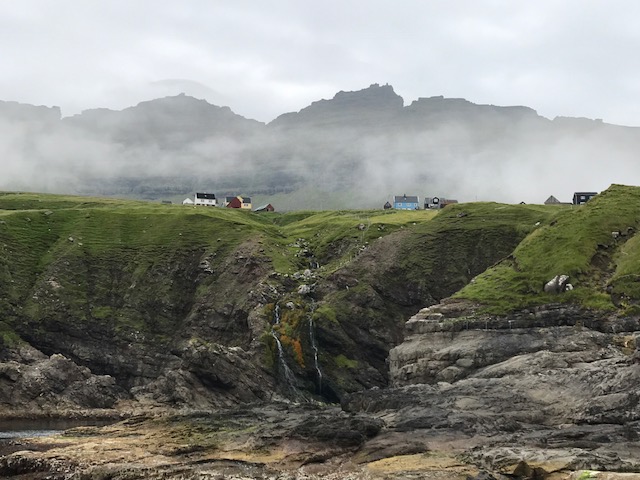 Getting there is not easy. Perched between the Outer Hebrides and the southeast tip of Iceland in the inhospitable waters of the Atlantic ocean, there is no direct service from London or many other European gateways. You can fly quite conveniently from Copenhagen or Reykjavik on SAS or Air Atlantic (the Faroe national carrier). We chose SAS and that was probably our first mistake in trying to get there.
It's a two hour and 30-minute journey from Copenhagen. The runway at Vágar Airport in the Faroe Islands is small. It was a cloudy day and when we finally arrived, after some delay, the pilot felt encouraged to make his descent. But the cloud cover ultimately was too much for him. As we descended, I felt the surge of the engines as he pulled out of the landing. After circling above for 10 minutes, he informed us he would have to go back to Copenhagen.
Yes, that really did happen.
According to the locals, only travel on Air Atlantic as the Faroe pilots know how to land in cloud cover on a short runway. That was advice I wish I had earlier!
The next day we tried again. The weather was much better and the views were spectacular. As we descended, the archipelago of 18 islands suddenly appeared as we dropped onto what seemed to be a 50-yardrunway that is cut into the edge of a steep cliff. We had made it and so the adventure began.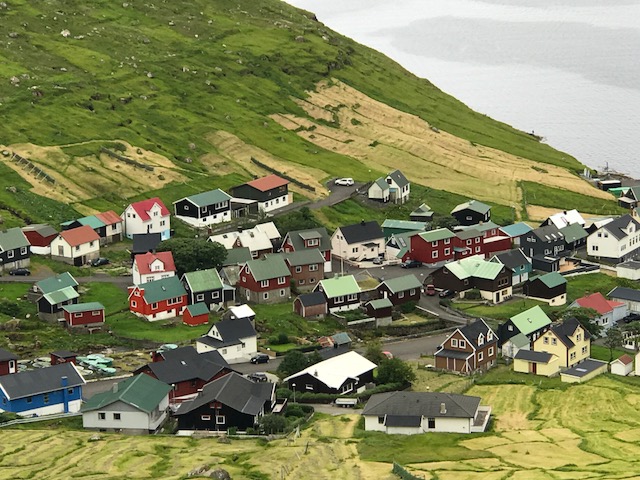 The Faroes have been compared to a grain of sand on a dance floor; impossible to find but a complete world onto itself once it is seen through a looking glass.
I was fortunate enough to travel for a few days in the Faroe Islands and stayed at the Hotel Føroyar in the capital, Tórshavn. It is like no other place I have been to.
This is a land of 50,000 people and 70,000 sheep. There are two sub-sea tunnels, one Michelin Star restaurant in Tórshavn (Koks Restaurant), 62 churches, and one bridge crossing the Atlantic sea. It's a land of temperate gulf current Atlantic waters, tons of puffin birds, and fabulous cuisine. It has only 840 sunny hours per year and rains most of the time. Stark but beautifully colored houses with grass growing on the rooftops are scattered across the landscape. The grass is used to keep the houses warm in both the winter and the summer!
The Faroe Islands are known for its sheep and its fish. It's very famous for its knitwear and wool was once the gold of the Faroe Islands. This archipelago also has one of the largest salmon fish farming industries in the world. In fact, much of the farm-raised salmon we get in supermarkets and restaurants come from the Faroes.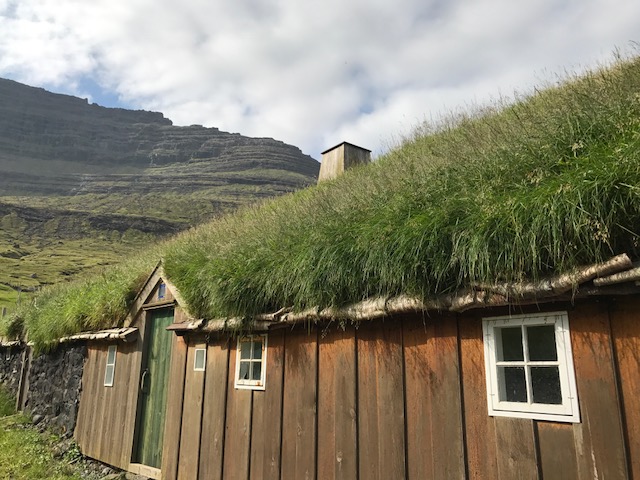 The Faroes has its own language although everybody speaks Danish and English. Nothing is open on a Sunday – absolutely nothing including gas stations! The greatest discovery in the whole world on a Sunday in the Faroe Islands is the small but great café, Fríða Kaffihús. Service is a bit challenging but very friendly. But hey, it's open.
To get around the Faroe Islands, you need to rent a car, which is easy to do. Then each day you can set out to discover one of the 18 islands, most of which are connected to one another by tunnel or bridge. As I drove across the various islands, I started to notice trampolines everywhere. Unofficially, this must be the country with the most trampolines per capita in the world. Not saying that there is not a lot to do there…either that or some sales guy really had a way with trampolines. In addition, the Faroese love to play soccer. They have a national team and they have had some big results in the past. Every tiny town dotted around the 18 islands has a decent size stadium. They like to drink beer and the craft beer industry is growing like crazy. As they are part of the EU, the young Faroese have access to the entire world of 26 EU countries to work.
If you plan to visit the Faroe Islands, one suggestion I would make is to break up the different islands. It would be best to travel from Iceland to there and then finish with a few days in Copenhagen. It should also be noted that you can take a ferry from Scotland. But frankly, with the stormy Atlantic seas out there, I would rather fly if only to avoid seasickness alone!

FREE CATALOG
ACIS Catalog
Browse over 100 educational travel excursions all over the world. From
service learning to cultural connections, find a trip to meet your goals.