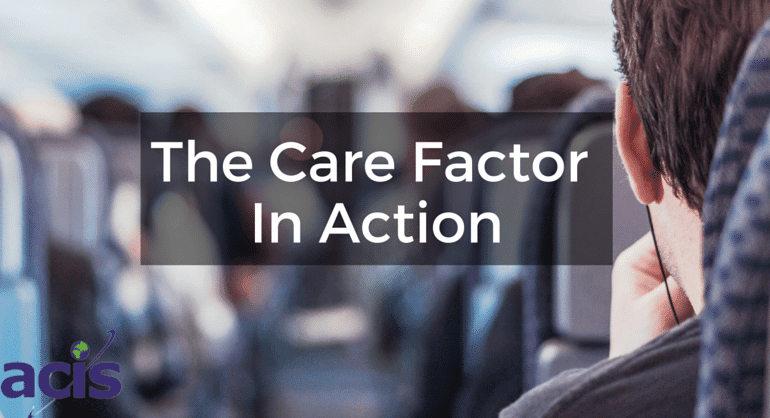 The following blog post contains a testimony from ACIS group leader Jacob Shively, who recently experienced the typical highs and lows of travel: delays and itinerary changes, thankfully followed by amazing memories and experiences.  If you read the Care Factor blog by ACIS President Peter Jones, then you may see some similarities in this story. Jacob's experience is a glimpse of the Care Factor in action, as seen through the eyes of a teacher and students on an ACIS tour.
Our group arrived at Indy International Airport on a Friday morning at 10:00 a.m. After trying to check in the screen said the flight was canceled. The US Airways help desk was helpful bur not so good at keeping me in the loop or seeming like they were doing everything in their power to help us. So, like anyone would, I contacted ACIS.  After my International Program Manager, Devin and I spoke, it wasn't ten minutes later that she called me back and basically told me that ACIS was doing all that they could to secure us a flight.
As the day went on I realized that even though the ACIS team was working non-stop things were out of our control. Meanwhile, between the pauses and the dissemination of information you could probably imagine the thoughts and feelings going through the minds of 26 travelers and their family members. Some were coming to me asking if they could cancel their trip or get a refund. Others were asking about insurance policies. Some travelers were posting questions to ACIS on Twitter (to which they responded). And some parents were adamant that if their kids had to leave the airport they wouldn't be going on the trip.
And even though previous ACIS travelers and myself knew there was no need to doubt that everything would turn out, the first-time travelers and families didn't have the luxury of knowing that ACIS, just like a professional athlete, does some of its best work when there's adversity. Suffice it to say that by the end of the process they were able to see why I will always choose ACIS.
Within a couple of hours of leaving the airport the ACIS world team had reworked and extended our trip! I was told that the Boston, Chicago, Rome, and Madrid teams had all worked together and that even President Jones was aware and involved in the process. In the end we were gifted an extra day in Madrid and a hotel upgrade. Also, ACIS worked out an excursion in Philadelphia so that we could get the most out of our layover. While in Philly, an ACIS veteran group leader, Scott Saks, sacrificed one of his Sundays to help a complete group of strangers. I realized then that Scott symbolized the fraternity and good-will that ACIS leaders have towards one another. Because of him, we were able to experience some great cultural highlights there such as the Food Market, the Liberty Bell, and Constitution Hall.
One of the most special things about ACIS is the trust and friendship you form with the tour managers because of their sacrifice and work-ethic. While in Rome, one of our assistant group leaders that teaches Latin wanted to deviate from the itinerary and experience the Pantheon. So, our tour manager, Jana Pakstaitis, without hesitation, lead us some twenty minutes, through the pouring rain from the Vatican to the Pantheon. On the way we lost a lot of umbrellas, souvenirs, and shoes, but gained a special trust and bond with Jana. After visiting the Pantheon, Jana and ACIS secured taxis for us because of the torrential rain.
Also, with our extra day in Madrid, our tour manager, Raquel Díaz, organized an excursion to Segovia. There, we were able to tour the city, the Alcázar, and share with Raquel something that had been on her bucket list, having a picnic below the Alcázar.

In the end, everyone agreed that we were given a more complete trip than anyone could've ever imagined and all travelers and families said that they would definitely be passing on great reviews and stories. And suffice it to say that those parents and travelers that doubted the ACIS team at the beginning of the trip were amazed and in awe of the company as a whole.
Through this experience I personally learned several things about ACIS:
ACIS cares more about the student experience than the business side of things.
ACIS doesn't just meet expectations, they exceed them.
ACIS has very high expectations of everyone on their team.
Grazie and Gracias to the WHOLE ACIS TEAM. We look forward to continuing the bond through our mutual love and passion for world cultures and languages.
Thank you, Jacob, for being such a dedicated teacher and group leader!