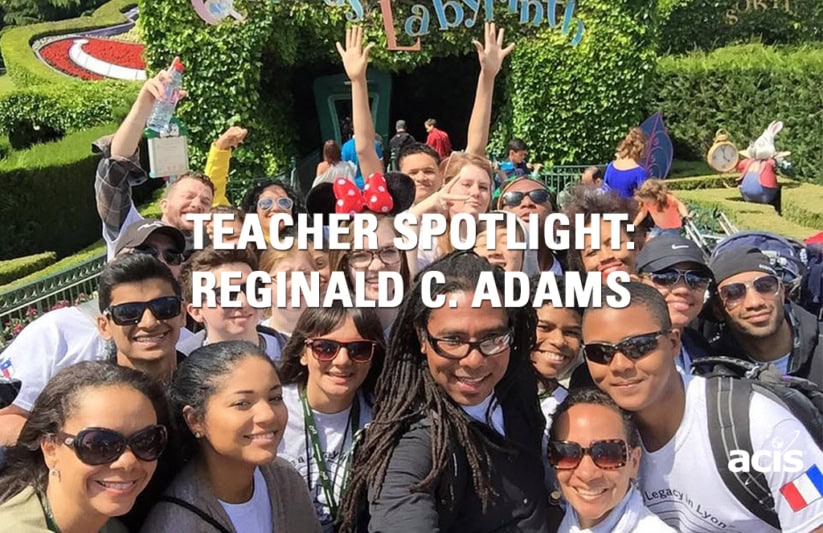 Reginald C. Adams is a teacher, public artist, social entrepreneur and community developer. He's best known for his award winning public art projects, which are strategically located in some of Houston's most historic and under-served neighborhoods. His creativity and approach to his artwork is inspired by travels to more than 28 countries around the globe. Reginald fundamentally believes that everyone deserves access and exposure to the arts and strives to engage the general public in the design and production of his public art projects.
This summer, Reginald is partnering with ACIS to lead a group of 20 students from the Houston area to Ecuador, South America where he'll work with Ecuadorian students with special needs to design and build a labyrinth over a 10-day period. During this timeframe, they will engage with their international counterparts through various community forums and design and development workshops.
We interviewed Reginald about his upcoming trip and his career as an artist and arts educator:
What is the Sacred Sites Quest and what is its mission?
Sacred Sites Quest's mission is to expose students (Questers) to diverse cultures, global communities, the arts and life-skills to prepare them to become global citizens. SSQ is a multi-disciplinary arts project conceived by artist and community developer, Reginald C. Adams. Approximately 20 high school students from across Houston participate in a series of workshops over a nine-month period prior to their travel abroad. The workshops prepare them for an intensive public art service project in a foreign country. Over the course of the nine months, the students are engaged in hands-on science, technology, engineering, arts and math (STEAM) based activities that provide them with workforce development skills that they will use during their travel abroad.
You completed a Sacred Sites Quest in Lyon, France last year. How did that experience change your perspective when planning your upcoming trip to Ecuador?
Our SSQ trip to Lyon last year was a huge success and a great learning experience, especially as our first time leading an international trip for students. We planned all of the logistics of the trip ourselves. The trip was amazing and we all had a great time, however, once we returned to Houston and debriefed on our time in France it was mutually agreed upon by our leadership team that there must be a better way. Looking back we realized that a significant portion of our time was focused on planning our itinerary, booking flights, securing insurance, choosing where to eat, getting back and forth to our hotel, on top of executing the labyrinth project that was supposed to be the focal point of the trip. As we began looking forward to our trip to Ecuador we knew that working with a company like ACIS would be a strategic advantage to our program as we could focus on the students, program content and implementation, and leave the logistics to the experts.
How did you find the site in Ecuador and decide to travel there?
Once we returned from France and met with our major sponsor to evaluate the trip and discuss future programming, it was mutually agreed upon that Ecuador would be an ideal location for our next adventure. One of our colleagues on the leadership team had a pre-existing relationship with the site in Ecuador that will host our labyrinth build and our major sponsor has a pre-existing relationship with a school in Quito, so it truly became a match made in heaven.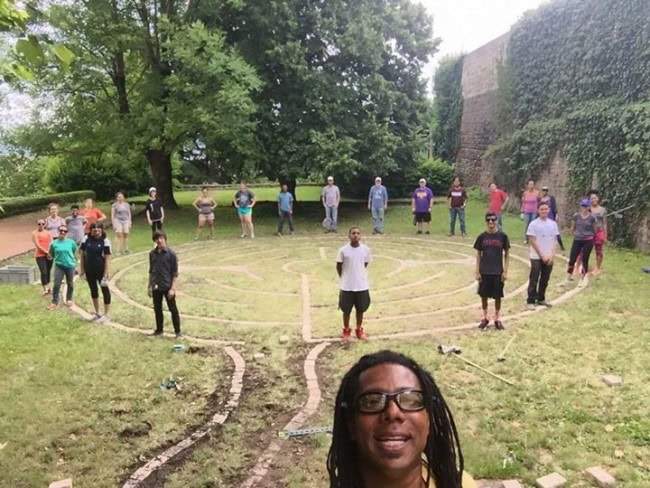 What is it about labyrinths that make them such a focal point of your projects?
Labyrinths are ancient archetypes that have been found in cultures and continents around the world. For thousands of years people have used labyrinths as tools for walking meditation, reflection and contemplation. I'll use this opportunity to clarify the difference between a labyrinth and a maze. Mazes are designed to trick, puzzle and confuse the user, whereas, labyrinths are designed to help the user discover them-self. Mazes have multiple entrances and exits, dead-ends, cul-de-sacs and false turns; whereas, labyrinths typically have only one path which leads to a center, and that same path will lead you back to where you began, which is a metaphor for one's life. In 2014, I was involved in my first student driven labyrinth build. Prior to that labyrinth project, my portfolio consisted primarily of community-based public art projects in the form of mosaic murals, sculpture and art installations. Over the past 20 years I've designed and co-created over 200 public art projects. During this time I've received lots of accolades and awards for my work, however, never has anyone expressed to me that one of my art projects changed their life.
After the completion of our first labyrinth project we began hosting monthly full moon walks at the newly built labyrinth. Month after month I would attend the labyrinth walks and witness the profound effect that the labyrinth would have on the walkers. Repeatedly, the walkers would share with me how valuable the experience was and how much they needed the quiet time on the labyrinth. But most significantly, I was told that the labyrinth changed their life. After hearing people say this over and over again, I realized that the labyrinth would become a focal point of my creative and spiritual work. Since 2014, I have designed and co-created eight permanent labyrinths and a dozen temporary labyrinths around Houston and beyond. We are living in a very dynamic time in our society. Technology alone has had a profound impact on the attention spans of our youth and has drastically affected their ability to focus and concentrate on one thing at a time. Over the years, and through the co-creation of these labyrinths, I've learned that labyrinths are an excellent tool to encourage young people, at the very deep and cerebral level as well as offer a time and space, to unplug and withdraw into themselves and connect with the source of inspiration within.
What do students stand to gain from a life and educational experience perspective by going on a trip like this?
The impact of SSQ on the teens is profound and everlasting. Since their return from France, Francesca Farris, an 18-year-old high school senior, has designed, implemented and constructed a labyrinth-based summer art project at a local community center in one of Houston's most historic communities, the Old Sixth Ward. Her project resulted in an NPR interview and a Gold Brick Award from the Girls Scouts. Eliza Pillsbury, a 14-year-old high school freshman, has a message for her peers about the power and pleasure of the labyrinth and was invited to give a TED Talk about her experience in France. The project has led to multiple local and international media stories. The tangible skills that the students gain from trips like this are multifold, including, but not limited to: teamwork; cultural literacy; design and construction experience; foreign language immersion; creative fundraising strategies; and hands-on STEAM experience which translate into real world workforce development skills. The SSQ experience is extraordinary and provides a wealth of content for college essays, interviews, and setting our Questers apart from other students by the Questers being able to claim these trips on their resumes.
How do you structure the trip to accommodate STEAM educational goals?
SSQ is strategically partnered with Schlumberger Excellence in Education Development (SEED), a non-profit supporting STEM education programs. Questers learn about what connects Houston to the countries that they will visit through science, technology, engineering, art and math (STEAM). In preparation for departure the students meet up monthly to engage in STEAM based activities that correlate to the project that they will implement in the designated foreign country. Using project based learning, Sacred Geometry, 3d design software, robotics, design and build techniques, and art, the Questers apply STEAM in the creation of the labyrinth that they will construct on the equator in Ecuador during the summer of 2016. Digital journals are maintained to support reflective thinking and inquiry through social media. The students will also tour the Schlumberger facility in Quito and learn about various careers in engineering, technology and industrial design.
What originally inspired you to want to take students abroad as part of these public art projects?
Throughout my lifetime I had the opportunity to travel to more than two dozen countries, primarily to study public art of various cultures. Each adventure has broadened my horizons culturally and has inspired my creativity artistically. Most of the students that we work with come from at-risk communities and may never have the opportunity to see the world beyond their own neighborhood or city. Since travel has become such a significant contributor towards the growth and evolution of my work I feel obligated, as an educator, to provide similar travel experiences to the next generation. What could be more empowering for a teenager than to travel to a foreign country, visit historical landmarks, sacred spaces and leave a legacy of public art and creativity for others to appreciate for generations to come?
What support have you gained from your community in making these trips possible?
SSQ has garnered a broad base of support to make these trips possible from the corporate support of our major sponsor, Schlumberger and SEED, to financial support from the community at-large through crowdfunding and local fundraisers. The local media in Houston has also been extremely generous with news coverage of our work which has helped garner additional financial support from the Houston area. We have also generated a considerable amount of support for our trips through our online community using social media and our website.
Why did you choose to work with ACIS?
We have chosen to work with ACIS for our upcoming trips because of ACIS's proven track record of organizing and planning youth educational tours. After our trip to France, which we planned in-house, we quickly realized that there must a better way. Partnering with ACIS has been one of the best strategic moves we have made in regards to improving the quality of our trips and enabling our leadership team to remain focused on the students and implementation of our program.
You recently returned from an ACIS training weekend in Barcelona. How was your trip and what did you take away from the experience?
The ACIS training weekend in Barcelona was exceptional. The training gave me a clear picture of how ACIS runs their tours and the high level of customer service that we will experience on our trip to Ecuador. The biggest take away from the training was the peace of mind that we will be in great hands on our next adventure.
Anything else you'd like to share at this time?
Working with ACIS has inspired our team to consider organizing additional foreign tours for students and adults that are interested in participating in the co-creation of site specific public art projects in foreign countries. By partnering with ACIS we are seeing new ways to expand our educational programs and engage even more students and adults in the power and pleasure of international travel.