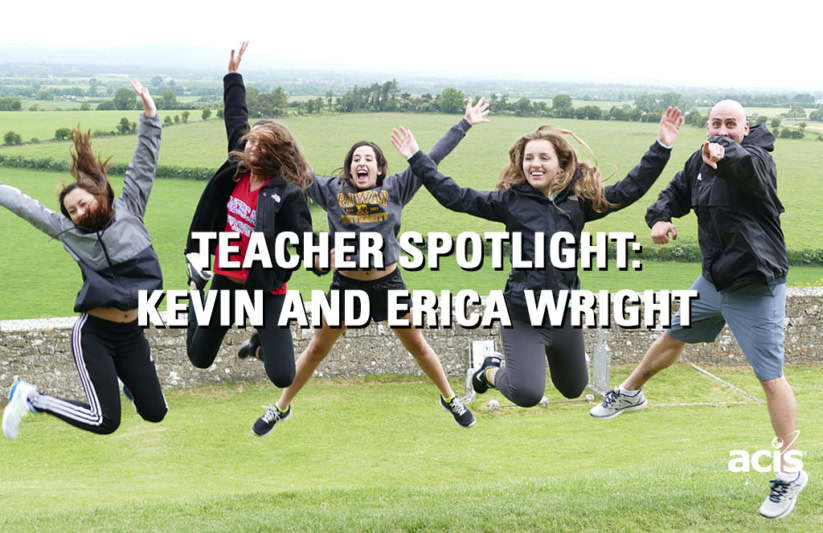 Kevin Wright is a world history teacher at Bordentown Regional High School in Bordentown, New Jersey. He's been an ACIS Group Co-Leader with his wife Erica (a Physical Education teacher at Bordentown Regional HS) since 2011. Kevin and Erica are both passionate about exploring foreign cultures as a tool for personal growth both in themselves as well as their students. Kevin is an ardent believer in the impact of travel on young people to turn them into global citizens and take ownership of global issues facing the planet.
We asked Kevin about the impact of travel on young people, how he got started, and why he travels with ACIS: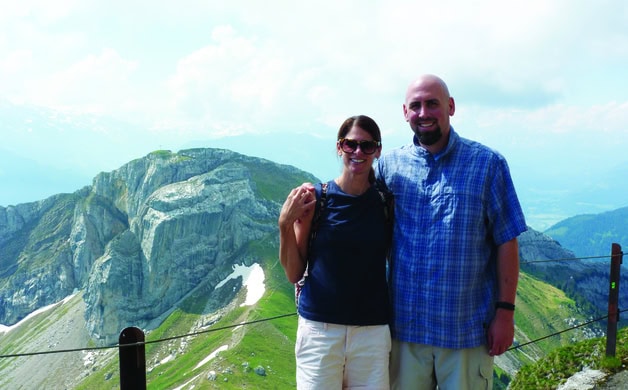 How many trips have you taken with your students?
I have taken students on six trips with ACIS: Costa Rica, Dominican Republic, Panama, Mexico, Ireland, and Switzerland/Paris. Planned already for the future are trips to Poland in 2017 and Iceland in 2018. Additionally, I have taken students to Spain, Italy/Greece, and Germany/Czech Republic/Austria with Explorica.
What's your favorite place you've visited and why?
My favorite place I have visited was the Global Conference to Japan in 2015. What made the trip so memorable was the food and the people. We had wonderful encounters with almost everyone we interacted with from tour guides to store clerks and security officers. The food was also amazing. I particularly enjoyed the sushi/sashimi, beef and pork dishes, and the different noodle dishes.
What inspired you to lead your first trip?
Prior to running my first student trip, I was an assistant group leader on two trips. After those first two initial trips, our school went 3 years without a trip being offered. One afternoon in my history class, some students jokingly suggested that we take a class trip to Germany. The next week I came into class with an itinerary to Central Europe and 28 students registered that week. I've been running one trip each June ever since. I enjoy running these trips because traveling has had such a positive impact on my life and if able to, I would like to share that with my students.
You recently returned from an ACIS trip to Switzerland and Paris. What were some of the highlights of the trip for you and your students? How did you structure your trip to optimize the effect travel can have on young people?
Recently we returned from a trip to Lucerne, Geneva, and Paris. This trip was completely customized with the intention of focusing most of the tour on outdoor activities. Some of the afternoons were intentionally left without any scheduled activities. Instead, ACIS allowed me to make suggestions and then our tour manager worked extremely hard to research and organize an activity that fit the need of our specific group.
For example, I wanted to have an afternoon where our students could have free time outside of an urban area at a lake. During our three night stay in Geneva, our tour manager found Lake Montriond in Eastern France which was only about a forty-minute drive from our hotel. He arranged for us to stop and pick up lunch to go and have a picnic at this beautiful lake. Students were able to swim, kayak, hike, and relax lakeside in the French Alps away from the crowded tourist areas.
Another highlight of this trip was our final afternoon in Paris which was free time for everyone. At my request, our tour manager took us all into the metro and walked the group through how to purchase tickets, read signs, use a metro map, and identify where popular sights were in location to our hotel. Students ended up doing a number of different activities that day depending on their interests such as climbing the Eiffel Tower, touring the Louvre, shopping, going out to lunch, hanging out at the Euro Cup fan zone, and etc. Neither of these activities would have been possible without the hard work of our tour manager. Every tour manager I have worked with from ACIS has been extremely accommodating, professional, hard-working, enthusiastic, and knowledgeable.
Over the years, you've traveled with a variety of student travel providers. What were the major differences between your experiences with them?
ACIS is the third company I have traveled with to lead student tours. Each of the other two companies I traveled with for at least two tours. ACIS has been night and day in terms of the services they provide. In my opinion, if students are going to pay that much money to go abroad, using any company other than ACIS is a complete disservice to them and a waste of money. Here are some of the differences which I've experienced between ACIS and some of their more popular competitors:
Hotels – The quality of hotels provided by ACIS has always been superb. The significant difference between them and some of their competitors, however, is location. Location has had a significant impact on almost all of my tours. ACIS will provide centrally located hotels. These hotels will be downtown and within walking distance of most things you need or want to do. This isn't necessarily the case with their competition. For example, using other companies I've been put up in hotels an hour outside the city center. That has the potential to significantly affect the overall experience of the trip. ACIS will not let that happen.
Food – ACIS clearly spends more money on the meals to be served. They consistently have provided a variety to my students and they have always been satisfied with the meals provided. This has not been the case with other companies. For example, when in Italy it was obvious that we were being served a low budget meal each night – pasta and sauce was served almost every night. By the end of the tour, students were asking if they could just skip dinner and pay for their own meal from the restaurant menu. On the contrary, with ACIS in Ireland, each night students had a menu to choose from with a couple different entrées and there was always several courses.
Group size / Tour Managers – One of the best things about ACIS is that I have always had a private group. I have never had to worry about them adding other groups to mine to fill a bus. Every time I've traveled with another company I've always been combined with other groups despite having over 20 students in my group. When groups are combined there can be little room for flexibility. With private tours by ACIS I have been able to make adjustments throughout the tour almost on a daily basis. For example, last year in Ireland I wanted to cut a three-hour museum tour down to an hour and use the last two hours for another activity not on the original itinerary. It was done with two phone calls. With another group leader present, that may not have been possible because of the obligation to stick to the schedule. Additionally, I have had outstanding tour managers on every trip I've taken with ACIS. I cannot say the same with other companies.
The company used to organize student travel will inevitably have a significant impact on the students' overall experience. I will never ask the students and parents of my community to pay money and take them abroad with any company other than ACIS. I have always had a wonderful experience and will continue to work with them into the future. It is comforting knowing that I have found the best tour company for student travel.
Was it challenging making the case to your administration or the parents in your community as to why switching to ACIS was the right decision?
I do not run my trips through the school therefore, I do not involve the administration or the Board of Education. This has provided me with a huge amount of flexibility in how I organize and run the trip. Although, all students and chaperones are from our high school, the trips are run independently from the school. Additionally, only recently graduated high school students are permitted to join the tours. Students will register their sophomore year and then the trip is usually less than a week after their high school graduation.
I had heard that ACIS was an outstanding company so I called them up and requested to speak with someone about organizing a trip. Having had experience leading group tours, I was very specific with what I was looking for in a trip in terms of accommodations and their location, tour managers, group size, and etc. I was very pleased with what the sales representative, Tom Heigham, had to offer me and he made me certain guarantees for the type of trip I was looking for. He and I have been working together ever since, and I look forward to a continued partnership in the future.
To see photos and videos from past trips and learn more about Traveling with the Wrights, check out their blog or follow them on Instagram!
FUNDRAISING GUIDE
ACIS Guide to Fundraising
Learn 5 In-Depth Strategies For Raising Funds For Your Travel Program