Yesterday, we chatted with Group Leader, Monica Shirey, about her positive experience using the Student Ambassador Program. She gave us some really great insights on how to use the program effectively and what qualities a student ambassador should possess.
So it's only fitting that we reached out to our very first Student Ambassador winner to give her the opportunity to share with all of you the secrets to her success.
Though I've never met her personally, I felt a great sense of pride when Julia Ernst was officially announced as our winner this past January.
I was first introduced to Julia through Twitter last year where her passion and excitement about international travel was—tweet by tweet—infectious and inspiring. (For a brief moment, even I considered registering for Ms. Shirey's trip.) At the time, I had no idea she was her teacher's student ambassador, but knowing what I know now, I can only imagine the enthusiasm she spread face-to-face with her peers about her school's trip to Costa Rica this upcoming fall.
Here's our full interview with Julia (pictured with friends in Italy, below):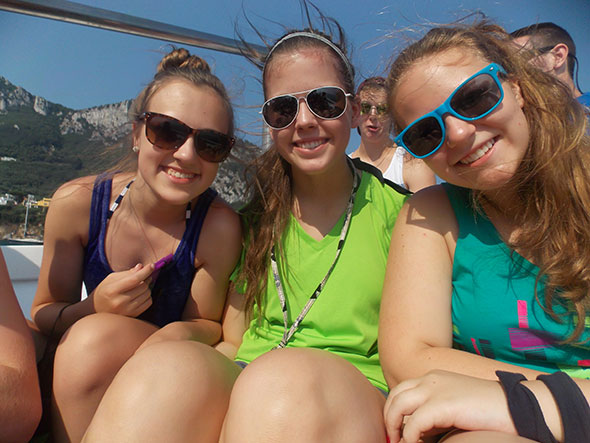 Welcome, Julia, and congrats! Your hard work definitely paid off. Can you give us a little insight into what being a student ambassador is all about?
As a student ambassador, I created a Twitter and Facebook page for the group, and I hung posters and helped a friend publish an article in the school newspaper about the trip.
However, I think the most effective thing was just talking to my peers about what we would be doing on the trip. Zip lining and horseback riding through the rain forest in Costa Rica while learning about the interesting biodiversity proved to be a very convincing point.
Sounds like you did your research! Can you share with us your favorite part about being a student ambassador?
My favorite part was spreading the excitement throughout the school. I like to see my friends having countdowns until the exact time we leave for the trip; it gets me even more excited than I already am.
If you had the opportunity to convince other students—even outside of your school—to travel on an educational tour, what would you say to them?
I'd tell them that ACIS definitely cares about each and every one of its participants. If something goes wrong on the trip you are on, ACIS will find a way to make up for it.
All the hotels were gorgeous, and the food provided was delicious. The fact that two out of the three daily meals were paid for was a bonus. The itinerary was scheduled perfectly with hardly any wait time for us, and the tour managers are very intelligent and know exactly what they're talking about and how to handle any problems that may arise.
Thanks for the very kind words! I'm getting word that our Marketing team wants to adopt you. Do you think your parents would miss you too much? We can discuss later. Anyway, keeping with the advice giving, what will you say to your fellow peers in the weeks and days leading up to your Costa Rica trip?
Don't hold yourself back. Don't complain when things aren't going the way you imagined them to be, embrace it. Try new foods and talk to new people and do something you wouldn't normally do at home. Don't hide yourself. It will be worth it, I can promise you that.
Words of wisdom! I wish I was that smart in high school. I think our readers would be interested to know that your very first trip out of the country was to Italy last year with your school. What did you learn from traveling abroad?
Now that I have seen more cultures and experienced the beauty of a new country and tried new foods, I have realized that there is more to the world than my little town in Pennsylvania. Sure, I have gone on vacations to Florida, North Carolina, and New Jersey, but my view of the world for the first sixteen years of my life was only a few states away.
I also learned about myself. I have seen how the problems that I presumed to be devastating are insignificant in the grand scheme of things. Of course, just like a vertical trek up the island of Capri, there are going to be difficult times in your life, but once you get to the top, you will feel like you own the world. It's a glorious feeling. In my opinion, everything bad that happened before that exact moment in your life will be totally worth it.
And before I regretfully let you go, what's your best memory from that trip?
My best memory was hiking to the top of Mt. Plose in Bressanone. After the first 20 minutes of walking as a whole group, people started to split off into their own groups to hike at different speeds. This is the point in the trip that solidified a few of my new friendships. I am so glad I met the people I did because they have been some of the closest friends I have ever had.
Please join us in the comments section to congratulate Julia for showing us what it means to be a student ambassador. We'd also like to thank her for her time and wish her the very best on her trip this fall!