When most people think of Milan, they think of the Duomo, La Scala, the Galleria Vittorio Emanuele II, and The Last Supper. These are the "iconic" parts of Milan that are on every sightseeing tour if you happen to be passing this way. Let's face it; Rome compared to Milan is pretty much a non-issue. Rome has the lot – the history, the museums, the beautiful evening light, and of course the weather, but Milan is a city of the north; closer to its German neighbors and a stone's throw to France.
Milan has a certain atmosphere about it. It's a young city, famous for its fashion houses and beautiful people, and a nighttime scene that can rival Spain. Furthermore, with the advent of the high-speed train network, notably the Frecciarossa, Milan to Rome is a cool 3.5 hours. Two cities that were so diametrically opposed have been brought closer together through modern transportation. And who would have thought that Milan has a touch of Venice to it as well!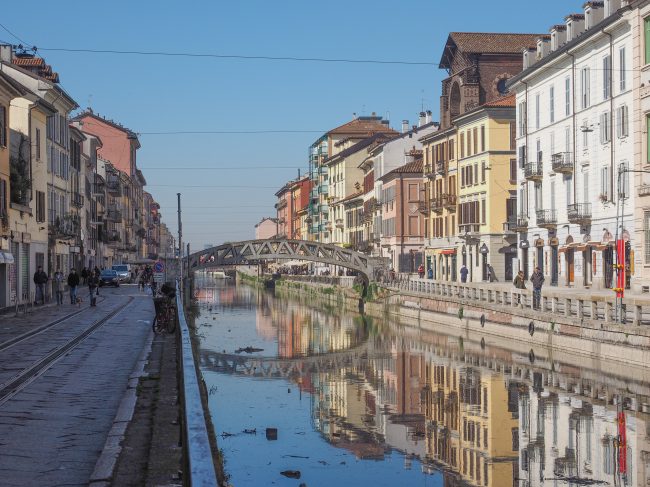 Milan boasts a neighborhood of canals that had been forgotten about and then resurrected to create a vibrant restaurant and bar scene that, for most people, is one of the best-kept secrets in Europe. The Navigli is situated southwest of the historic center. In its heyday, the canals formed a 150 km network that connected the city with the main rivers and the large lakes to the north. They were used for irrigation and more importantly transportation. The earliest known construction was in the 12th century. Because of this ingenious way to transport goods and irrigate farm lands, Milan became the country's largest inland port despite the absence of a main river.
This "little Venice" thrived but then with the advent of roads, it fell into decline. What consisted of five canals has now been reduced down to three, but a renaissance of sorts took place around the main canal, the Naviglio Grande. It is a trendy locale with high house prices but it is a cool urban neighborhood that represents an edgy Milan. This is really where everything happens with cruise boats, restaurants, bars, and a fabulous antique market. I got to eat in one of the great restaurants called Fiaschetteria Il Montalcino on the Via Valenza #17. We took a couple of beers in one of the bars, walked over a beautiful iron bridge, and gazed in wonder at the shimmering lights on an ancient canal. I could not believe this was my first time here. I could not believe this was Milan. Travel is a wonder.
A Tale of Two Museums
What to do on a beautiful spring morning in Milan? In light of the fact that we had a long day ahead of us with a soccer game that would stretch until midnight, what better compliment to il calcio than a bit of culture and fashion?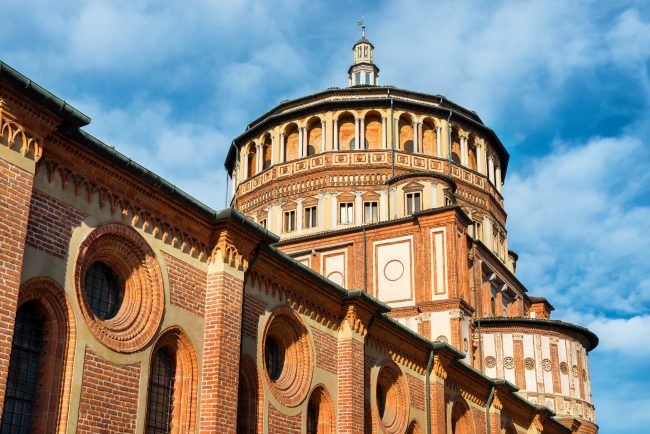 I had never seen The Last Supper by Leonardo Da Vinci. We had figured out a way to jump onto a sightseeing tour without doing the sightseeing (always handy to avoid mediocre guides) and thus gain entrance to the convent of Santa Maria delle Grazie. In an airtight salon, with strict procedures by group, I got to see something that had been on my to-do list for years. The room The Last Supper is in is austere and simple. At the far end of the chapel is a crucifixion scene by Giovanni Donato. It faces Leonardo's Last Supper where Jesus announces his betrayer. Someone always lets the team down! This is one of his greatest works, badly deteriorated and suffering the ravages of time and vandalism, but it still provides an experience unique and spiritual.
What better way to compliment a 15th century mural by one of the world's greatest ever painters than a visit to the ultra-chic Giorgio Armani's Armani/Silos that was opened in 2015. Housed in what was a granary, Armani captures his passion for fashion in a place whose central force was all about the beginnings of food. There are more than 600 outfits and around 200 handbags and accessories from 1980 to the present. There is a fabulous little café outside with great sandwiches and incredible olive oil for dipping. The whole experience capped with an espresso and an Armani sugar cube. Made me want to rush out, grab an Armani jacket somewhere, and wear it for a day. If only to know that Armani's designs are as timeless as the painting that preceded it in the morning. Artists are artists. Lucky to get a glimpse into a Renaissance mind in the year 2016.
Have you been to Milan? Let us know what you thought about it in the comments section below!

FREE EBROCHURE
ACIS Catalog
Browse over 100 educational travel excursions all over the world. From
service learning to cultural connections, find a trip to meet your goals.