A given as part of the travel experience is to have your wish list of what you want to see and do. It's as much a part of the anticipation of what's to come as packing your bag and receiving your flight confirmation. But for all the planned stuff, there can be the unexpected, some might even say bizarre, moments waiting for you as well.
You don't believe me? Try these for size:
1. Parakeets in London
In the UK we're not necessarily known for our exotic fauna, particularly in the cities. Like most places, our feathered friends flying around us tend to be of the blackbird, thrush, pigeon, sparrow variety. All v normal. Not particularly astounding (and that's me drummed out of the bird-watching corps!).
Walk through one of London's Parks, however, and you may think the bird calls you hear are a bit out of the ordinary. Catch a glimpse of the source of the exotic-sounding screech in the trees and you might have a double-take. You are not, after all, in Africa or Asia where these bird calls are native.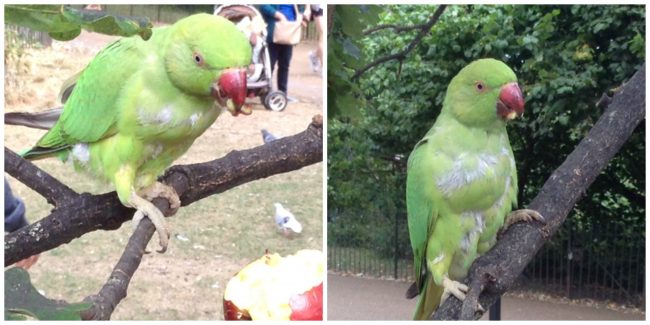 Welcome to exotic London! And no, your eyes aren't deceiving you. Over recent years, we seem to have grown our very own wild colony of parakeet. Particularly in Kensington Gardens, they are there flitting amongst the trees, playing squawkily amongst themselves high up. However, they equally know which side their bread is buttered: 'cheeky' may be one way of putting it; used to humans and using us for what they've sussed us as being good at, another i.e. giving titbits to them!
With an apple in your pocket, and if you find the right tree, the gregarious of the colony will inch down the branches and be quite happy tucking in whilst eyeballing you in that very bird-like manner. They may be wild and non-native but their colors, even if varying shades of green, are a wonder to observe at close range. Who'd have thought you could have a close encounter with such exotica in the center of London!
Why are they here? That's uncertain. They are not migratory and, given our climate, they must shiver their way through our winters. Quite bizarre. Theories tend to be that an original pair must have either been released or escaped from domestic captivity. Whatever the origin, they seem to be making central London their home and playground!
2. Surfers in Munich
Oh, give me a break! Where is the sea in the heart of Europe? It's not as if the Pacific O has suddenly come on its jolly hollys to Bavaria to enjoy the lederhosen, taste the local brew and visit a fairytale castle.
True. But, equally, it is true.
Have a jaunt along to the bottom edge of the Englischer Garten, a short bike ride from the city center just beyond the Residenz and the Hofgarten, and there you will find the spot where the river Eisbach flows out from this verdant corner of Munich. It's easy to spot – there's normally a crowd of the bemused, the curious and the surfing standing enjoying the spectacle. Somehow it seems not at all odd to have one of the city roads buzzing with traffic beside you as surfboards and surfing dudes in their wetsuits are doing their thing. Just a little surreal.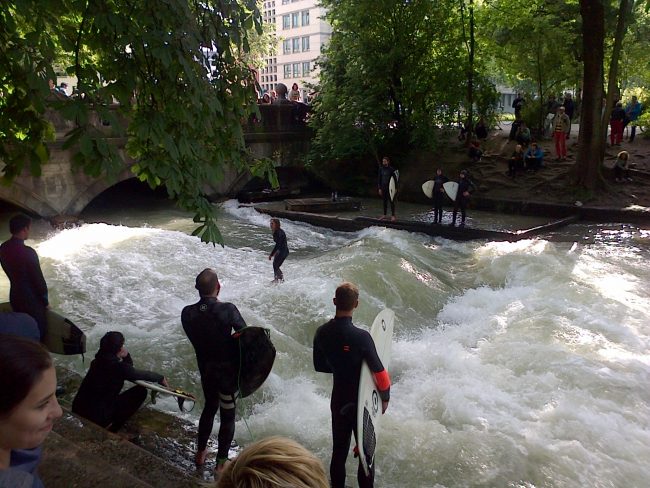 How come? At some point in the city's history, works have been carried out on the river channel to control its spirit and, here, at a spot just as it's about to go under the road, there's a ledge of concrete. Add river flow to the edge and you get a wave ripe for surfing!
Needless to say, surfers can sniff out a good thing and, I guess when you're landlocked, you have to take what you can. So this has become Munich's surfers' paradise. Wetsuits definitely required for the icy cold water and not for the faint-hearted given the fairly narrow channel and submerged ledge. But up for a wave?; bored at lunchtime and have a surfboard tucked behind your desk at work?; in Munich, it's not a problem! Head to the Englischer Garten.
3. Liberty Doing a Spot of Gardening
In which world city will you find Lady Liberty herself? Of course, you shout out 'New York'. It's a no-brainer. Of course, it is.
But as much as it's true, so also is it false. Say what? (Or maybe simply have a gallic shrug of the shoulders and look puzzled. Clue alert!).
Next time you're in Paris you can also feel so close to home, particularly if from NY, for Lady Liberty is at large in the heart of the French Capital. Is she on her vacances? Is the home-grown version an imposter? For your answer, hunt her down and ask her yourself!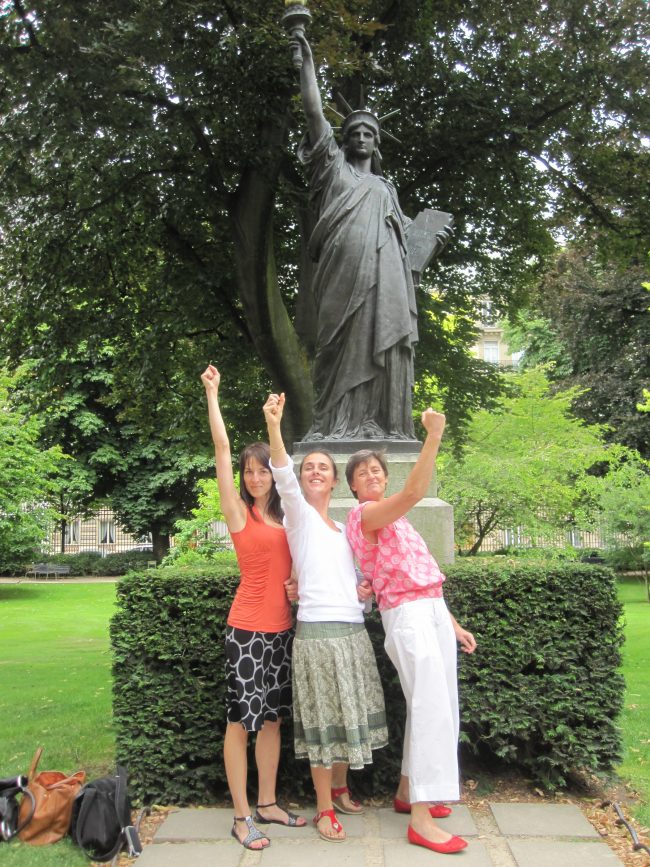 Amongst your need to walk the Champs Elysees, climb the Eiffel Tower and muscle it through the crowds to the Mona Lisa, why not treat yourself to time-out in what must be Paris' most exquisite green space: the Luxembourg Gardens. Built for Marie de Medicis, the Luxembourg Palace and Gardens were a taste of home for the Italian-French Queen. Today the Palace is home to the French Senate; the gardens open to the public and an oasis for the Parisiens.
From shading trees to gravel walkways and formal flower-filled gardens; a fountain with model boats and donkey rides for children; petanque for a taste of 'real France' (poetry in motion to watch btw); even bee hives, the Luxembourg Gardens has much to offer within its verdant confines.
And, if your curiosity is running free, to explore the laid out gardens on one side will lead you to a tranquil spot beneath a tree and the recognizable figure of Liberty herself. Clearly, a whizz at horticulture, her section of the Gardens is always immaculately kept and a top spot in the afternoon sun to pull up a chair and kick back from Parisian sensory overload.
4. Art Attack
Say 'Florence' and, of course, thoughts turn to the Medicis, to 'David', to the plethora of 'must sees' in this treasure trove of the Renaissance.
But for all that – and you will likely zone out on the big stuff at some point: it happens! – keep an eye out for art in the most unlikely places out on the streets. You'll recognize the famous reproductions as you see them but look closely for the twist in the artistic tale.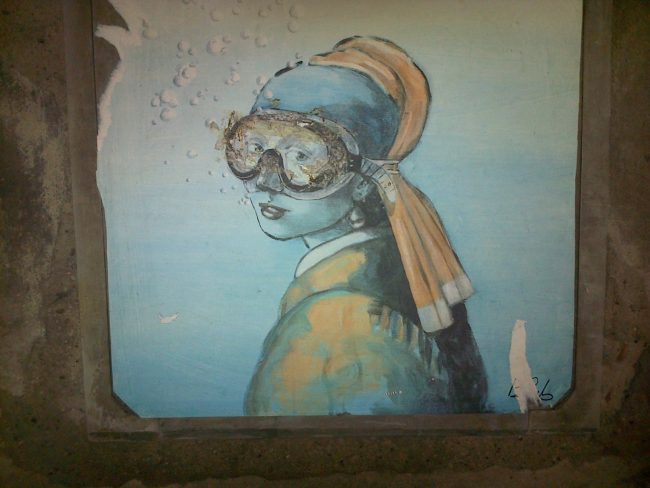 And where do you find it? Drain covers, electricity access covers, the functional bits of the streetscape – think of the necessary but generally ugly bits of a streetscape and, in Florence, you may find someone has been along and given it a makeover. Only Florence could have street art like this!
5. Go Climb a Mountain in the Heart of the City
OK, so some may say 'mountain' is over-egging the proverbial pudding (or shall we say 'haggis'?) but let's not get waylaid on such minutiae.
Where else can you take a break from city streets and within minutes-cum-walking distance be climbing high? It can only be the wonderful city of Edinburgh.
The city's very own lion mountain (actually an extinct volcano for any geologist out there) stands sentinel at the edge of the city. Arthur's Seat. Climb it via any one of the many trails crisscrossing its flanks and you are going to be treated to breath-taking views of this historic World Heritage city – Old Town with all its promise of a murky medieval past, New Town with its prim and proper architecture and modern Edinburgh surrounding both from east to west. From here you will be granted a view of the Castle standing proud above the city skyline; the Queen's Palace of Holyroodhouse nearer to your feet at the foot of the Royal Mile whilst to the north, the Firth of Forth meets the North Sea and the Ochil Hills lead the way to the promise of the Highlands beyond. Edinburgh and its environs are laid out for you in a 360-degree vista. Really quite spectacular.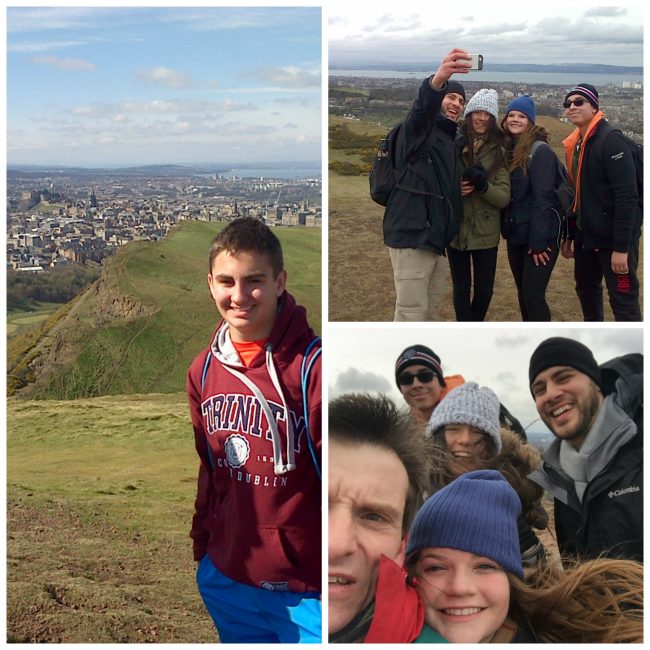 Of course, being Edinburgh, you take your chances with the conditions: when the blue skies hit, it's sublime; if it's a bit 'breezy' then baton down those hatches and expect a bracing adventure and not long at its summit for the wind can blow some of the North Sea as it heads westwards through Scotland's central belt!
But where else can you write home and say that you've seen Crown Jewels; traced your heritage in tartan, shopped till you've dropped and climbed a mountain all on the same day (if not afternoon!).
Food for thought? On your next European adventure, enjoy taking a moment to look beyond the obvious, the expected or those 'must see' items on your wish list and enjoy a bit of the quirky or unexpected. It all helps make your trip!

FREE CATALOG
ACIS Catalog
Browse over 100 educational travel excursions all over the world. From
service learning to cultural connections, find a trip to meet your goals.