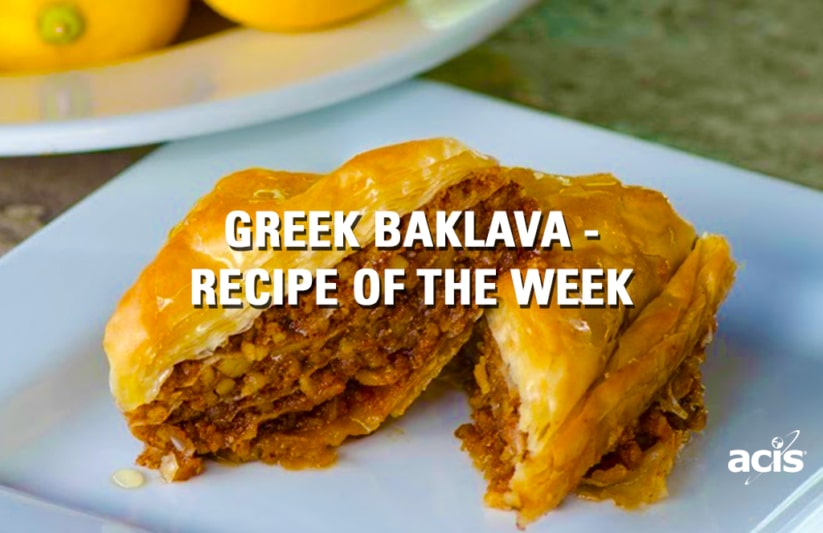 This week's recipe takes us to Greece for something sweet – Baklava! The origin of this delicious dessert is somewhat of a topic for debate. Some claim it comes from Turkey, some claim it comes from Persia, while others claim it originates in Greece by way of the culinary traditions of the Byzantine Empire (and the Roman Empire that preceded it). Either way, Baklava is commonly found today in all regions where the Ottoman Empire once stood (including Greece). There are regional varieties of the dessert in countries throughout Eastern Europe, Central and Western Asia each putting their own signature on the classic dessert from Athens to Istanbul to Azerbaijan to Iran. Our version of the recipe is of the Greek variety.
For more recipes from Greece and other countries across Europe, check out our World Cookbook!
This week's entry was submitted by Jessica Ricci, Senior International Program Manager from our Boston Office. Enjoy!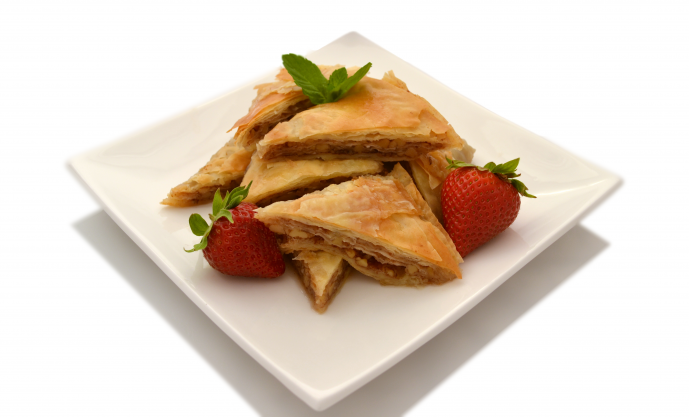 Greek Baklava
Yield: 24 servings
Total Time: 1 hour
Prep: 30 minutes
Cook: 30 minutes
Ingredients
1 cup unsalted butter
1/2 (16 ounce) package phyllo dough
2 cups chopped pecans
1 1/2 tablespoons whole cloves
1 1/2 cups water
1/3 cup white sugar
1 cinnamon stick
1 cup honey
Directions
Preheat oven to 350 degrees F (175 degrees C).
Melt the butter over low heat. Pour 2 tablespoons of the butter into the bottom of a 9×13 inch baking pan. Layer 3 sheets of the phyllo dough in the pan. Trim dough to fit. Sprinkle 2 tablespoons of pecans over the phyllo dough. Layer 3 more sheets of dough, brush generously with the melted butter and sprinkle with 2 tablespoons of pecans. Continue dough -butter- pecan layers until pan is 3/4 full.
With a sharp knife, score phyllo dough to form diamonds. Press a clove at each end of the diamonds. Pour remaining butter over the dough.
Bake 45 to 50 minutes in the preheated oven, until golden brown. Meanwhile, combine the sugar, water, and cinnamon stick in a medium saucepan, and bring to a boil, stirring constantly. Simmer for 10 minutes.
Add the honey and simmer for 2 minutes longer. Remove from heat and discard cinnamon stick. Pour honey mixture over hot baklava. Let cool on wire racks. Cut into diamonds.
Pour honey mixture over hot baklava. Let cool on wire racks. Cut into diamonds.
If you give the recipe a try, make sure to come back and leave a comment to let us know how it came out!

17 FREE RECIPES
ACIS World Cookbook
Bring the world into your kitchen with recipes from 10 different countries.