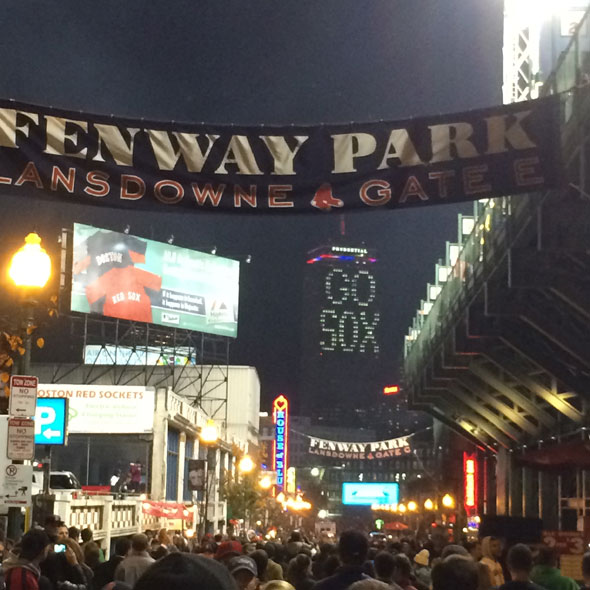 Red Sox nation just transformed the city last night. It was amazing. From the Prudential tower to the ballpark, the city was full of green monster madness. All the bases were metaphorically full of Red Sox and every bar and every restaurant had TV screens tuned into the spectacle.
At the end of the evening, after the fireworks and after the presentations, two teams that had fought so magnificently all year long, practically tied statistically and level with young and less expensive talent than other teams, were reduced to one. Baseball is a remarkable game.
As an English guy, I love the beauty of the game. So different to my other sports passion, soccer. Opposing fans really do get along, they sing the national anthem with a sense of community, and cute songs like Take Me Out to the Ballpark are well…cute. God Bless America, America the Beautiful. Everyone joins in. The atmosphere, the ballpark, the lights that illuminate Kenmore Square, sweet Caroline being sung in the 8th inning. I will miss the evenings at Fenway. It felt strange to imagine that after such a long season, starting as it does in the balmy sunshine of Florida spring training and ending as it does if you are fortunate in the cold nights of October was now over. This season was a healing season. Boston Strong. A long but painful journey from the tragedy of Marathon Monday to an evening in October that few could have imagined.
Bart Giamatti, the great, but short lived commissioner of baseball wrote a beautiful piece years ago. It summed up perfectly that sense of loss both sets of fans must surely have felt after the final out. Win or lose. It was gone and another year passes.
"[Baseball] breaks your heart. It is designed to break your heart. The game begins in the spring, when everything else begins again, and it blossoms in the summer, filling the afternoons and evenings, and then as soon as the chill rains come, it stops and leaves you to face the fall all alone. You count on it, rely on it to buffer the passage of time, to keep the memory of sunshine and high skies alive, and then just when the days are all twilight, when you need it most, it stops." -A. Bartlett Giamatti