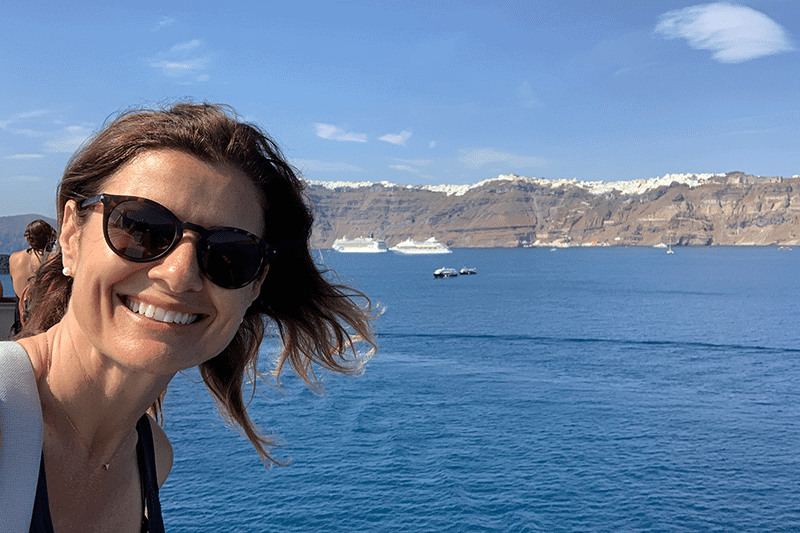 Recently, our beloved ACIS Tour Manager Dimitra Neonakis kept our Destination Connect event series rolling with a wanderlust-inspiring presentation on "5 Islands I Love in Greece".
There are so many incredible islands belonging to Dimitra's home country—each with their own unique history and features—that of course it was hard for her to pick just five. Combining popular spots with some lesser-known gems, all enhanced with plenty of insider insights, here are her picks:
Hydra
A perfect weekend or day trip from Athens (only 1.5 hours by ferry), Hydra's gorgeous harbor is ringed with beautiful stone mansions whose bougainvillea-clad facades pop against the rocky landscape deep blue of the sea. This wealthy and aristocratic island has long attracted Athens' elite, as well as artists who say the light here is different from anyplace else in Greece. Hydra is car-free, so donkeys help travelers and locals to get around. Swim, cliff jump, stroll its seafront walkway, browse galleries, sample the local almond cookies called amygdalota and cool down with a freddo cappuccino at Spilia Beach Bar. It's a great place to give students some freedom and time for independent exploration.
Santorini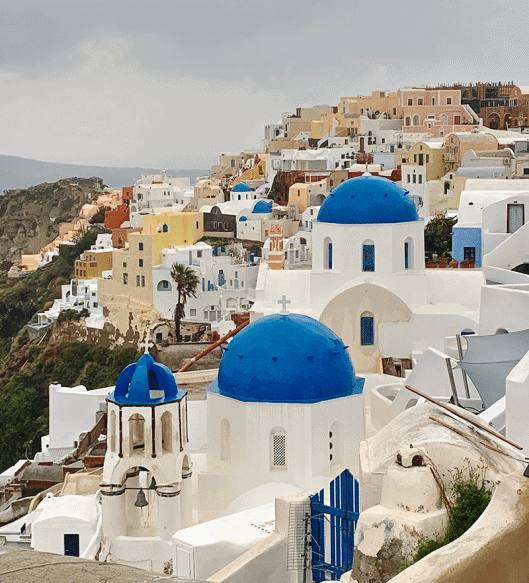 Santorini is popular for a reason—arriving here by ship might literally take your breath away. What can look like snow-capped mountains from a distance are actually the island's signature whitewashed buildings clinging to the top of the rocky cliffs from what was once the rim of an ancient volcano. You arrive in the volcano's caldera, below the main town and capital of Fira. The views are to die for and the signature architecture of the Cyclades, in addition to tempting your camera at every turn, is both practical (the domed construction helps with earthquake resistance) and patriotic (all blue and white in honor of the Greek flag). Food lovers will want to seek out grilled octopus, fava bean dip and the island's unique white eggplant, as well as make a visit to one of the unusual local vineyards, who've adopted a unique way of shaping their vines into protective baskets. Don't miss the island's varied beaches either—because of its volcanic nature, you can find black sand, white sand, red sand and even an otherworldly beach where pumice stone floats in the waves. Finally, history and archaeological buffs will enjoy the excavations at Akrotiri, the "Pompeii of Greece," where an advanced civilization was buried and preserved in the 16th century BC by the ash of a volcanic eruption.
Patmos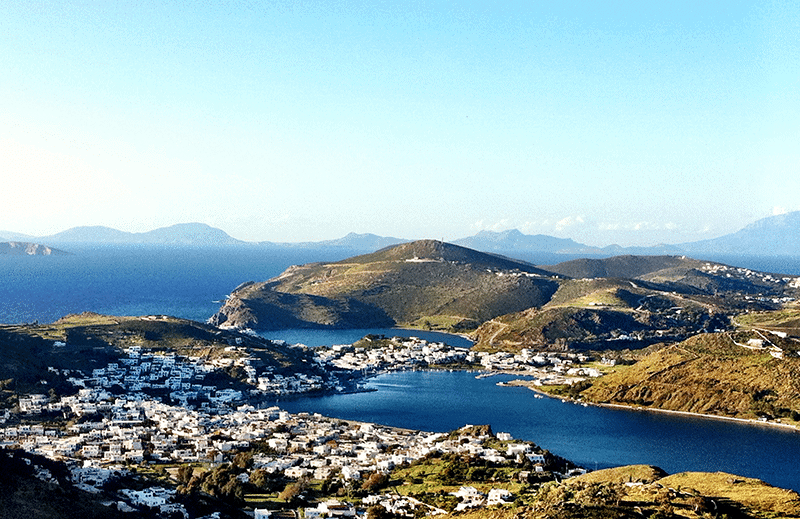 When Greece was part of the Roman Empire, remote Patmos was used as a place of exile at the far reaches of the Aegean Sea. It is well known now as the place where Saint John the theologian, in his 90s, was sent in the late 1st century AD for his seditious beliefs. You can stand in the footsteps of history at the Cave of the Apocalypse, where he had the visions that led to his writing the final book of the New Testament, the Book of Revelation. Then the medieval walled monastic complex that crowns the town of Chora is worth a visit, and boasts an original El Greco painting from before he journeyed to Spain and achieved fame. On a summer evening here when it stays light late into the day, refuel with a traditional Patmian cheese pie and then walk the route from Chora down to the port of Skala for beautiful views and photo ops all along the way.
Crete
As the 5th largest island in the Mediterranean, Crete could be a whole five-part topic unto itself. So Dimitra focused on introducing us to a few of her favorite things about the Chania region on the island's western side. The main town of this region, also Chania, welcomes visitors into a stunning old Venetian harbor where the island's multicultural influences are on display—a Venetian arsenal might sit right next door to the Ottoman baths and surrounded by Greek-style houses. The quaint old town is a maze of little streets, hidden courtyards, restaurants, cafes, boutique hotels and walkways covered with bougainvillea and wisteria. It's a great place to get lost. One of Dimitra's favorite authentic, lessor-known activities is a fabulous Cretan cooking lesson in a little village just outside Chania where you learn how to prepare traditional local specialties, then sit down family style and share the meal together. On top of all this, Crete's famed Balos beach is often described as one of the best in the world, and for those seeking a hike or outdoor adventures, the peaks and gorges of the limestone-capped White Mountains are simply stunning.
Naxos
Popular with Greeks but less well known by foreigners, Naxos feels like an undiscovered gem. Sitting in the middle of the Aegean Sea, it boasts gorgeous tranquil beaches that are long, shallow and sandy, unlike what you find in much of Greece, and the tavernas along them will have chairs and tables right out in the sand. Dine at one if you can, as Naxos is known for its amazing gastronomy. The picture-perfect main town has quaint whitewashed buildings wrapped around a medieval fortress and plenty of charming, winding cobblestone streets to explore. Along with the beauty, Naxos has produced high-quality local marble since ancient times and there are loads of ruins and tales of history to explore on this "island of Dionysus and Ariadne." For a unique sight, seek out the rough-hewn statue blocks that had accidents en route from the quarry to the port and now remain where they haphazardly fell 2000 years ago.
If you'd like to watch the full recording of this presentation, please email your ACIS Program Consultant or Contact Us. And to enjoy more inspiring content about Greece and traveling from Dimitra, check out her blog The Culture Muse.