If it's better to give than to receive, then it's even better to give and then give again.
There are a variety of products and organizations on the market today that make giving back a big part of their business not just for the holiday season, but all year long. If you're looking for a unique present that thinks outside the gift box and makes the season brighter for your lucky recipient plus those in need, here's a list of products and charities that donate part or all proceeds to a nonprofit or social cause.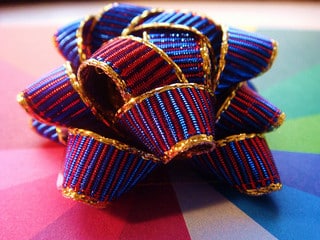 Baking for Good
'Tis the season for sugar plums, candy canes and filling up on everything sweet. With their motto, "Every treat supports a cause you choose," you can mail a loved one, friend or coworker in the US a special treat through Baking for Good while also donating money to support a good cause. Here's how it works: shop the online bakery, choose a charity and checkout.
Baking For Good offers a comprehensive list of causes to choose from including those that benefit children, the arts, animals, education and more. Cookie gifts start at $14 and 15% of the net profits from your purchase will be donated to the charity of your choice. There's also a "business gifts" link for those who want to personalize their cookies with a logo as well as gluten-free and vegan options.
The donation aspect of your purchase makes this gift even sweeter than the brownies they come with.
Warby Parker
The eyewear brand, Warby Parker, was listed as #2 on Mashable's article, 4 Young Social Good Entrepreneurs to Watch. With their "buy a pair, give a pair" program, this fresh, young company is getting a lot of buzz in the social good department. When you order your pair of prescription glasses or sunglasses, the company will donate a pair to a person in need. Mashable estimated in 2011 that at least 50,000 pairs were donated around the world.
Warby Parker pushes the social envelope even further by partnering with non-profits worldwide to educate low-income entreprenuers on how to sell affordable eyewear.
Warby's collection of vintage, designer-inspired frames all sell for $95 and that includes your prescription lenses. If ordering a pair of glasses online leaves you hesitant, you can have up to five pairs shipped to your house to try on. Your shipment even includes a pre-paid return label.
Kiva
Kiva is a non-profit organization that collects loans and gives them to individuals either in need or in regions where traditional banking systems don't exist. Kiva features borrowers on their website and each includes a profile of the person and what they hope to achieve with their loan.
The lending cycle is simple: Make a loan, get updates from your borrower, and get paid back. Once your loan is paid back, you can decide to fund another loan, donate it to Kiva entirely or withdraw your money. For the holidays, the non-profit offers the Kiva Card for you to send to a friend or loved one so they can choose the borrower or cause that's closest to their heart. Kiva Cards begin at $25.
Heifer International
Through monetary donations, Heifer International provides sustainable gifts to families in regions of poverty. Gifts include livestock, seeds or specialized training to individuals who must rely on their own knowledge and skills for food. Through Heifer's "Gift Registry," you can tell your loved ones to skip the presents this year and instead donate money to help families around the globe become more self-reliant.
TOMS
These recognizable and comfy shoes do more than make your feet happy. When you purchase a pair of TOMS for yourself or as a gift, the company donates a pair to a child in need through their "One for One" movement. TOMS thanks their customers for providing 2 million pairs of shoes to children around the world.
Well that about wraps it up for our educational student travel's list of gifts with a social conscience. What are some unique gifts you've given or received? Is there a charity or cause that's close to your heart either in the US or abroad? Have you ever participated in a service learning component abroad or helped a local community? Share your experiences with us in the comments below.
{photo credit: ejorpin via Flickr}