Although Tour Managers are usually the experts, sometimes we too travel into unfamiliar territory and get to feel the delight of discovering a place for the first time. For me, this meant a week-long trip to Andalusia this past holiday break. While I usually tour in France and Italy, I'm also familiar with the Catalonian region of Spain and can get by with some rudimentary Spanish. But this Southern region which had been under Arab dominion for 800 years was like nothing I had ever seen in Europe.
From the Alcazar royal dwelling in Seville to Granada's famed Alhambra (for which tickets are a precious resource) and Cordoba's Mezquita, Andalusia is awash with architectural treasures, buildings, and sites in which detailed Islamic decorative arts meet Renaissance and Baroque grandeur. It creates a fusion of form and color which can feel breathtakingly kaleidoscopic. When you close your eyes at night, a flutter of changing hues and geometries continues to project onto your eyelids.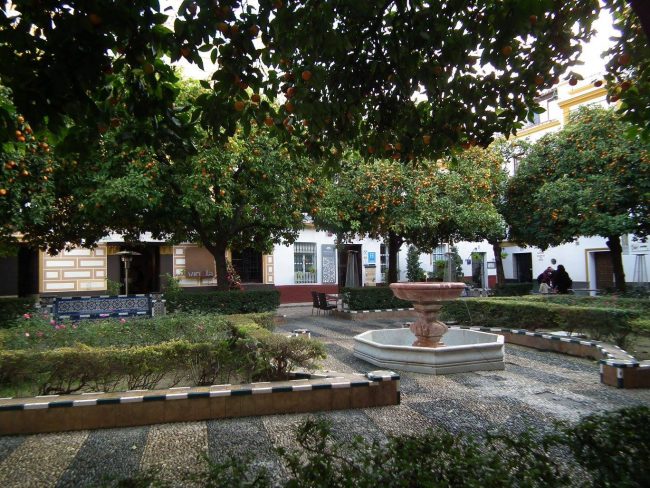 This is why the numerous gardens come as such a welcome break. I have never seen such a profusion of orange trees growing everywhere I looked. In the heat of summer these provide much-needed shade, but in the fresh, blue winters, they bring a warmth of color to every street scene. In this hot region, water features also have a pride of place – gorgeous ceramic fountains and channels delineate the public parks and royal gardens.
And of course, there's tapas! What a wonderful way to try a little of everything. When you order 12 mini dishes between 4 people it gives you more of an opportunity to take a chance and try something new, like squid-ink pasta, fried anchovies or oxtail (to name just a few delights I tasted over the past week). Fresh orange juice is plentiful and can accompany just about every meal, but I don't think it comes from the city's trees – the orange I picked off its branch was about as sour as a lemon!
Andalusian culture is evident everywhere you look. There are museums dedicated to the art of Flamenco, the Corrida, and even a Museum of the Three Religions, located in the Calahorra Tower overlooking the Guadalquivir river in Cordoba. This was a region, after all, where Muslims, Jews, and Christians lived side by side for centuries, and it's fascinating to learn about the time of "la Convivencia" ("the Coexistence"). The signs of this cultural intermingling are still very present, and not always as obvious as a Church being built inside a mosque or a minaret turned into a bell-tower.
Personally, I didn't fancy going to see a Corrida, but I was lucky enough to witness how the Andalusians welcomed in the New Year in Seville. They have a wonderful tradition which you can try out in your classroom sometime. After dinner, everyone flocks to the town square with a bunch of grapes. As the clock on the town hall chimes for midnight, you must eat one grape for each chime, 12 grapes in total for the 12 months of the coming year.
Interested in exploring Andalusia for yourself? Check out our Roman Spain Itinerary which includes stops in Cadiz, Seville, and Costa del Sol!

FREE LESSON PLAN
Online Tour of the Alhambra Lesson Plan
6 Spanish Classroom Lesson Plans to do with Your Students Based
on the New Bloom's Taxonomy For World Language Instruction.