Fundraising has come a long way from just car washes and bake sales. In March we launched a contest to see just how creative and effective our travelers could be in raising money for their tours—and boy did they deliver! We agreed to match the winners' earnings up to $2,500 in two categories: most funds raised and most creative fundraiser. We're proud to announce the winners below.
Hailing from Mechanicsburg Area Senior High School in Pennsylvania, the winner of the Most Funds Raised prize goes to a group that earned a whopping $7,875 for their 2015 trip to Italy and Greece.  Run by student organizer Jen Zazworsky with the help of dedicated teacher and group leader Michelle Shupp, this group of 38 students at Mechanicsburg prepared old family recipes and held a cook-off, alongside a silent auction of entirely donated goods. The donations received for the auction ranged from food to music and more.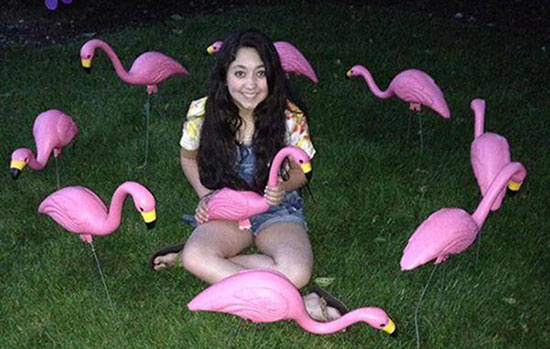 For "Most Creative Fundraisr", we are very happy to award the grand prize toMichelle Cirillo from Bethpage High School in New York. Michelle told us in her entry: "I was sitting in class one day staring at one of my teacher's classroom mascots – a pink flamingo – and suddenly it hit me! How fun would it be to 'flock' peoples' front yards with a group of hot pink flamingos and ask them to pay me to remove them or to 'flock' their friends?" Complete with hot pink flyers to invite people to "flock" their loved ones, and a gaggle of plastic lawn flamingos, Michelle set out to create a fundraiser that was both fun and fruitful – and she certainly succeeded! Her fundraiser earned $2,145 while putting a smile on many people's faces and earning first place in the creativity portion of our fundraising competition!
We wholeheartedly congratulate both winners on their impressive feats. While these two groups won the top prizes, there are several other entrants who deserve to be mentioned:
Student Tyler Dribbon of Hunterdon Central Regional High School  made the admirable decision to use his fundraiser for his trip to Peru as a way to earn money to donate to Americares, a non-profit disaster relief and humanitarian aid organization. Tyler told us in his entry, "In June 2014, I will be traveling to Peru as part of a program through the Spanish department at my high school. I will be visiting different landmarks and historical places such as Lima (the capital), Machu Picchu, and Lake Titicaca. Since I will be gaining so much from their country, I have decided to give back something to them. I learned that 20% of people in Peru live in extreme poverty. So I have created a campaign called 'Steps Up Machu Picchu' to raise money for these people. So far, I have raised $780 for Americares to help people in Peru."  With pride and gratitude for what Tyler has done here, ACIS is donating $500 to his cause.
To read more about Tyler's philanthropic efforts, you can visit his fundraising page:https://www.crowdrise.com/StepsUpMachuPicchu/fundraiser/tylerdribbon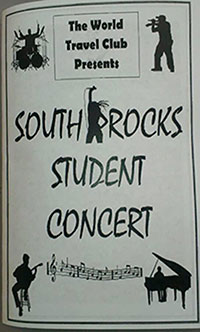 Group leader Michael DeLucia and a group of 22 student participants fromClarkstown High School South created a fundraiser with three parts. Together, they produced a concert of student musical performances, through which they earned money from ticket sales, selling advertisement space in their concert programs to local businesses, and setting up a concessions stand during the concert. While the fundraiser required some definite legwork from a number of people, it ended up earning them well over $3,000 by the end—certainly worthwhile!
You may think the only way to raise money is to sell your own goods, but Jack Evans of Tina Sochacki's traveling group at Lockport Township High School thought of a different and brilliant alternative: Jack explained, "Since family and friends like to shop and needed a cure for their cabin fever, we held a 'Jack's Fundraising His Way to France' vendor fare in our home. Vendors were invited to set up a 6-foot table to sell their product or service to attendees. In return, the vendors donated a percentage of their sales or a flat cash donation to the fundraiser." Jack earned over $1,000.
A big congratulations to these winners and honorable mentions, as well as to all the other entrants on their impressive efforts! It was truly a joy to hear your creative ideas and to see groups working together to support travel!
Although this contest might be over, fundraising is important year-round. We've shared some ideas on our fundraising page. Do you have any more? Share your knowledge, ideas, and stories in the comments section below!