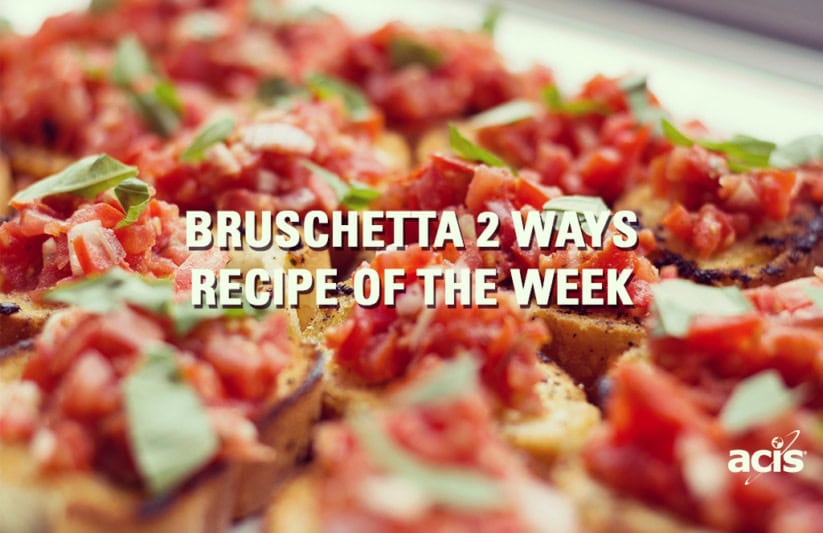 For this week's recipe, we go to a country whose culinary tradition is truly unmatched–Italy. Few countries on the planet enjoy a good meal quite as much as Italy where tomatoes, pasta, and herbs have combined in ways that have left an indelible effect on the history of the world (culinary or otherwise). These recipes are easy and delicious–perfect for a novice or an expert chef. Bruschetta is a fantastic appetizer for anyone looking for a fancy-looking prelude to a nice meal without going to too much trouble in the process. Submitted by Italian culture aficionado Tricia Holda, these two bruschetta recipes are most certainly crowd pleasers.
For more recipes from Italy, check out our World Cookbook!
This week's entry was submitted by Tricia Holda, International Program Consultant from our Boston Office. Enjoy!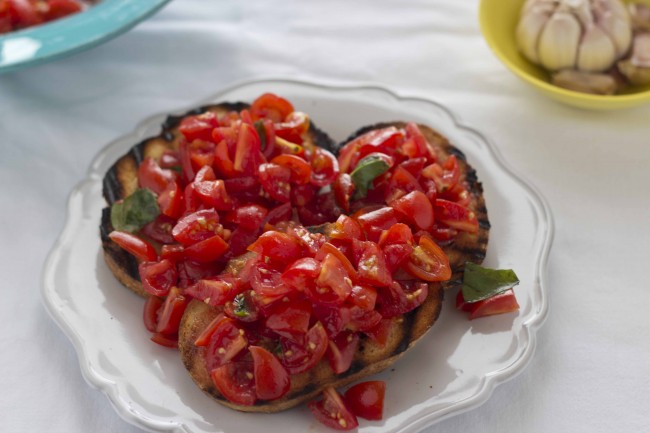 Balsamic Bruschetta
Yield: 8 servings
Total Time: 15 minutes
Prep: 15 minutes
Ingredients
8 roma (plum) tomatoes, diced
1/3 cup chopped fresh basil
1/4 cup shredded Parmesan cheese
2 cloves garlic, minced
1 tablespoon balsamic vinegar
1 teaspoon olive oil
1/4 teaspoon kosher salt
1/4 teaspoon freshly ground black pepper
1 loaf French bread, toasted and sliced
Directions
In a bowl, toss together the tomatoes, basil, Parmesan cheese, and garlic.
Mix in the balsamic vinegar, olive oil, kosher salt, and pepper.
Serve on toasted bread slices.
Mushroom and Ricotta Bruschetta
Yield: 4 servings
Total Time: 40 minutes
Prep: 15 minutes
Cook: 25 minutes
Ingredients
For the bread:
1 cup ricotta cheese
1 egg
1 lemon, zested
1/2 teaspoon salt
1 pinch freshly ground black pepper, or to taste
1 pinch red pepper flakes, or to taste
4 slices French bread, toasted
1 tablespoon olive oil
1 tablespoon butter
For the topping:
1 tablespoon olive oil
16 large white mushrooms, sliced
1/4 cup green onions, chopped
1/4 cup Marsala wine
1/2 cup chicken broth
2 teaspoons lemon juice
2 tablespoons chopped Italian parsley
1 tablespoon butter
salt and freshly ground black pepper to taste
Directions
Preheat oven to 425 degrees F (220 degrees C).
Mix ricotta, egg, lemon zest, 1/2 teaspoon salt, black pepper, and red pepper flakes in a bowl until smooth.
Place toasted bread slices on a baking sheet. Sprinkle with 1 tablespoon olive oil and evenly divide ricotta mixture atop 4 bread slices.
Bake in the preheated oven until cheese is browned, about 12 minutes.
Heat butter and 1 tablespoon olive oil in a large skillet over medium-high heat; cook and stir mushrooms in mixture until browned, 5 to 6 minutes. Add green onions; cook and stir until softened, 2 to 3 minutes. Stir marsala wine into mixture and cook until reduced by half, about 1 minute.
Reduce heat to medium-low. Add chicken stock and lemon juice to skillet; cook until liquid has evaporated. Reduce heat to low. Stir in parsley and butter. Season with salt and black pepper to taste.
Spoon mushroom mixture equally atop 4 slices of ricotta-topped bread slices.
If you give either recipe a try, make sure to come back and leave a comment to let us know how it came out!

17 FREE RECIPES
ACIS World Cookbook
Bring the world into your kitchen with recipes from 10 different countries.