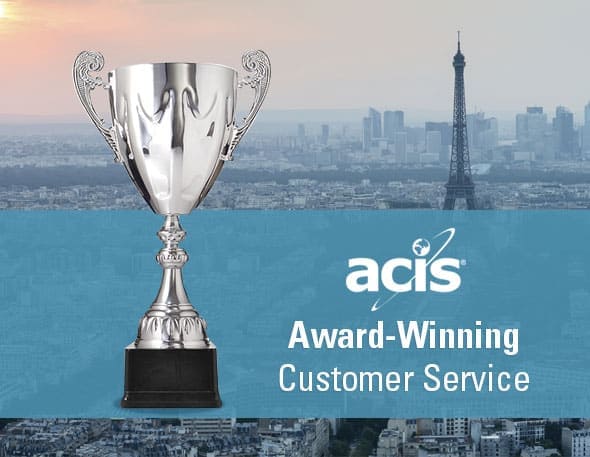 We don't typically blow our own horn, but we just got some news that we're pretty excited about. With all votes cast and counted, we have been named a customer service award-winning company.
ACIS received the high honor of being the The Stevie Awards' Silver Award Winner for the Customer Service Department of the Year in the Hospitality, Leisure & Tourism category. (Only behind Marriott International. We bow down to them for securing the gold.) The Stevie Awards recognize outstanding performance in sales and customer service worldwide, as determined by a panel of experts in the field.
In case you didn't already know…
Our President, Peter Jones, founded ACIS in 1978 after seeing so many young people's lives changed as a result of travel. Knowing the important difference between a trip that's mediocre and one that's extraordinary, Peter built ACIS from a belief that group leaders and participants deserve the best. It's still what motivates us to strive for excellence every single day. Here's a little more on that from our Vice President of Customer Experience:
ACIS' core values are Quality, Care and Partnership.

We are known for the quality of our product, but what I believe truly makes us different is the people that make up ACIS. Everyone here believes in our mission that "travel changes lives" and we care about our teachers and travelers.

We also realize things in travel are constantly changing and only by listening to our clients will we know how to maintain and improve ourselves. Only by listening can we know how to support our teachers and challenge students.

Customer Service is as much about caring and partnership as it is about the quality of the product we deliver.

We are proud to have such wonderful, loyal clients that understand that they are part of the ACIS family and not just a customer. They are part of what makes ACIS great and we hope to continue to deliver and improve with their support.

– Laura Smart Fitch, Vice President of Customer Experience
Part of that listening process Laura talks about is focused around our customer surveys. If you've traveled with us, then you know to expect a pre-departure survey as well as a post-trip survey. (Not to mention personal feedback you give to your International Program Consultant before, during and after your tour.) Your feedback fuels us to make changes, both large and small. In fact, it's part of the reason our customer service continues to receive high marks. In 2013, you rated us on the following:
94% excellent ratings for friendliness and professionalism of our US-based International Program Consultants
98% of group leaders rated our trips overall as good to excellent
You know what these statistics tell us? We're still not good enough. There's still room for improvement and we'll find ways to climb higher.
Thank you for your continued support, for choosing to travel with us, and for providing us with the momentum to strive for excellence. We promise to always take your happiness very personally.