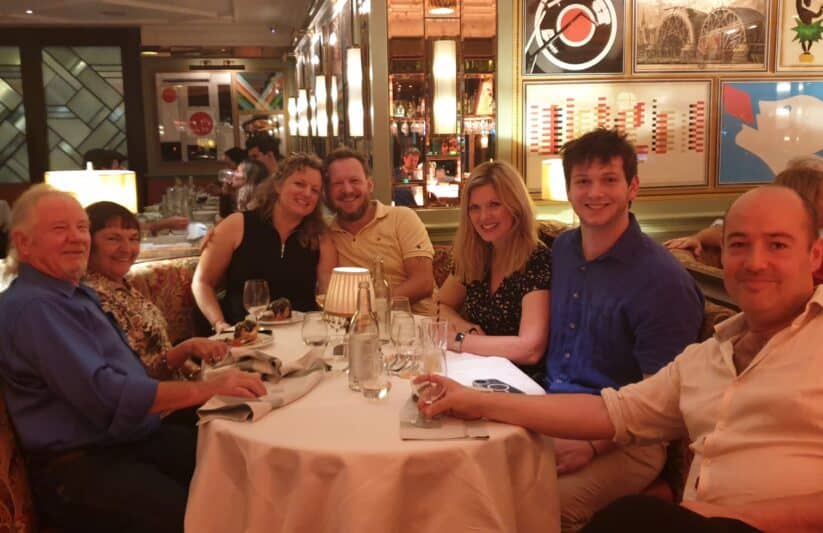 On an ACIS educational tour, the group's bond with your assigned Tour Manager can become so strong, that you are friends well after the trip concludes.
ACIS Group Leader Nikki discovered this on her first trip with Tour Manager Barney Rayfield this summer and shared how he enhanced her own personal travels to London later in the year with a spontaneous London tour!
Learn More About ACIS Tour Managers
1. Where and when was your first trip with Barney?
My ACIS group traveled this summer (2023) with Barney to Paris, Strasbourg, Switzerland and Munich. This was our first trip with Barney: I have been on many ACIS trips over the years! 
2. Any particular memories from that trip to share?
Oh wow, we have so many great memories! One fun one was when we were in Engelberg, Switzerland for our dinner at the amazing Engelberg Ski Lodge. Barney taught us that in a movie if the extras all say "Rhubarb rhubarb" it looks like natural conversation! (Of course I have a video of our group experimenting with that!)
In Paris, Barney took a few of us in the evening to a favorite local creperie. It was a great spot and we had an amazing night time treat at a very cool spot near our hotel. My son, who traveled with us, loved that Barney would sit with different tables each night and get to know the travelers by asking questions and sharing stories. Barney and our driver, Norbert, were hysterical together and would get into animated conversations in German which amused the whole group. (Norbert was a character and a fan favorite!)
During the Munich portion of our trip, we visited Dachau. Barney prepared our group the day before with suggestions for behavior, dress and expectations for the visit (a few of us had been there before and several of our group are Jewish). As we drove towards Dachau, Barney spent the drive giving us a difficult but fascinating detailed history and context of what we were about to see. His words were eloquent, he was passionate, and he provided educational depth through his love of history. Despite the solemn topic, we all could have spent hours listening to him speak. During our visit to Dachau, several group members requested additional time, and Barney changed our schedule for the day to accommodate this very important request. 
3. How did Barney enhance the travel experience?
Barney, like every amazing ACIS Tour Manager, strives to make sure the group has an excellent time by getting to know the group and to connect with everyone. Through humor, history and passion for the cultures he shared with us, Barney ensured an excellent ACIS trip. He is passionate about music and brought to life many stories about composers and musicians as we traveled through Europe. His enthusiasm was contagious and everyone enjoyed his great sense of humor! 

4. Could you share the story of how you ended up connecting in London and having a spontaneous tour?
We have been in contact with Barney through Whatsapp since we left his side this summer. We shared photos and stories when we returned to the States and told him that we would be returning in October for the Jacksonville Jaguar Football game in London. Of course we had to meet up when we were in town! 
As we firmed up our itinerary (I was traveling with my older son, Evan, who had traveled with Barney and ACIS this summer), we made plans to meet on Saturday night for dinner. Barney met us in Soho at The Ivey for dinner. We had a great time reconnecting and he enjoyed meeting my sister and her fiancée who live in the Netherlands and flew in to join us, as well as my Uncle and his girlfriend who joined us from Sacramento, California.
After dinner, Barney offered us a walking tour of the Soho neighborhood. My Uncle, a musician, was enchanted by Barney's story of music history in Soho as he pointed out several buildings that were significant to the history of rock and roll. We are already planning a return trip to London and hope that we can meet up with Barney again!
ACIS tour managers are not only guides but are amazing individuals who shape the lives of all their travelers!