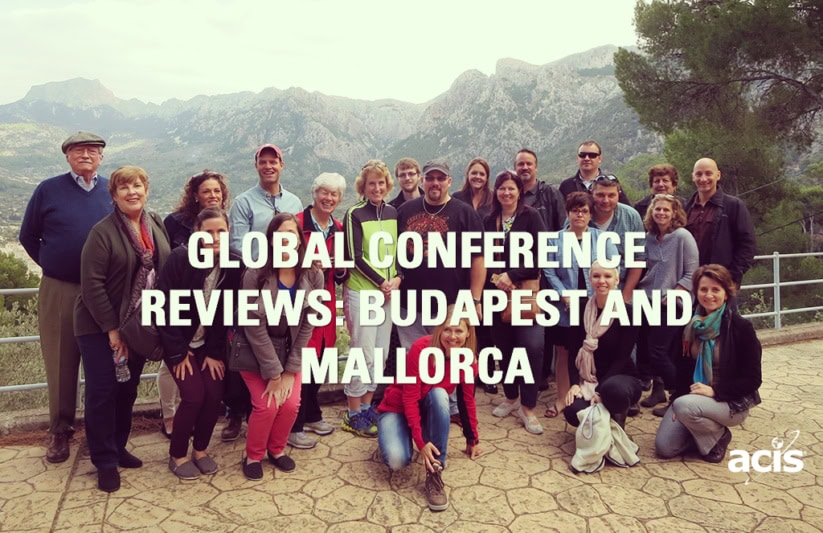 ACIS Global Teacher Conferences are opportunities for teachers to network with like-minded colleagues from across the country in amazing destinations all over the world. For ACIS Group Leaders who register enough participants by a given deadline, they earn a free trip including airfare, accommodation, breakfasts, and cultural connection activities and excursions that are truly life-changing. Global Conference destinations from the past several years have included Cuba, Greece, Croatia, Japan, Israel, Spain and many many more. Check out photo galleries from conferences in all of those destinations here.
Just a few weeks ago, two ACIS International Program Consultants returned from two remarkable Global Conferences in Budapest, Hungary and Mallorca, Spain. Check out some pictures and read about their experience in their own words below:
Budapest – Alexa Patenaude
I recently returned from what has to go down as one of my favorite trips of all time. I found myself in a very lucky place two weeks ago, playing host to 26 wonderful group leaders and their companions on our Thanksgiving Global Conference in Budapest. Together we discovered Hungary's rich and storied history, tasted its amazing wines, ate its heavy, decadent foods, and explored its Christmas markets.
Through both bus and walking tours of the city, we learned its layout and began to understand the history and culture of the country, with the help of our incredible tour guide, Andrea. She had lived through the relatively recent and significant political shift in the country, and we all left feeling we learned so much about European history; especially between the second world war and today, which is a period of great significance in Hungary.
We explored Godollo palace, the Baroque chateau where Queen Elizabeth (Sisi) of England made her home so many years ago, located just 35 minutes outside of the city center. Then we were entertained by some amazing equestrians who taught us about the history and importance of horses to the Hungarian culture, and treated us to a jaw-dropping show. Upon arrival at the farm, we were greeted with Palinka (a fruit brandy) and salty bread, and gorged ourselves by a lovely fire on an expansive Hungarian lunch, replete with goose liver pate and breaded meats.
And to top off the trip, we had the good fortune to thoroughly experience a high-point – the city lit up at night. What a sight to behold! I have rarely seen a city lit so beautifully at night before. We enjoyed a boat ride down the Danube river on our last evening, and cruised beneath all seven bridges joining Buda and Pest, all the while enjoying a 5 course menu and a generous selection of Hungary's delicious wines. Oh the wines…
These are just a few of the highlights from our time – I could have spent weeks exploring this city. I hope to have the opportunity to return at some point in the future to do just that.
Mallorca – Emily Anderson
A 7.5 hour flight from Chicago will take you numerous and varied places. Recently, I had the pleasure of being introduced to the Islas Baleares, or Balearic Islands, with a trip to beautiful Mallorca, Spain! Okay, so this is a little more than 7.5 hours from Chicago. After a 7.5 hour flight from Chicago to Madrid it is just another short 1 hour flight to Palma, Mallorca. Believe me, Mallorca is a destination worth the flight time.
Upon arrival it is just a 15-minute journey by cab into the harbor area. Here you will find a plethora of hotels and restaurants to choose from along a palm tree lined boulevard. From this area one is able to reach the Gothic Cathedral of Santa Maria of Palma. Built on the site of an Arab mosque, the cathedral was once being restored by Antonio Guadi (famed for his work on Barcelona's La Sagrada Familia) but left the project abruptly before completion. Learning about the connection Gaudi has to another famous cathedral in Spain was very interesting. After a visit to the cathedral visitors can head north to wander through a maze of small laneways lined with restaurants offering various tapas next to shops filled with souvenirs. This was especially a nice wander in the evening once the Christmas lights had been switched on!
Palma is not the only city on the island worthy of a visit. A quick train ride takes visitors through the picturesque peaks of the Tramuntana mountains on the way to the village of Soller. From here, a vintage tram can be taken to the Port of Soller. The views in this horseshoe-shaped port are absolutely amazing. Dip your toes in the water or hike to the Torre Picada offering panoramic views of the port. During the off season most of the restaurants and shops are closed but after a daunting hike with a teacher and our tour manager we were able to find a spot to enjoy a jamon sandwich.
Another visit-worthy site on the island is the Drach Caves. This subterranean site is located about an hour's drive from Palma outside the coastal city of Porto Cristo. Here visitors will view awe-inspiring stalactites and enjoy a mini concert of classical music taking place on Lake Martel. A lake in the caves?! Yes! Beneath the earth is a small lake in which visitors have the option of crossing by row boat after the concert (no worries, someone is there to row the boat for you!). Quite the site indeed.
I love to explore new places and cultures and Mallorca did not disappoint. Not only was I able to earn another stamp in my passport, but I also tried new things (cuttlefish and boquerones ), met new people and gained a greater understanding of another part of this great big world. I wonder where my next adventure will take me…stay tuned!