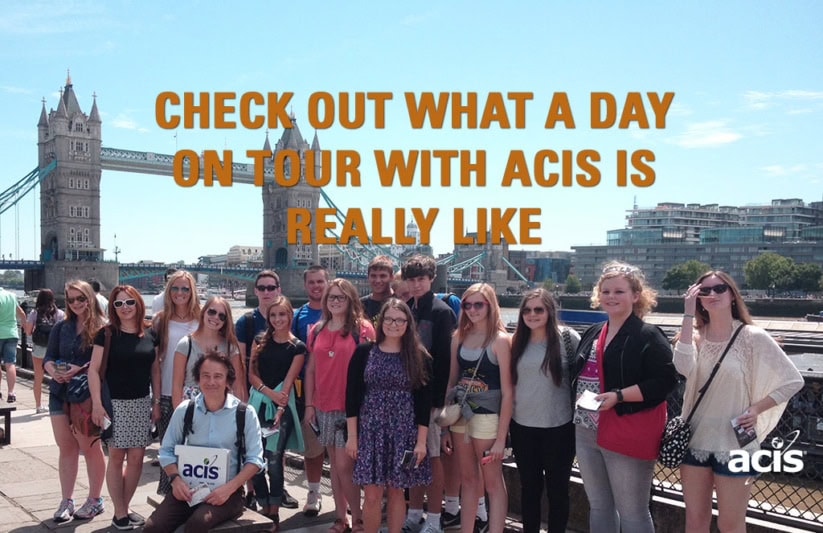 You know it will be educational. You know it will be fun. But what's a typical day on an ACIS Educational Tours really like? Good question – let me help.
Your daily schedule will depend on several factors: how many days you remain in a given city, the pace of the trip you choose, your preference for unstructured self-exploration time vs. an itinerary packed with scheduled activities, and the sights and activities unique to each destination.
You can read through the tour itineraries that interest you most for specific details, but in a general sense, here's how a typical day on a student trip with ACIS might go:
7:00am:
Rise and shine!
8:00am:
Start the day with a continental breakfast at your hotel. This often consists of coffee, tea and juice with cereal, pastries, toast and—depending on the local specialties—sometimes eggs, meats, cheeses, yogurt and fruit.
9:00am:
Visit a museum or important historical highlight such as the Prado, Louvre, Florence's Duomo, Tower of London or the Vatican Museums. Often you can travel on foot to the major sights right from your centrally located hotel and might explore one or more neighborhoods of the city by walking tour as you go. Sometimes this visit will be combined with a panoramic sightseeing drive of the city, in which case you'll be picked up by private coach. In all instances, your tour manager and/or an expert local guide has a wealth of knowledge to share with you about the cultural significance and history of what you're seeing.
12:00pm:
Enjoy lunch like a local. Your tour manager can recommend the best authentic eateries nearby or suggest a market where you can buy fresh ingredients (a great learning experience!) for assembling the perfect picnic to share in the leafy shade of a park or scenic city square.
2:00pm:
Gain an insider's perspective on the culture of your destination with a hands-on Cultural Connection activity. Perhaps master the flamenco's steps, explore the neighborhood's quiet streets by bicycle, learn to cook culinary specialties from a native chef, try your hand at a favorite regional sport, ride horses through a cloud forest, tap into your inner thespian during a theater workshop or participate in a tea ceremony. These experiential learning activities take cultural understanding to a whole new level and offer a true window into the history and customs of the people you're meeting.
2:00pm alternative:
It's your trip, your call. If you have a specific educational activity, visit or excursion that you want to be sure to include, let ACIS know (and your tour manager) and we can build this into your day. Or perhaps you want to give your students some less structured time to explore and engage with the city in groups on their own. It's completely up to you. Otherwise, your tour manager has an endless list of treasures in mind to show your group, just ask them. You have the flexibility to see or do what matters most to you.
4:00pm:
Gelato break. So many flavors to try, so little time!
7:00pm:
Savor authentic, local cuisine for dinner at a neighborhood restaurant. In certain cities, your group could have meal vouchers. These vouchers hold a certain currency value and showcase a list of restaurant options where they are accepted—you have the freedom to select your own eatery and order whatever you choose off the menu.
9:00pm:
The world's great cities thrive after dark. Your central hotel location means your group can enjoy evening excursions (whether spontaneous or pre-arranged) such as a cruise on the Seine, world-class theater performances, a passeggiata romana past the illuminated Trevi Fountain, street performers in the Plaza Mayor, karaoke or plenty of post-dinner gelato.
11:00pm:
Slide into bed, exhausted but invigorated after an awesome day!
A typical day will be structured differently if part or all of it is spent traveling to a new destination. That journey can be a treat in itself—viewing the countryside from the high-speed train or stopping the coach in a small town full of local character en route to your next overnight city. No matter what shape the day takes, we make sure each part of your itinerary is carefully planned to maximize the time you have overseas.
FREE EBROCHURE
ACIS Catalog
Browse over 100 educational travel excursions all over the world. From
service learning to cultural connections, find a trip to meet your goals.