Not only does ACIS pride itself on delivering the best quality educational tours in the industry, but we also are fortunate to have a strong community of passionate teachers and students that have traveled with ACIS over our 36 years. The majority of teachers who travel with us are repeat travelers (over decades!), refer us to their colleagues, and even later on work with us as Academic Travel Advisors – eager to lend advice and a helping hand to new ACIS group leaders. We don't mean to brag, but our community is full of the brightest, most inspiring and motivating teachers – who also love travel. How lucky are we?!
Besides the teachers, it is normal to hear from student travelers directly about their life-changing trips and the travel bug "infecting" them throughout their lives. However, ACIS group leaders certainly don't lose their passion for exploring the world and bringing students to experience new cultures. We've witnessed teachers who, over the course of many trips with ACIS, grow from novice tourists to experienced group leaders, inspiring a whole new generation of travelers. And many teachers tell us that even when they're traveling on their own, without their students, their ACIS experiences are never far from their minds.
Brenda Daskam, a retired French and Spanish language teacher from Texas and an ACIS Academic Travel Advisor, told us a story of her recent trip to northern Spain, and how one small experience made her reflect on her days leading students overseas.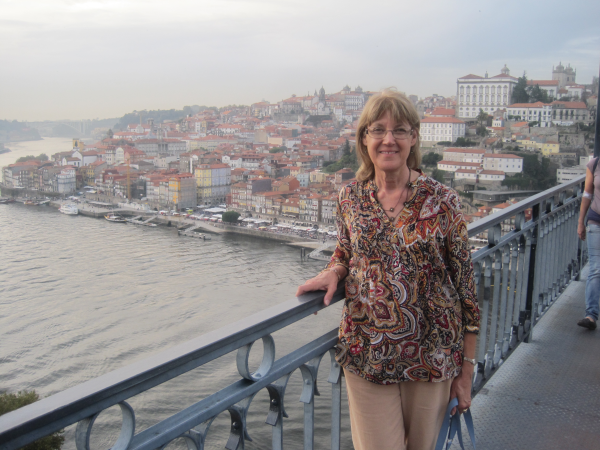 I arrived in Oviedo last night in the rain. Because it is often rainy in northern Spain in October, I should have packed an umbrella. But in the last-minute packing rush, I forgot, so on my way to the old town and cathedral this morning I popped into the Corte Ingles to buy one. They had lots to choose from, and I love a good, practical souvenir that will remind me of some far-flung adventure each time I use it at home. I was happy to spend 13 euros. At checkout I chatted with the clerk, gladly practicing my Castillian Spanish, and mentioned that Oviedo was not in my guidebook. She asked for my hotel map and then marked all her favorite places in town: the medieval fountain, the best street for restaurants and Asturian specialties, the Camino of Santiago de Compostela, the best bakeries in town, as well as a short drive for more sightseeing. I spent the next few hours following her advice and sampling the best of Oviedo, from an insider's point of view. For the cost of that umbrella I got a great souvenir, some priceless language practice, and excellent guide tips. And I kept dry all day!

Do you know the word lagniappe? We use the French word; in Spanish they say ñapa. It's something extra, thrown in for free, the thirteenth donut in a baker's dozen. Lagniappe is more than a bargain, it's value.

Lagniappe (or extra value) travel is a perfect description of what ACIS does for teachers and students. I remember the first day of my first ACIS trip. Our tour manager met with all the group leaders to go over the agenda for the week. He asked if we would like to visit the Fragonard museum of perfume in Paris. No charge. What about a winery tour and tasting in the Loire valley? Also no extra charge. He went on to offer several activities at little or no cost that could easily be done within our scheduled times and routes. Those stops turned out to be some of the most memorable of the trip. I have traveled with ACIS many times since then, knowing my travelers will always get more than they pay for, thanks to added activities, hotel locations that give us more free time near the sights, and exceptional tour guides who make the most of our time and money. ACIS is always a great travel value!

My umbrella and I have a couple more bakeries to visit, so I'm headed back out and I'm hoping for a ñapa! Hasta luego!
Brenda's perspective is both nostalgic and simple – during yet another one of her travels, she was able to reflect on the value of her travel experience over many years with ACIS.
We constantly feel fortunate to have such a passionate community of travelers. We told you we're not bragging – but they are SO great!
Have your own travels conjured memories of a trip you took with ACIS? Tell us in the comments!
Add your voice to our community – talk with us on Facebook!
---
[button style="btn-success btn-lg" icon="fa fa-facebook-square" align="left" type="link" target="true" title="TELL US" link="https://www.facebook.com/acistours"]