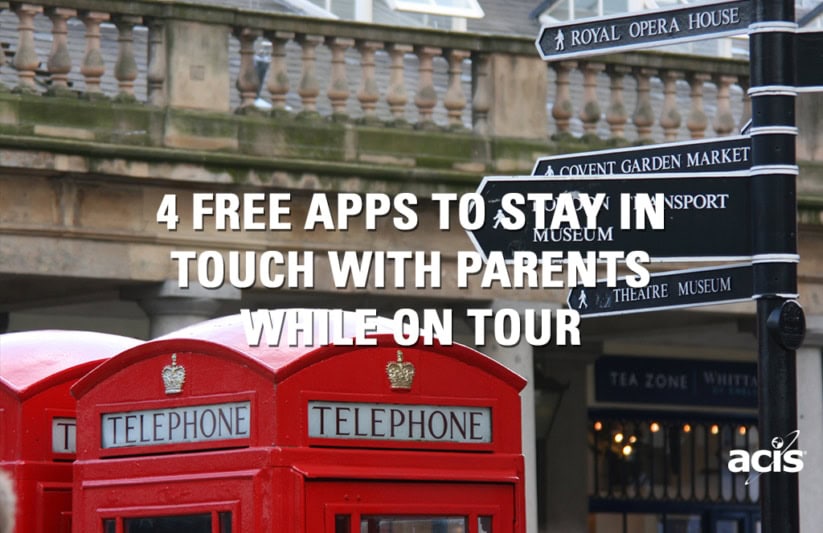 Encouraging kids to communicate with their parents can be a challenge no matter where they are, but when you're traveling with them in a foreign country, it becomes an especially important challenge to overcome. Checking in to assure their safety, sharing photos, or relaying important information are all important tasks to carry out, and in today's day and age, technology can be a major help in that cause.
At ACIS, we have an entire network of people on the ground overseas continuously communicating with our offices in London and Paris with round-the-clock coverage from our corporate headquarters in Boston.
If you'd like to setup your own communication channel to help parents stay in the loop here are 4 different apps you may or may not know about that will make the job a whole lot easier:
Remind
Depending on where you teach, you may already be using Remind to communicate with your students and their families. Using Remind's attach feature, you can send photos and messages back home so parents know what's happening when and where. If your students and their parents are already connected via Remind, it's probably the best channel to keep using when you're abroad.
Cluster
If you'd prefer to use a separate app that's not designed for education but simply photo/video sharing, Cluster is a great alternative. It's a simple-to-use app that's available on mobile and desktop (Android or iOS) that creates group text threads full of photos, videos and messages. The group administrator makes the rules as to who's allowed to send and receive what.
GroupMe
Similar to Cluster, GroupMe is a group messaging app that's especially great for photo and video sharing. GroupMe has a more advanced set of features like Gallery view, message "liking", location sharing, and emojis. If you (or your kids) love social networking and think features like emojis and a like button will increase adoption among your target audience, GroupMe might be the best fit for your needs.
SimplyCircle
If you're looking for even more advanced features like automated emails, event rsvp's, group calendar imports and more, then SimplyCircle could be a good option. That being said, those features all come on the paid versions of the app ($10/month or $20/month depending on the package), and the free version of the app might be inferior to Cluster or GroupMe. It might or might not be what you're looking for, so it's always good to know what's out there.
Do you use an app to communicate with parents we didn't include? Let us know in the comments section below!