Back to Blog Home
Youth Leadership in the Dominican: A Q&A With Group Leader Jon Kaptcianos
Since 2017, ACIS Group Leader Jon Kaptcianos has been bringing students to the Dominican Republic as part of a

Youth Leadership itinerary

. The number of students has increased from year to year, with 7 passengers the first year and 16 on the 2019 itinerary, and the relationships with Dominican organizations have deepened. We asked Jon a few questions about what makes his leadership trip unique, how he envisions growing the program even more and what interested teachers can do to start their own leadership program. 
Q: What made you initially interested in taking a leadership program?
A: Three years ago our school launched an initiative called The Brunswick Trust, which represents a commitment for our institution to incorporate character and leadership development into our student's school experience.  While there are lots of opportunities to incorporate these life skills on campus and throughout the academic year, a specialized leadership program abroad provided a unique and direct opportunity for our students to learn, be challenged, and practice leadership.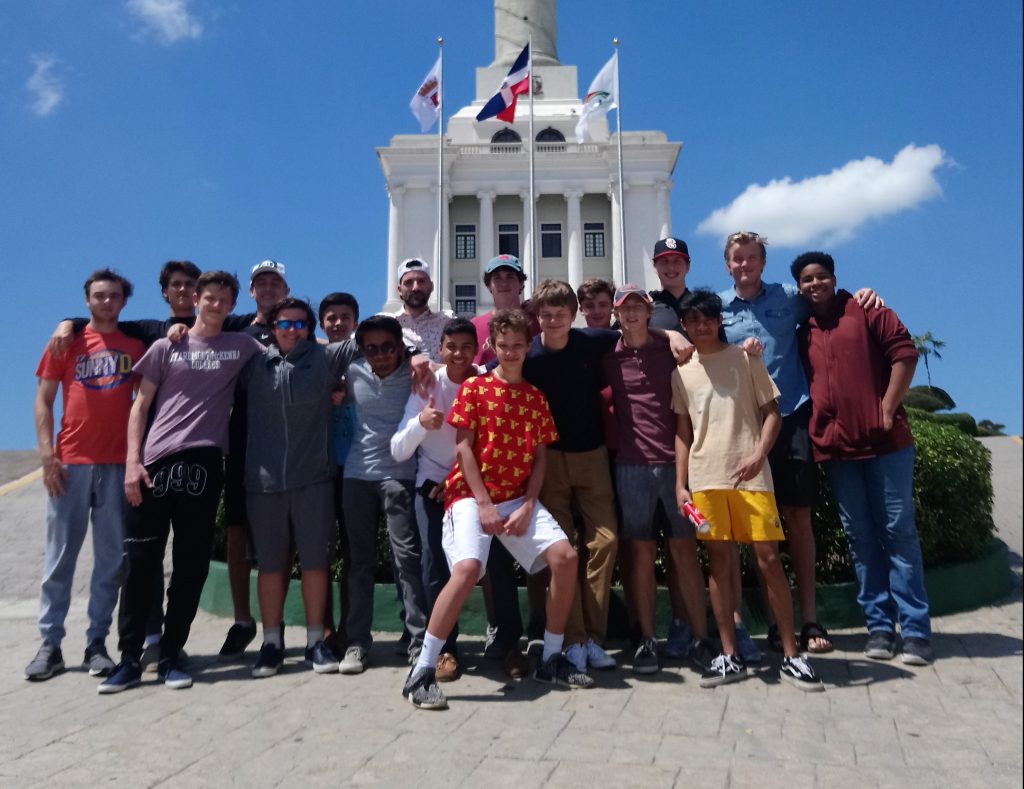 Q: What are the benefits of following the leadership components offered in the Dominican?
A: When I am asked to quickly describe this leadership program, I typically say that this 8 day experience entails "leadership development and character building through cultural immersion, geographic exploration, and social advocacy."   While I admit this is laden with "buzz words," I do think it accurately portrays the trip and gives credit to precisely how unique and worthwhile it is to pursue this experience in the Dominican.
From the outset, the location in the Caribbean and Spanish being the primary language forces our students out of their Fairfield, CT mindset/comfort zone.  Over the last three years immersion has present throughout these experience, be it the first two years in Rio Grande Abajo, our lengthy time spent visiting different parts of the Cabarete Community, and this year's intensive visits to both the Sosua Dump and the International Market in Dajabon (just to name a few!).
People's first image of the Dominican Republic is typically the beautiful beaches of Punta Cana or Casa de Campo.  This program debunks that stereotype, as we have been able to explore the incredibly mountainous country side, including a hike of Isabel de Torres in our first two years.  Further, our recent kayaking adventure on the Yasica River gave our students the chance to explore some of the more unique and un-advertised geographic aspects of the DR.
I find myself often having to explain to people that this is not a "Community Service Trip," where we go down to the DR to help people build houses and paint fences.  We are given an incredible opportunity to work with and see first-hand programs with a common mission of improving the quality of life for their Dominican communities.  Be it Papo, Dream, Inspire, Peace Corps, Domingo Abreau, or Cristial Earl, our students are exposed to incredible leadership and seeing its benefits first hand.  In learning about the struggles that these different communities face, they are able to gain perspective and return home with a better understanding of this part of the world.
Q: How has the leadership program changed over the 3 years you've run it? How would you like to see the trip evolve in the future?
A:  We ran with an identical itinerary for the first two years.  The trip started in Santiago and ended in Santo Domingo, with a stay on the Northern Coast.  Some unique highlights those years were the Isabel de Torres Hike, visiting with Domingo Abreau at the Pomier Caves, and the Culture Quest in Santo Domingo's Zona Colonial.  With regards to participation, the program was offered to 10th and 11th graders: in 2017 it was 5 students with 1 faculty chaperone, and in 2018 this increased to 7 students with 2 faculty chaperones.
This past year, however, the program was slightly altered.  We had 16 total boys (with 4 repeating from 2018) and 2 faculty. Our trip began and ended in Santiago, again with a longer stay in Cabarete but now including with a voyage to the Dajabon and the DR/Haitian Border.  New highlights on this program was the surfing/snorkeling lessons, Yasica river kayaking adventure, Sosua dump and International Market.
In the future, I would love for more programming to take place on our end in Greenwich before we land in the Dominican.  Currently and with regards to the confines of school timing/planning, this program is pitched in the fall, the roster is set shortly before we break for the Winter Holiday/New Year.  Our group will typically meet 4-5 times before departure, to get to know each other and learn the basics about where we are going and who we will be meeting with.  Typically the boys are assigned "research projects" for the various groups/organizations that they present to their classmates on the last meeting before heading down to the Caribbean.  This definitely has proved valuable, but I can't help but feel more could be done on our end to enhance this.  I am currently exploring the possibility of working this program into the academic curriculum, offering it as either a semester long elective or an independent study. Long-to-short, I really would like for our time spent physically in the Dominican to be the culmination/celebration, rather than the entire program itself.
I have no doubts that ACIS will continue to work with us to add/tweak the day-to-day activities that they feel will still maintain the general mission of character and leadership development.  I am hopeful that we have set a good standard and tradition (both with ACIS and our school) for this trip to run annually.
Q: What have been some of the highlights of the itinerary?
A: A quick answer here would be everything: Julie and Richard have done such an incredible job the last few years listening to our thoughts/ideas about the program and finding the right activities/events to support this vision.
Some specific highlights are detailed below, in no particular order:
BJJ with Papo Sone – visiting and training with Papo at Academia de la Costa is an impactful part of this trip.  His powerful back-story and message of outreach/service beyond financial giving definitely resonates and inspires our students.  Also, being able to participate in a proper BJJ class places our students in a challenging and uncomfortable but exciting situation for them to learn, engage, and break some personal barriers.
DREAM Project –  At first glance, Cabarete is significantly different from where our boys come from.  However our visit with Yefris and the Luchadores Por el Cambio enforces that young adults on the Northern Coast of the DR are facing the same problems that they are here in Greenwich, be it with substance abuse, sexual health, or just the general challenges that go along with coming of age.
Sosua Dump –  This past year was the first time we have visited the Sosua Dump.  The debrief before was enlightening/educating about the issue of statelessness facing both Dominicans and Haitians.  The actual visit to the dump was, well, just really something I don't think any of our boys will forget.
Dajabon, International Market – Learning about the history and past/current struggles of the Dominican-Haitain relationship was very important and set a unique tone as we prepared ourselves to see first-hand this positive (and extremely fast paced/action packed) demonstration of positive collaboration between these two nations.
Poco Pelo – Selfishly, I have learned so much about my own leadership style and skills in watching Richard at work the last three leadership trips.  He was (and is!) a tremendous male role model for our boys and has set an incredibly high standard of character and leadership that I have taken away with me every year.  He is a huge part of the success of this program.
Inspire DR – Lots of our students here are involved with programs at home that work with younger students, such as tutoring, sports, or general mentoring.  Visiting Inspire DR and spending time with these young Dominican Boys gives our students the chance to extend those skills in a new community and setting.  While some of our experiences can be intense/involved, this visit always feels more laid back and incredibly enjoyable for our students.
Q: What changes do you see in the student participants?
A: There are a few obvious differences, namely that our group becomes significantly more comfortable/friendly/unified over the course of the week.  This is seen pretty clearly during meals, time spent on the bus, or just typical downtime in between events.  They transform from an eclectic group of boys of different ages, hobbies and social groups to more of a family/brotherhood.
A little farther beyond the surface, the depth at which these boys can reflect on their experiences is profound.  This year in particular it really stood out – on the first night the boys were asked to say a few words about their day of travel, landing in Santiago and traveling to the Northern Coast; more than half of them made light hearted jokes about getting caught up on Netflix shows or playing games on their phones.  Fast forward to 6 days later, each boy is now making thoughtful reflections on time spent in Monte Cristi at a school with a Peace Corps worker, learning about her story and getting to see what it is like living and working so closely with this small Dominican community.
Additionally, we definitely begin to see a growth in leaning into the discomfort and putting yourself out there, be it with their classmates or in the different communities that we visited over the course of our time in the DR – developing an honest and sincere effort in communicating and engaging with locals, and a noticeable confidence in doing so.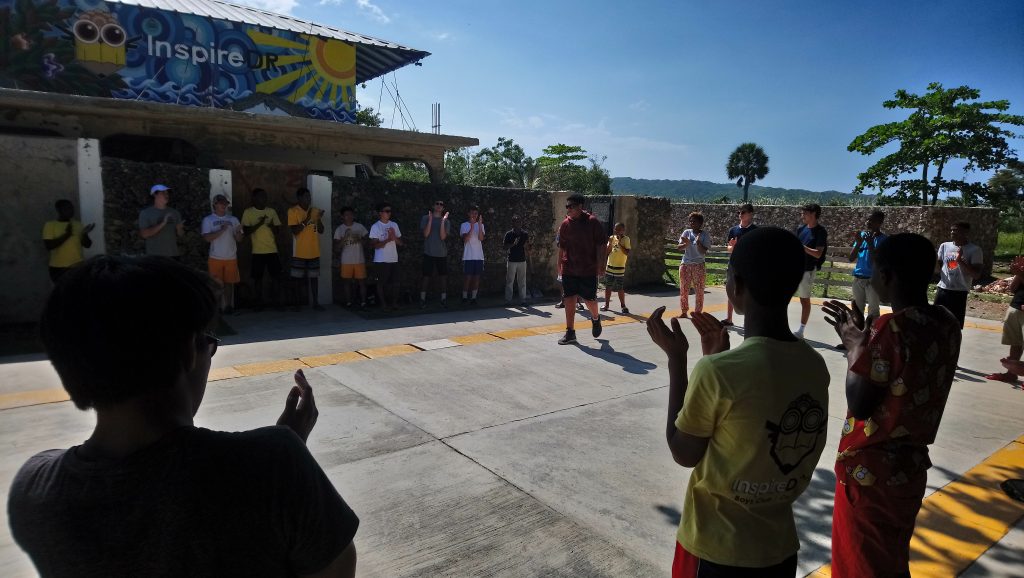 Q: Have you been able to see a lasting impact in the local communities you return to?
A: The three groups/organizations that come to mind right away here are Academia de la Costa, Dream Project, and Inspire DR.  We definitely feel we have made a connection at all three organizations, and it enhances our students experience when they immediately feel welcomed and know they are an extension of students that came in prior years.  It was exciting this year for some of our returning boys from 2018 to interact again with Papo and Yefris, in addition to the students at InspireDR remembering and being excited to see some familiar faces.
Q: What advice would you give to someone running a leadership program?
A:  This program has been my first time ever leading an international trip, and there have been some definite lessons and growing pains along the way.
First and foremost (for me, at least) is preparation, and this extends to a few different facets.  Crossing all t's and dotting all i's about the finer details of the itinerary allows you to a) be prepared for each day and b) extend this preparation and awareness to your students.  Of course, there will be parts of the program that are meant to be unique and difficult to describe without first experiencing, so you'll simply have to be ready to go along for the ride.  However, there are some smaller items such as packing, basic day-to-day travel, food that it may be beneficial to stress/mention as you prepare your students for this.
Additionally with preparation is bringing your group together (numerous times) before departure.  It was definitely a challenge to get all 18 of us in the same room together preparing for our 2019 trip, as students and teachers alike have varying schedules.  However, it proved to be so valuable that we were able to meet 4 or 5 times over the course of 3 months leading up to our trip; in those meetings we played some ice-breakers, talked about the basic layout of the program, and did our "research presentations" on various organizations/communities we'd be interacting with.  While we weren't exactly a tight knit unit, stepping on the plan I felt there was a foundation set to create a unique bonding experience for our group.
Next, remembering that this program is a JOURNEY that extends over the course of the trip.  Allowing students to make some mistakes or be uncomfortable along the way (safely, of course), will pay dividends in their overall development/maturity from this experience.  Long-to-short, a "hands off" approach during parts of the program was key.