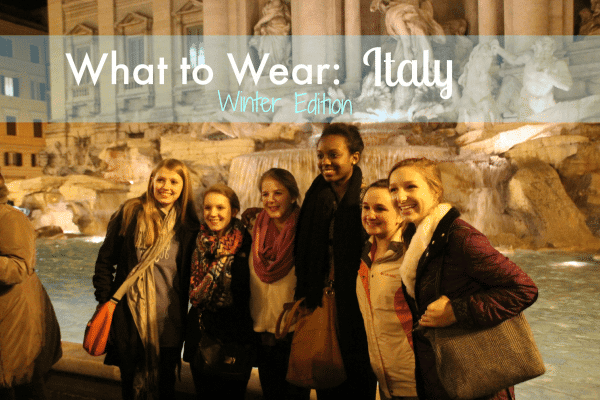 We're big believers in being prepared travelers and packing light, but just because your travel gear is functional doesn't mean you can't be stylish! Your clothes should be destination appropriate, while also representing your personal style. In this edition of "What to Wear," we're focusing both on the location and the season of your next educational tour.
While Italians are known for their style, it's not because they're always dressed to the nines. On the contrary, Italians often make style choices that are simplistic with a hint of chic. So when in Rome (see what I did there), focus on simple, easy-to-layer outfit options and your packing will be a breeze!
No matter what you wear, remember that traveling in the winter means that the temperature will always range from cool to cold. The average temperature in Rome in January hovers at a balmy 48 degrees Fahrenheit. Of course, the region of Italy that you're visiting effects just how low the temperature will drop, so be smart and plan your outfit options based on the weather report—weather.com works for just about everywhere in the world!
Style Inspiration for Women:
h/t to Travel Fashion Girl for the outfit find.
Style Inspiration for Men:
These options are good basics to keep in mind when packing. They layer well, offer multiple outfit options, and keep the cooler temperatures in mind. Don't see exactly what reflects your personal style? That's okay! Your outfit options should represent you, so these items are just suggestions.
While winter weather does mean adding layers, it doesn't have to add bulk. Packing light is possible even when traveling to colder temperatures, thanks to the magic of layering. When you pack outfits with layers, you'll be able to re-wear a sweater with a different shirt, and vice versa.
Smart Items To Pack For Any Traveler:
Gloves
Warm hat
Scarves
Boots
Extra pairs of socks
2-3 sweaters, sweatshirts
Comfortable walking shoes
On your flights and on the bus with ACIS, you are allowed one suitcase and one carry-on bag. European coaches have luggage compartments based on the assumption of one suitcase per person, and local safety laws prevent suitcases from being put in the bus aisle. Your carry-on bag needs to be small enough to fit under a bus seat.
Choose a lightweight suitcase, preferably one with wheels. Please be mindful that airlines have specific weight limits and other luggage restrictions.
Once the packing is done, you'll be well-prepared to experience la dolce vita in Italy! Italy is an incredible country rich with culture, history, and delicious food. So while you pack your bag, don't forget to leave room for a few souvenirs!
Have any other tips for winter outfit options in Italy? Tell us in the comments!